June 14, 2023
A Northwest Missouri State University alumnus is turning his career goals into reality as a firefighter and recently was honored for going above and beyond his duties to assist the victim of a car crash.
"Words and medals cannot express the gratitude I feel for the academic and field-ready knowledge gathered during my time at Northwest," said Michael Levasseur, who graduated from the University in 2016 with a bachelor's degree in emergency and disaster management and a minor in public administration. "The time I spent with the professors and career professionals at Northwest paved the way for my future and career goals."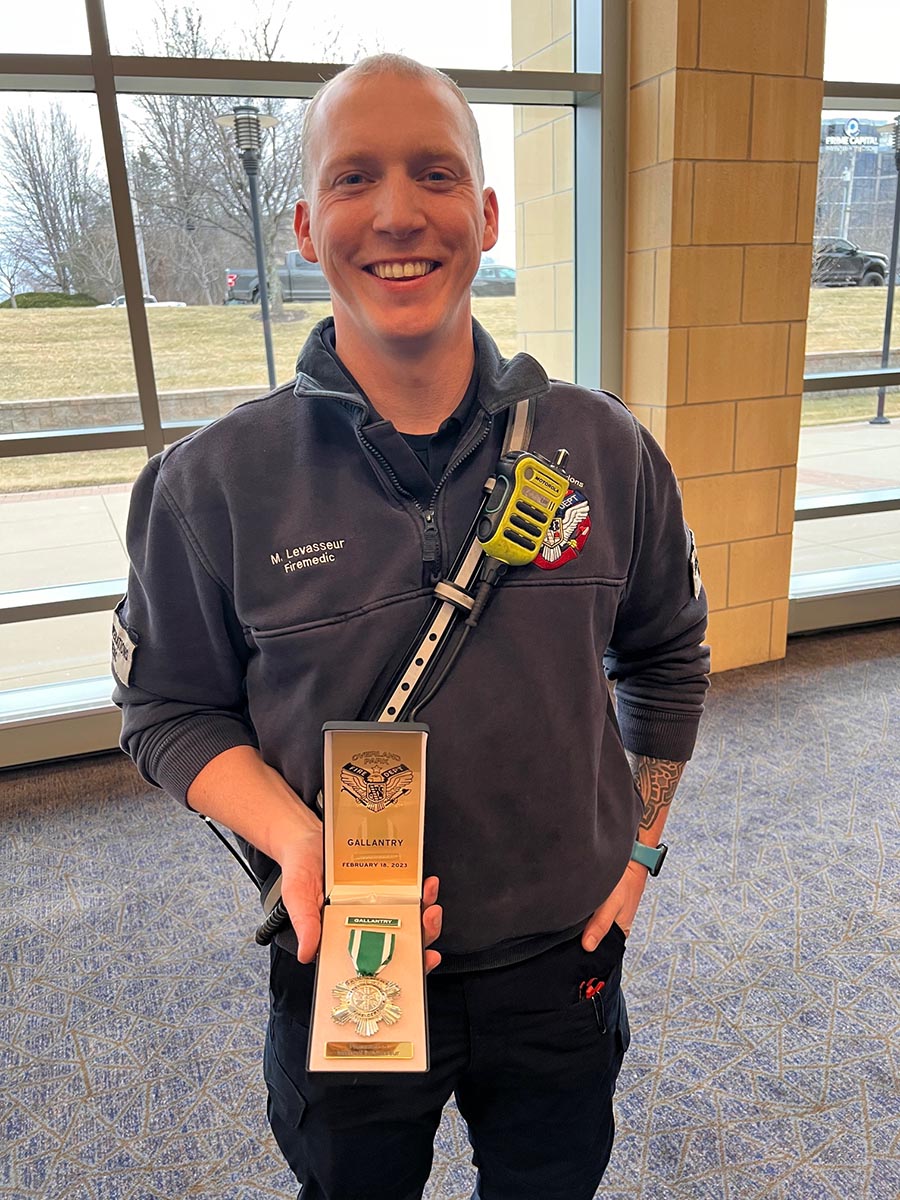 Michael Levasseur received the Overland Park Fire Department's Medal of Gallantry in February. (Submitted photos)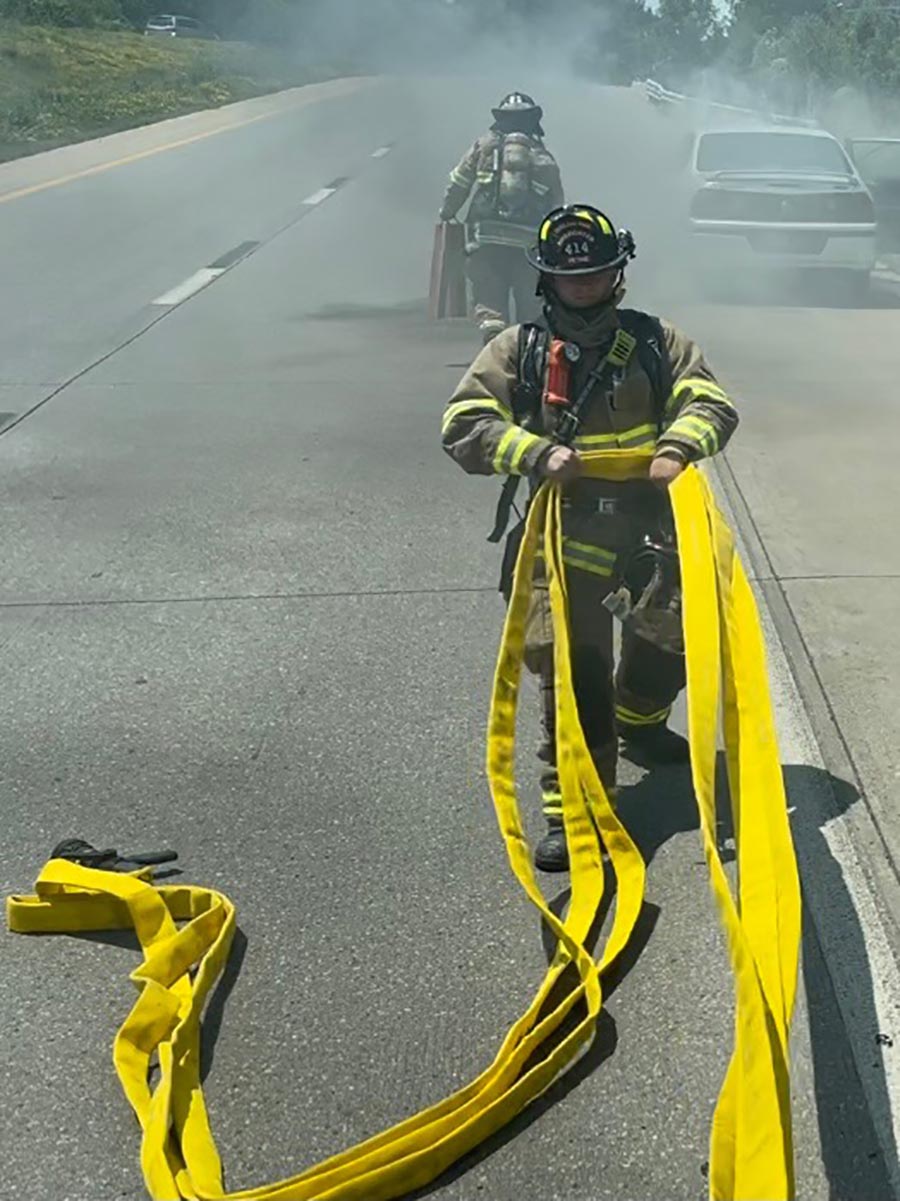 Michael Levasseur works the scene of a fire call in Overland Park.
In February, Levasseur, now a six-year veteran of the Overland Park Fire Department in Kansas, was awarded the Medal of Gallantry during the department's annual awards banquet. The Medal of Gallantry is given to individuals who "go above and beyond the call of duty" to rescue or render aid to an individual.
Levasseur was driving home at about 9 a.m. after working a 48-hour overtime shift when he spotted a damaged car on I-435. The car had rolled and come to a stop on its wheels. Levasseur saw other passersby stopping their vehicles and rushing to help anyone who may have been hurt.
After parking his own vehicle on the side of the roadway, Levasseur saw the driver, who had been ejected about 50 feet, lying motionless. Levasseur grabbed a trauma kit he carries in his car and ran to the victim as other passersby talked to a 911 dispatcher.
"I just focused on the person who wasn't moving," Levasseur said. "When I made contact with him, he wasn't moving, wasn't really breathing, wasn't making any noises, and he was kind of laying on his left side."
Levasseur conducted a trauma assessment and determined the driver had sustained multiple life-threatening injuries, including a traumatic brain injury, broken jaw, severe road rash and multiple deep tissue lacerations. Levasseur recruited a passerby to hold the driver's head in place while he bandaged the wounds and maintained the victim's airway until fire and EMS personnel could arrive to transport the driver for further treatment.
Levasseur said he relied on his training and skills and didn't expect to be honored for his actions.
"To be recognized for something that I just happened to come across and make a little bit of an impact on hopefully the future of this guy's life and his care, it meant a lot," he said, adding he has been unable to learn whether the driver recovered from his injuries. "I wasn't expecting to be nominated just because I figured that's the stuff that we do on a daily basis."
A native of Las Vegas, Nevada, Levasseur came to Northwest to play baseball but stepped away from the sport to focus on academics. Initially, he had goals of entering medical school and wanted to become a pediatrician, inspired by health issues he overcame as a child.
But as Levasseur continued his coursework, he joined the Maryville Fire Department and instead opted to train as an EMT, where he could work on the frontline of medical care. He gained additional experience as a dispatcher with the University Police Department and by participating in Missouri Hope.
"That was kind of what kept nudging me in that direction of doing firefighting stuff, and I really enjoyed it and wanted to make a career out of it," he said.
Levasseur says the coursework and breadth of profession-based experiences at Northwest prepared him well for his career.  
"Doing all of those courses with the emergency management side of things – I didn't realize it at the time – was a great framework to firefighting, not just how we interact on calls but how we interact with other agencies on a day-to-day basis," he said.
The connections Levasseur established in Maryville also helped him build a network with other firefighters and paramedics in the region, which led him to the Overland Park Fire Department in 2017. In 2020, he was promoted to firefighter paramedic and joined the department's HAZMAT team.
Levasseur says he hopes to stay with the Overland Park Fire Department for a lengthy career and advance through its ranks.
"We're a big city, and that's influenced a lot of my decision to stay put," he said. "I plan on staying put and promoting up to lieutenant, hopefully captain someday, and if I'm lucky enough I'll get to make BC (battalion chief)."