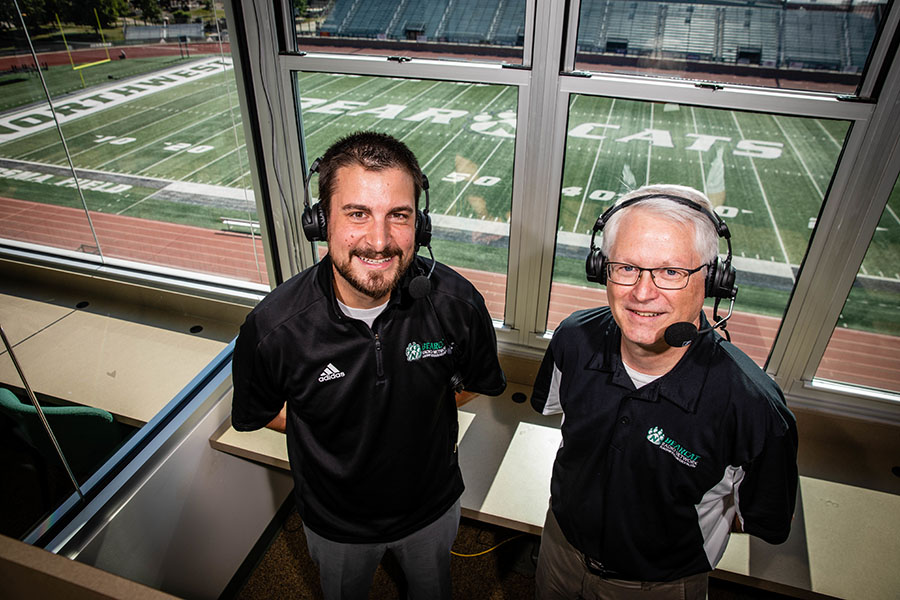 KXCV-KRNW, the flagship of the Bearcat Radio Network voiced by Matt Tritten and John Coffey, is adding Maryville High School Spoofhound football games to its broadcast schedule this fall. (Northwest Missouri State University photos)
May 17, 2022
KXCV-KRNW, the award-winning National Public Radio affiliate based on the Northwest Missouri State University campus in Maryville, has entered into a partnership with the Maryville R-II School District to bring the Spoofhounds to listeners throughout the region every Friday night this fall.
For the first time ever, KXCV (90.5 FM) and KRNW (88.9 FM) will broadcast Maryville High School football games and become the radio home of the Spoofhounds. As the flagship of the Bearcat Radio Network, KXCV-KRNW has served as the voice of the Northwest Bearcats since 1999 and is pleased to add another "Titletown" team to its radio waves this fall.
"We're excited to have the Spoofhounds on KXCV-KRNW and be the conduit that connects fans, alumni and the community back to Maryville High School's rich tradition," KXCV-KRNW General Manager John Coffey said. "Our goal is to produce a quality broadcast each week that brings the passion and joy of each game into your home."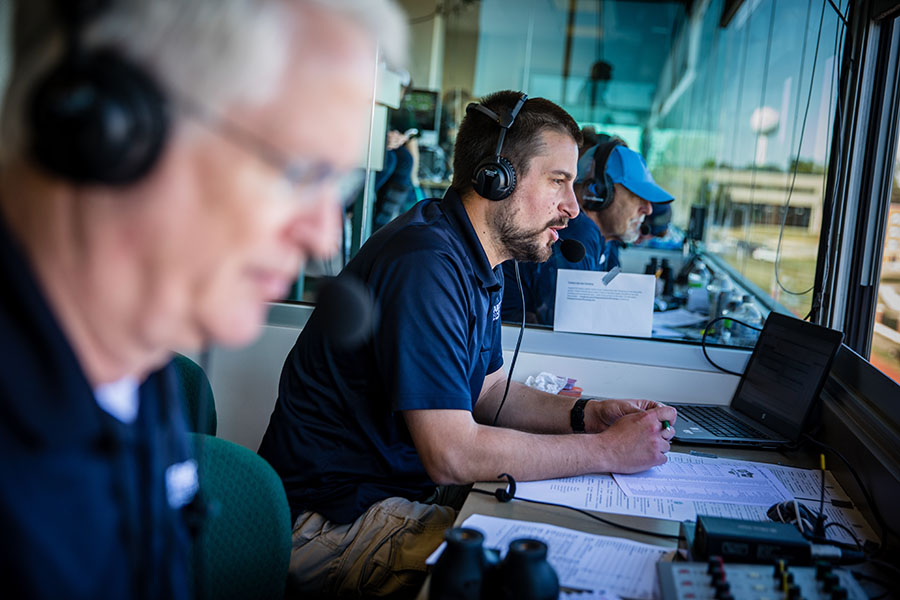 Matt Tritten will handle play-by-play this fall when KXCV-KRNW broadcasts Spoofhound football games.
Every Spoofhound football regular season game will be heard on KXCV-KRNW, starting with the Aug. 26 season opener against Blair Oaks. KXCV-KRNW's Matt Tritten will handle play-by-play duties with coverage continuing throughout the playoffs as the Spoofhounds pursue a state title. Games also may be heard on KXCV.org and the Bearcat Public Media mobile phone app.
Additionally, broadcasts will highlight other sports and activities within the school district. KXCV-KRNW will carry select Spoofhound high school basketball games on its airwaves and online during the winter season.
"We are excited about partnering with KXCV-KRNW to cover Spoofhound athletics," Maryville Athletic Director Mat Beu said. "They have an outstanding staff that is dedicated to promoting student-athletes, and we look forward to having them become the new voice of the Spoofhounds."
About KXCV-KRNW
Launched in 1971 as the first full-power public radio service in Missouri, KXCV (90.5 FM), a 100,000-watt NPR affiliate, provides in-depth news and information with an alternative music format. All of KXCV's programming emanates from the Northwest campus, while a sister station, KRNW (88.9), founded in 1993, extends the radio programming across most of the northern 25 percent of Missouri.
As the flagship of the Bearcat Radio Network, KXCV produces all Northwest football and basketball broadcasts and game feeds to commercial radio affiliates throughout the four-state region.
KXCV-KRNW programming also is accessible online at www.kxcv.org and via its Bearcat Public Media app.
For information about KXCV-KRNW and supporting public radio through a membership, visit www.kxcv.org or call 660.562.1163.