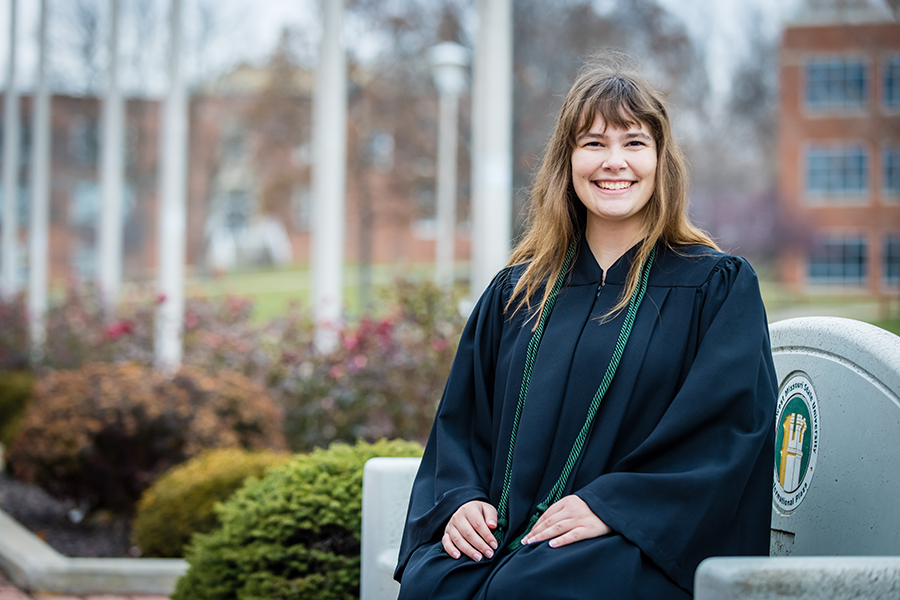 Jamie Thygesen, a native of Danville, Kentucky, graduated from Northwest with a bachelor's degree in theatre with an emphasis in technical and design. (Photo by Todd Weddle/Northwest Missouri State University)
Jamie Thygesen opted to attend Northwest Missouri State University as a technical theatre and design major after finding a passion for the field in middle and high school.
Thygesen, a native of Danville, Kentucky, came to Northwest to study technical theatre, having little background in theatre technology but a love for stage management. The Department of Fine and Performing Arts gave her the training and connections she needed.
"From day one, there was always a sense of training but also expectations of actually doing it," Thygesen said. "There was learning the information and this simultaneous actually doing the work, getting the hands-on experience, leading other students."
Thygesen has gained experience as a stage manager and production manager through multiple productions, including a feature-length film project, "A Memory of Spoon River," which Theatre Northwest produced last spring. She has also branched out to acting, lighting design and costume technology.
She was a member of the honorary theatre fraternity, Alpha Psi Omega, and is the outgoing president of the Northwest student chapter of the United States Institute of Theatre Technology (USITT).
Away from the theater, Thygesen served as a peer minister with the Wesley Center, the United Methodist campus ministry.
As she looks to begin her career in stage management or lighting, Thygesen's favorite part about being a student at Northwest is the camaraderie and the connections she made.
"To sum it all up, my experience at Northwest has been like being part of a family," Thygesen said. "You have some weird extended family from a department you don't understand, but the whole campus is still a family."