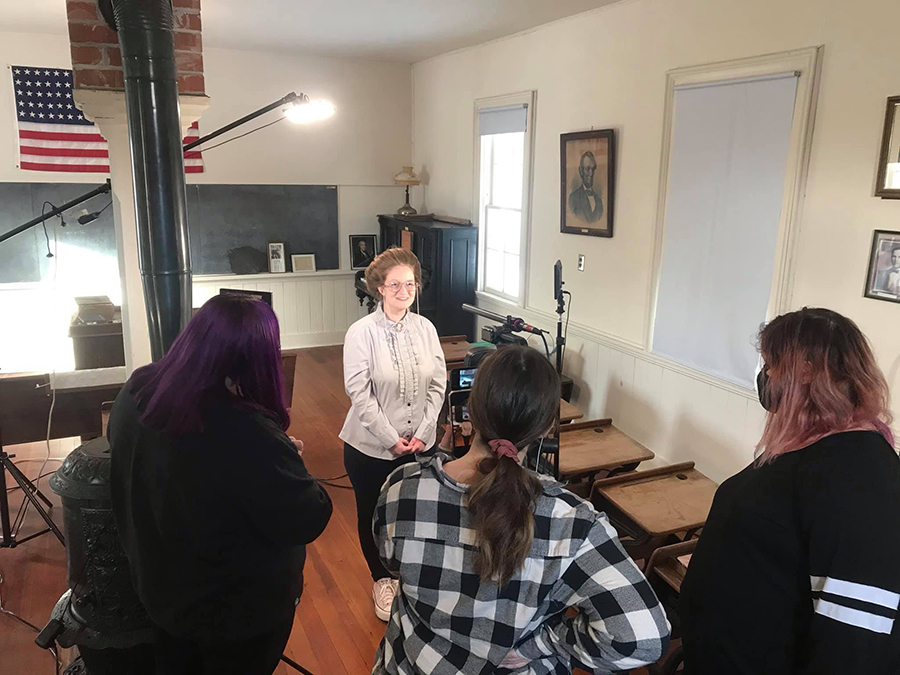 Cast and crew members film a scene for "A Memory of Spoon River: A Tribute to Edgar Lee Masters," a Theatre Northwest film production based on poetic beyond-the-grave accounts of individual's lives in the fictional town of Spoon River. (Theatre Northwest photos)
March 26, 2021
When COVID-19 forced Theatre Northwest to rethink its 2020-21 production season, the program's faculty recognized that professional theatre groups were adapting to digital methods and an increased use of technology could benefit their students, too.
The latest result of that thinking came to screens March 26 with Theatre Northwest's release of "A Memory of Spoon River: A Tribute to Edgar Lee Masters," a film production based on poetic beyond-the-grave accounts of individual's lives in the fictional town of Spoon River.
Tickets are $10 and may only be purchased online by clicking this link. Purchasing a ticket provides audience members with access to view the film at their convenience.
Dr. Theo Ross, a professor of theatre who directed the show, says it is unlike any production Theatre Northwest has taken on previously during his four-plus decades at the University, and the process presented a variety of unique learning opportunities and challenges for all who were involved. 
The theatre program staged two plays last fall with actors distanced and wearing masks as they performed on a stage for small audiences. Although those productions were streamed live online for a larger audience, the idea of students acting exclusively in front of a camera was a new concept this spring that helped the actors develop a different set of skills and adapt for future trends in the production field.
"We didn't do anything different (during the fall) in terms of the preparation of the production other than spread them apart and wear masks," Ross said. "That's about all we could do, and so many schools weren't doing anything. So, I'm just so proud of the fact that we kept productions going and mitigated."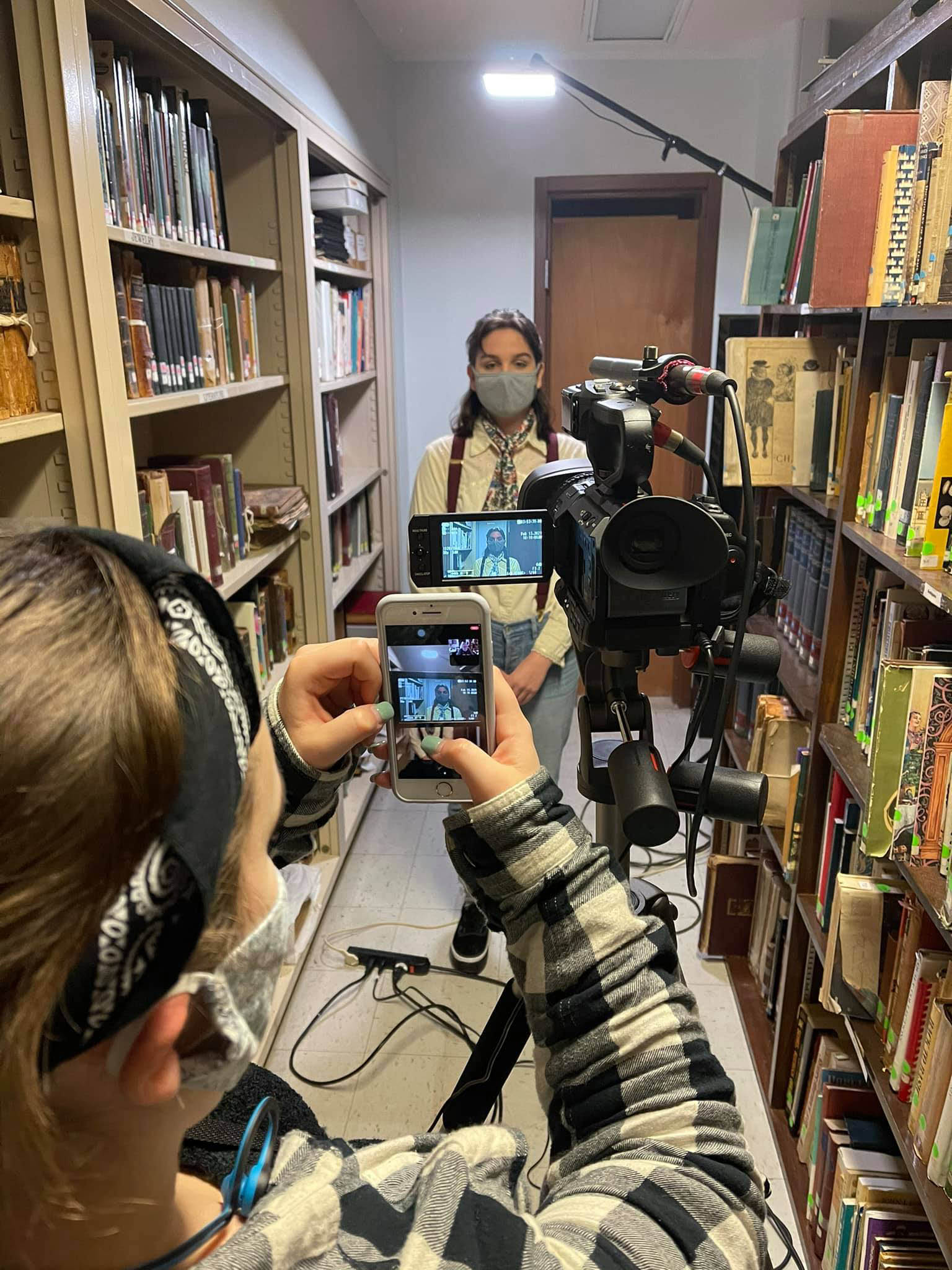 As Ross was looking for material for a spring production, he recalled teaching "Spoon River Anthology" years ago in a high school setting. He also sent a call to alumni and friends of the theatre program for original, blank verse poetry in the style of "Spoon River Anthology" but from the perspective of someone who died during the COVID-19 pandemic. Those submissions are part of the Northwest production and add to Masters' work.
"We did this production using Edgar Lee Masters poems, but then we added on to that this contemporary perspective," Ross said. "People die. We haven't thought about it or talked about people who died, who had lives, who lost their lives early, and so in honor of all those people who have passed on, I wanted to include those poems just as a personal acknowledgement."
Ross tapped dramaturg and playwright Cory Busch, a senior political science major from Liberty, Missouri, to select scenes from the anthology's more than 200 poems. Busch then wrote narration to complement Masters' work and the submitted poetry depicted in Northwest's production. Busch's other Northwest credits include a one-act play that was part of the 2019 Freshman/Transfer Showcase.
"He has a strong literary background and he took this challenge, so we're giving him full credit as the author of this piece," Ross said, noting the reason for the production's label as a tribute to Edgar Lee Masters. "Except for me kind of prompting and directing and suggesting, he really did it all, and I'm very impressed with what he ended up with because it's darn good."
Said Busch, "I had never imagined doing work like this. In fact, I didn't really know that people did this kind of writing, so when Dr. Ross reached out to me about his idea for the project back in August, I was caught pretty off guard. I love to read poetry and classic literature so 'Spoon River' has been a real treat to work on and has been a fun way to discover how we can give new life to classics."
While the cast and crew gained experience with filming monologues in front of a green screen, a production crew of location scouts, location managers, transportation coordinators, camera operators, sound and lighting engineers, and digital recorders also added new elements to experience by filming some scenes at historical locations in St. Joseph and Maryville. Professor of Theatre Pat Immel and Theatre Technical Director Jack Bilbo oversaw the editing process and added a musical score.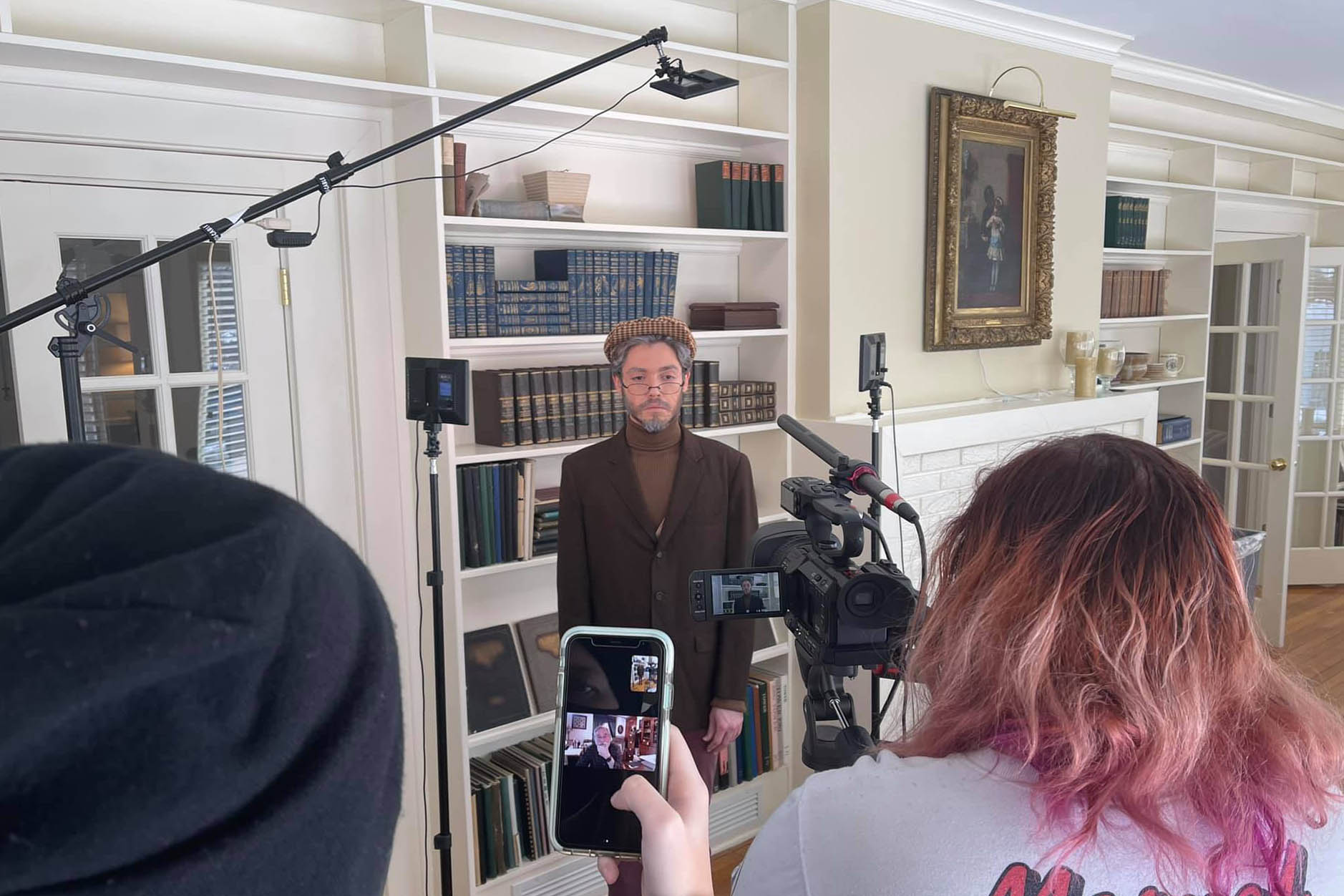 Spoon River
With a focus on exposing students to a film environment, the theatre program also called on film professionals to share performance techniques for the film medium. Students participated in Zoom workshops to learn audition techniques from the president of a New York City casting company and character development and video techniques with a Hollywood producer and working professional actors.
Through their participation in the film, the student actors now have a high-quality monologue they may add to their personal audition reels.
"It's the future and we have to acknowledge that, and I think we have to help our students prepare for that," Ross said.
Ross said he hopes viewers are entertained by the film but also find an appreciation for the experience students were provided through the medium and Northwest's theatre program. 
"I hope the audience has a sense of how theatre can be – how theatre reflects the social environment in which it is created," Ross said. "I've always tried to teach social perspectives and incorporate the social benefits to doing theater, so thematically there's that. Artistically it's a production, and academically it's providing the unique set of experiences for our students."
Busch said he hopes the film serves as a reminder of the ways individuals make up a community.
"There is a theme of togetherness and community that runs throughout," he said. "I think we are in an era that has moved very firmly into the importance of the individual, but we ignore the fact that we participate in multiple communities every day. It is through others that we as people cannot only thrive but get the best look at ourselves, and I'd like the audience to understand that to survive we must help others excel as we would wish to see ourselves."