June 8, 2021
Opportunities Ken Scribner and Owen Straub had at Northwest Missouri State University paved the way for successful careers with Cerner Corporation, a leading supplier of health information technology services, devices and hardware. Now their families are giving back to Northwest in hopes of creating similar opportunities for future students.
"Ken and Jeanette Scriber as well as Owen and Liz Straub have shown their generosity toward Northwest in so many ways through the years," Mitzi Marchant, the vice president of university advancement and executive director of the Northwest Foundation, said. "Their latest support illustrates their passion for Northwest and its students, and it is a testament to their appreciation for the education and experiences they received as students. On behalf of the entire University and the Northwest Foundation, we can't thank them enough for their support."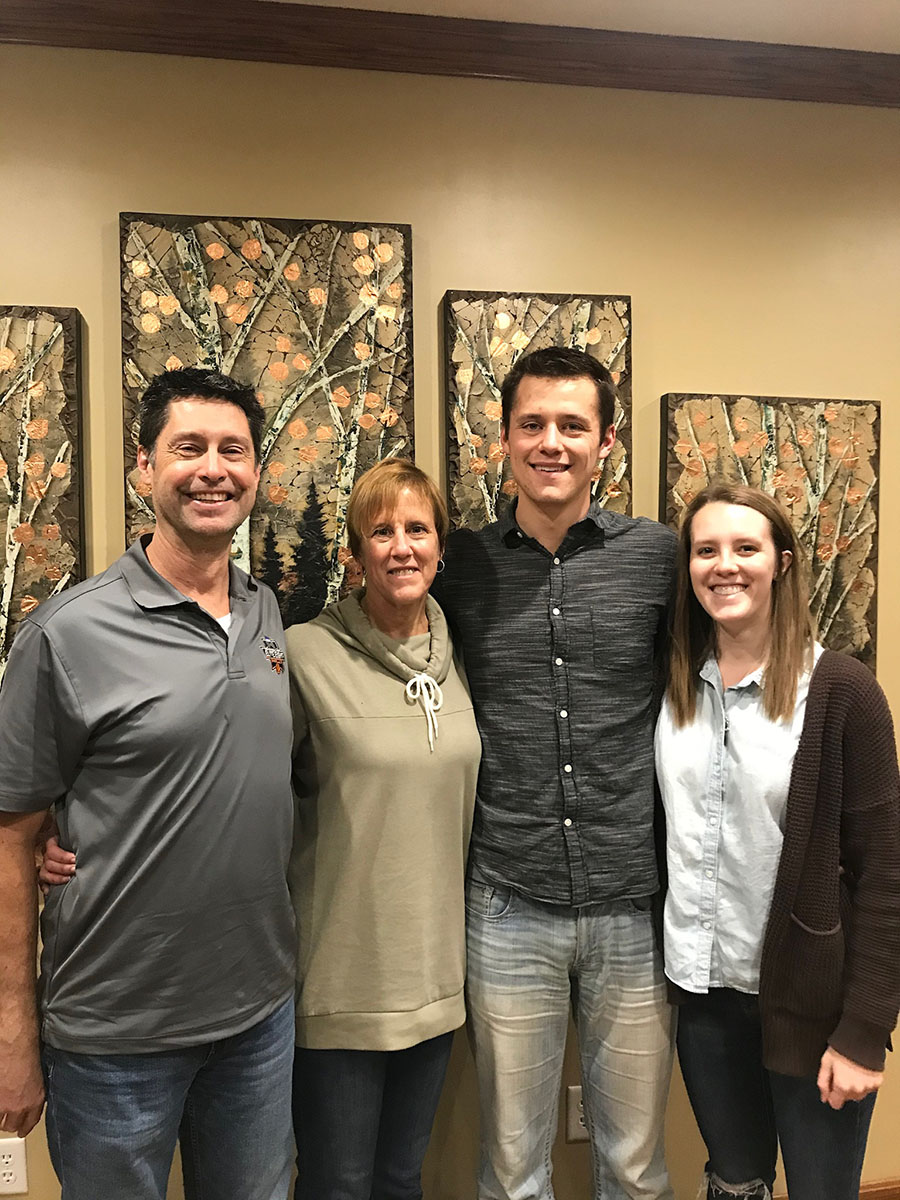 Ken and Jeanette Scribner with their son, Garrett, and his fiancé, Madison Olberding
Ken Scribner, a 1987 Northwest alumnus, and his wife, Jeanette, pledged $25,000 to establish the Ken and Jeanette Scribner Family Scholarship Fund and create a $1,000 annual scholarship. The fund will award scholarships to first-generation, full-time sophomores, juniors or seniors at Northwest who have a minimum 3.0 grade-point average and study a technology-related major.
By contributing to Northwest's scholarship offerings, the Scribners hope they can help students in later stages of pursuing their degrees – when scholarship offerings tend to be fewer or run out. The scholarship also is a tribute to the foundational experiences it provided Ken as well as the Scribners' son, Garrett, and his fiancé, Madison Olberding, who are 2018 graduates of Northwest.
"Our interest in first-gen students is that can help shape, not just that person's life, but maybe their family's life, or maybe their community's life," Ken, a member of the Northwest Foundation Board of Directors, said. "A lot of times first-gen folks will go back to their local communities with advanced skills that may not have been so common in that community."
Ken's interest in attending Northwest paralleled his curiosity in computers. The son of an electrical engineer, he enjoyed dabbling in computer programming as a high school student, attended computer camps at Northwest during the early 1980s and became interested in studying the field further within the University's burgeoning computer science program.
He completed his degree in computer science and began his career at Cerner within a month of graduating. His work with Northwest's computer science department and the University's VAX operating system proved to be a boon in securing work with Cerner.
"We did backups, created user accounts, just some generic system administration, but it was hands-on training that I probably wouldn't have gotten at other schools," Ken said. "I came out with that experience and then my first job involved doing system administration on the same operating system."
Today, Ken enjoys giving back to Northwest by serving on the School of Computer Science and Information System's Professional Advisory Board, participating in mock interview events sponsored by Career Services and assisting with the Knacktive program. The Northwest Alumni Association also awarded him its Turret Service Award in 2014.
"The whole department really helped me find my way," he said of Northwest's computer science program. "Each student has found that path differently, but I had to be led to it, not forced to it. They figured out a way to help me find my way, and I will forever be grateful for that department in that era."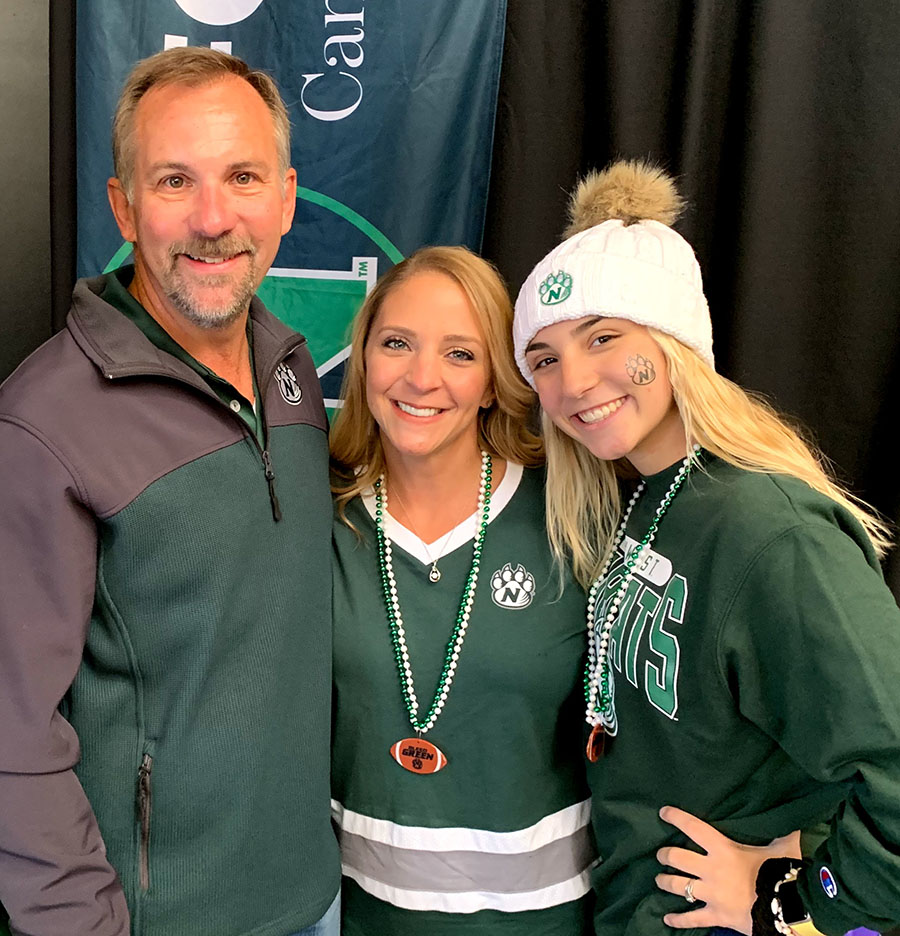 Owen Straub with his wife, Liz, and stepdaughter, Morgan Garrison
Owen Straub, a 1986 Northwest alumnus and a former member of the Northwest Foundation Board of Directors, and his wife, Liz, established the Straub Family Foundation Scholarship Fund through a $25,000 pledge. The fund will provide scholarships to full-time Northwest sophomores, juniors or seniors who maintain an overall grade-point average between 3.0 and 3.8 while studying a computer science or technology-related major. Priority also will be given to students involved in University-sanctioned organizations.
Like the Scribner scholarship, the Straub family scholarship pays tribute to a legacy of family members who have benefited from the education and opportunities Northwest provided. Both of Owen's parents, Robert W. Straub and Virginia Buzzard Straub, earned degrees from the University in 1957 as well as his sister, Ilse Straub, who completed hers in 1987. Further, Owen acknowledges the valuable assistance that scholarships and student employment provided as he advanced his education at Northwest. 
"I was able to make it," he said. "There's a lot of students who are very qualified to go to college, but they may need that little extra financial boost."
While Ken and Owen were classmates in what is now the School of Computer Science and Information Systems, Owen also enjoyed taking computer programming classes at his high school and was drawn to the opportunities Northwest offered. 
"It sounded like it was a good fit to be at a university that was progressive with computer technology, wanting to go into the computer field and because both my mom and dad had gone there," Owen said.
Upon graduating from Northwest Owen started his career with Cerner, which he saw as a viable, intriguing and innovative company in the health care information industry. Learning the COBOL programming language at Northwest allowed him to jump into the work, and he quickly became a team leader. As Cerner grew, he played a key role in the company's development of its Millennium platform, a comprehensive system providing solutions for clinical, operational and financial needs.
Owen believes that being involved in campus organizations also helped him advance at Cerner because he had experience with leading teams, communication and interpersonal skills. At Northwest, he was active in music programs, playing trumpet in the Bearcat Marching Band as well as with the Celebration choir and the jazz ensembles. He also was a member of the Tau Kappa Epsilon fraternity.
"Those things become really valuable as you get out in the real world," he said. "When you have those opportunities, you've got other skills that you've been developing that you just don't get out of the classroom."
Cerner has grown from just more than 100 employees when Ken, a vice president and information technology executive, and Owen, who retired as vice president for engineering, started working at the company to more than 30,000 today. Innovations in technology have enabled the company's growth, providing opportunities for both men, who reside in the Kansas City area, to grow with it and take on new roles.
"It turned out there was a lot of opportunity out there for the automation of health care," Owen said. "I happened to be in a good place at a good time and have a good background at Northwest to be able to have those skills that allowed me to continue to build my skills and then learn other things along the way."
In addition to their scholarship support, the Scribners have pledged $35,000 toward the Agricultural Learning Center (ALC), a gift that will be recognized with the placement of a bench and a tree at the ALC in appreciation of Northwest President Dr. John Jasinski, first lady Denise Jasinski, and Dr. Rod Barr, who is the director of Northwest's School of Agricultural Sciences and was a classmate of Ken.
Further, they are avid supporters of Bearcat athletics and pledged $10,000 to assist the men's basketball program as well as $2,000 in support of improvements to the Bearcat football locker room.
Both the Scribners and the Straubs also are members of the Founding 50, a group of lead donors who committed gifts of $50,000 or greater to the Carl and Cheryl Hughes Fieldhouse's completion in 2018.
For more information about giving to Northwest or to make a gift in support of scholarships, call 660.562.1248 or email advance@nwmissouri.edu.