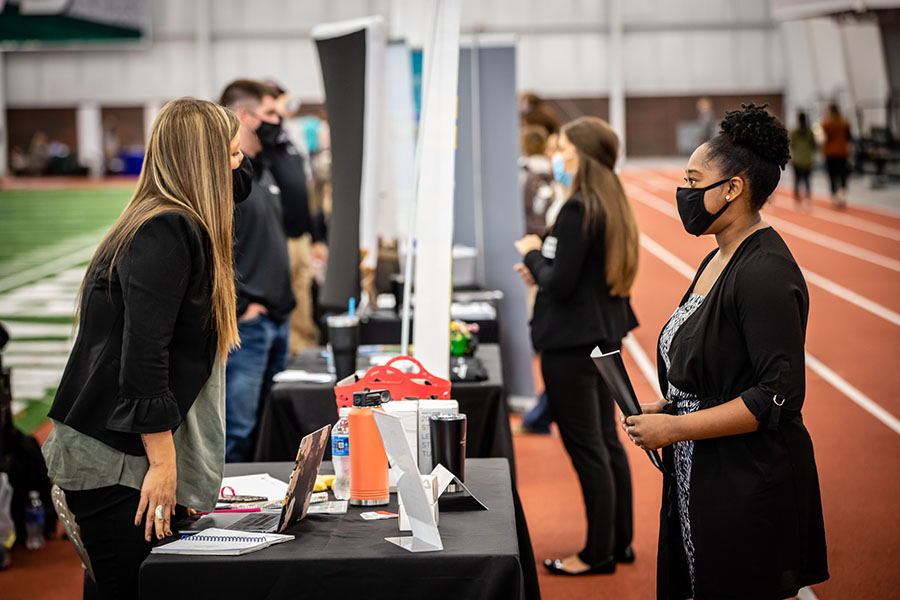 Northwest's Career Day in the Hughes Fieldhouse is one of several events Career Services offers to help students build connections with employers and graduate school representatives while developing their networking skills. The spring Career Day also will have a virtual component for students to meet with employment representatives from throughout the country. (Photos by Todd Weddle/Northwest Missouri State University)
Feb. 3, 2021
By Sidney Lowry, communication assistant
Northwest Missouri State University Career Services is again offering students a variety of events and resources this spring to find internship opportunities and full- and part-time jobs as well as refine their résumés.
Career Services events and resources are open to all students, alumni and community members.
"All of our events and programming are free to attendees, so why not experience them?" Jill Brown, Northwest's director of partnerships and placement, said. "Every day is a good day to make a new connection."
Additional resources available at Career Services extend from résumé reviews to finding the right outfit for an interview.
"All of Career Services' programming and events help students gain confidence and expand their network of employers and organizations, which ultimately leads to the students developing relationships with those individuals who attend," Brown said. "Our goal is that those relationships are lifelong and lead to lots of profession-based learning and career opportunities."
In addition to the multitude of resources offered through Career Services, Northwest places a high emphasis on profession-based learning to help graduates get a jumpstart on their careers. Students have opportunities to build their résumés with experiences on campus in nearly every area of study, including the Horace Mann Laboratory School, National Public Radio affiliate KXCV, the R.T. Wright Farm, Mozingo Outdoor Education Recreation Area and Knacktive, a student-driven integrated digital marketing communications agency. Northwest also offers 1,200 student employment positions, allowing students to build professional skills through its internationally benchmarked student employment program. 
Upon graduating from Northwest, 96 percent of bachelor's degree earners and 99 percent of master's degree earners secure employment or continue their education within six months of graduation, according to the most recent data. Zippia, a career website, names Northwest the best college in Missouri for getting a job.
A complete list of events and resources offered by Career Services this spring is provided below. For more information about Career Services, visit www.nwmissouri.edu/career.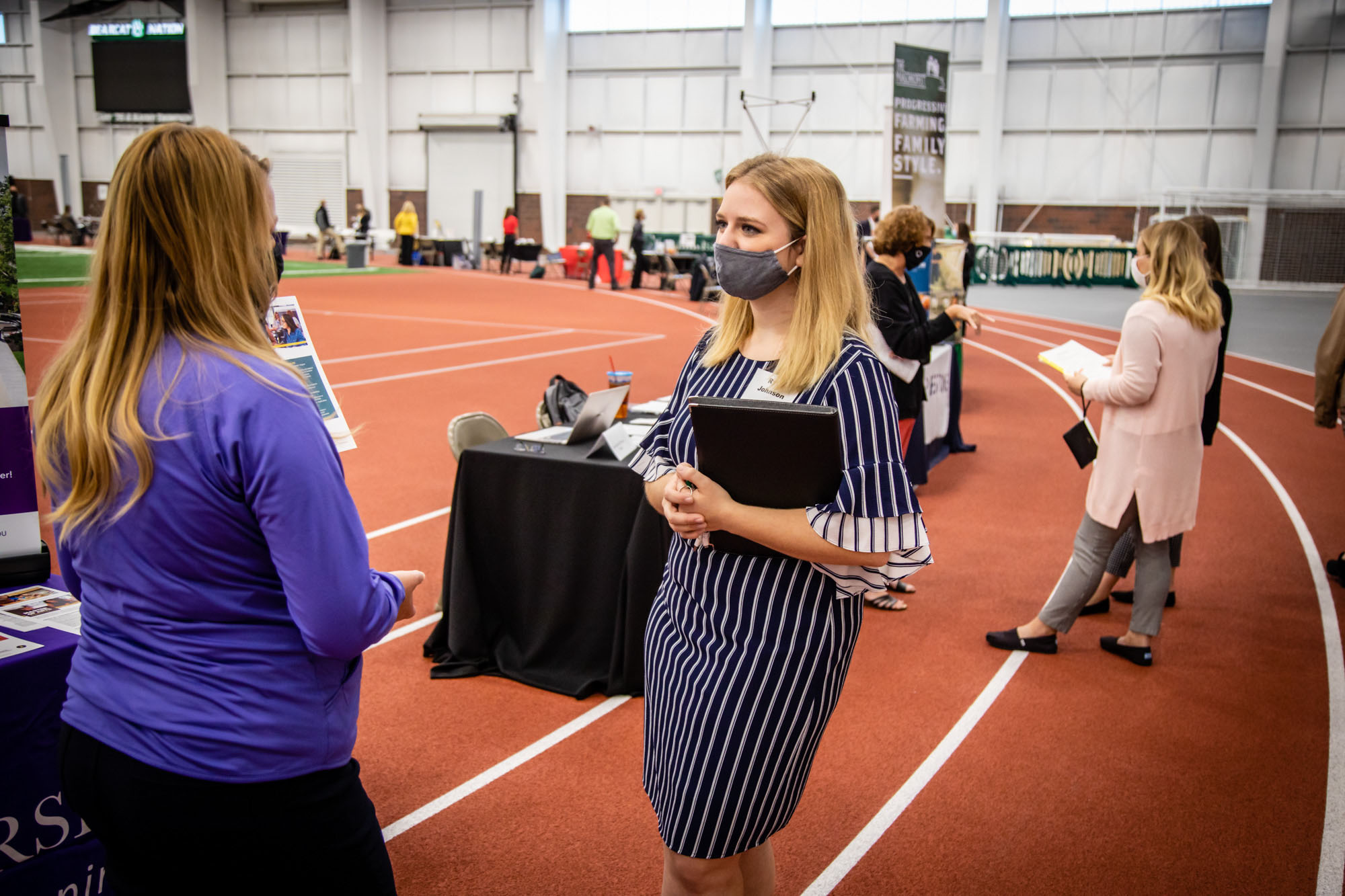 Career Day
Career Day
Career Day is a biannual event designed for students to network with employers and graduate school representatives to discuss internship and employment opportunities or further education. The spring Career Day also has a virtual component for students to meet with employment representatives from throughout the country.
The spring Career Day is 8:30 a.m. to 12:30 p.m. Wednesday, Feb. 24, at the Carl and Cheryl Hughes Fieldhouse and online.
"We try to be mindful of inviting in graduate schools, nonprofits, government agencies and public sector jobs from all over the country," Brown said. "We give students those opportunities to have those interactions with all kinds of employers to help narrow down that scope as you try to pick out internships and full-time jobs."
Any student may attend the in-person event. Individuals who want to attend virtually must email their résumé to career@nwmissouri.edu with the subject line Virtual Career Day.
Click here for a list of virtual and in-person employers scheduled to attend Career Day.
Speed Networking
Speed Networking is a virtual event that places students into breakout rooms with an employer for two-minute conversations. Every two minutes, students will be placed into a different breakout room to practice making a strong first impression and improve their conversation skills. Sessions are 1-2 p.m., 2:30-3:30 p.m. and 4-5 p.m. Tuesday, Feb. 9, on Zoom. Students may register by clicking here and will receive a Zoom link one week before the event.
"You will visit with every single person who is on the Zoom," Brown said. "Northwest is a great networking space and a lot of people who help with events like Speed Networking are alumni and always have the students' best interests at heart. Our thought is that if you're going to get two people's feedback, you might as well get 10."
Click here for a list of employers participating in Speed Networking.
Mock Interview Day
Mock Interview Day helps students gain interview experience and provides immediate, personalized feedback from an employer. Interviews are about 20 minutes with a five-minute period for feedback.
Mock Interview Day is 8:30 a.m. to 4 p.m. Wednesday, Feb. 17, via Zoom and in the J.W. Jones Student Union. Signup occurs by visiting Career Services in Administration Building Room 130. Students must submit a résumé upon registering.
Click here for a list of participating employers attending Mock Interview Day.
PBL Palooza
PBL Palooza is 7-9 p.m. Wednesday, April 21, at the Carl and Cheryl Hughes Fieldhouse and invites students to share posters from internships, field experiences or profession-based class projects. To participate, students must create a 4-by-3-foot printed poster.
Participants have opportunities to win prizes based on a popularity vote of people who attend the showcase.
Click here to register to present a poster at the event.
R

ésumé

Reviews
Career Services offers assistance with résumés and cover letters and graduate school applications. Students seeking assistance may visit Career Services in Administration Building Room 130 or send an email to career@nwmissouri.edu.
Click here for additional resume and cover letter tips.
Career Closet
The Career Closet offers free professional clothing and accessories to students. All clothes are donated and gently used, and students are encouraged keep them.
The Career Closet is open from 2-4 p.m. Monday through Friday on the second floor of North Complex or by visiting Career Services between 9 a.m. to 4 p.m.
Big Interview
Big Interview is an online platform that allows students to practice interviewing 24/7. For a student who finds themselves in a crunch before an interview or just wants more practice, Big Interview can help.
"It is one of the best-kept secrets and we don't want it to be," Brown said. "Any of our Career Services team members are happy to do a practice interview with you, but we also know that some students are busy with school and might want to practice at 2 a.m. Students can record their interview and watch it back and get feedback."
Visit www.nwmissouri.biginterview.com to learn more.
Hire a Bearcat
Learn about full-time or part-time employment and internship opportunities available to Northwest students and alumni through Career Services' Hire a Bearcat program at www.nwmissouri.edu/career/HABinfo.htm.