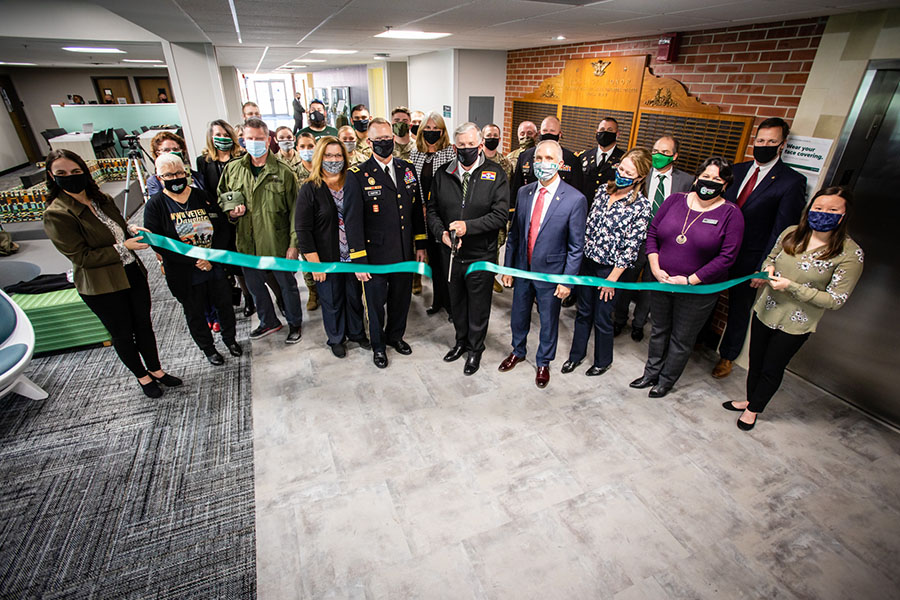 Missouri Gov. Mike Parson on Wednesday cut a ribbon dedicating the Veterans Commons on the top floor of Valk Center. He was joined in the photo by Northwest and state leaders and representatives of Northwest's Missouri GOLD program. (Photos by Todd Weddle/Northwest Missouri State University)
Nov. 12, 2020
State leaders joined Northwest Missouri State University Wednesday as it paid tribute to service men and women on Veterans Day and cut a ribbon to dedicate its new Veterans Commons.
Gov. Mike Parson and Maj. Gen. Levon Cumpton, the adjutant general of the Missouri National Guard, were on hand for the afternoon, along with Missouri Rep. Allen Andrews, to help Northwest formally celebrate the opening of the remodeled top floor of Valk Center, which now offers veterans a place to gather, study, network and interact with Missouri GOLD personnel and students.
"This project represents Northwest Missouri State University's continued commitment to supporting our present and future service members," Dr. Dawn Gilley, the chair of Northwest Department of Humanities and Social Sciences, said. "In creating this space, our goal was to provide a space for veterans and Missouri GOLD members to socialize and to study and to connect our GOLD members with veterans transitioning back into civilian life so that the wisdom of those returning can be shared with the next generation. At the same time, this space can serve as a reminder to all of us that the cost of all that we hold dear is not free and democracy must be fought for."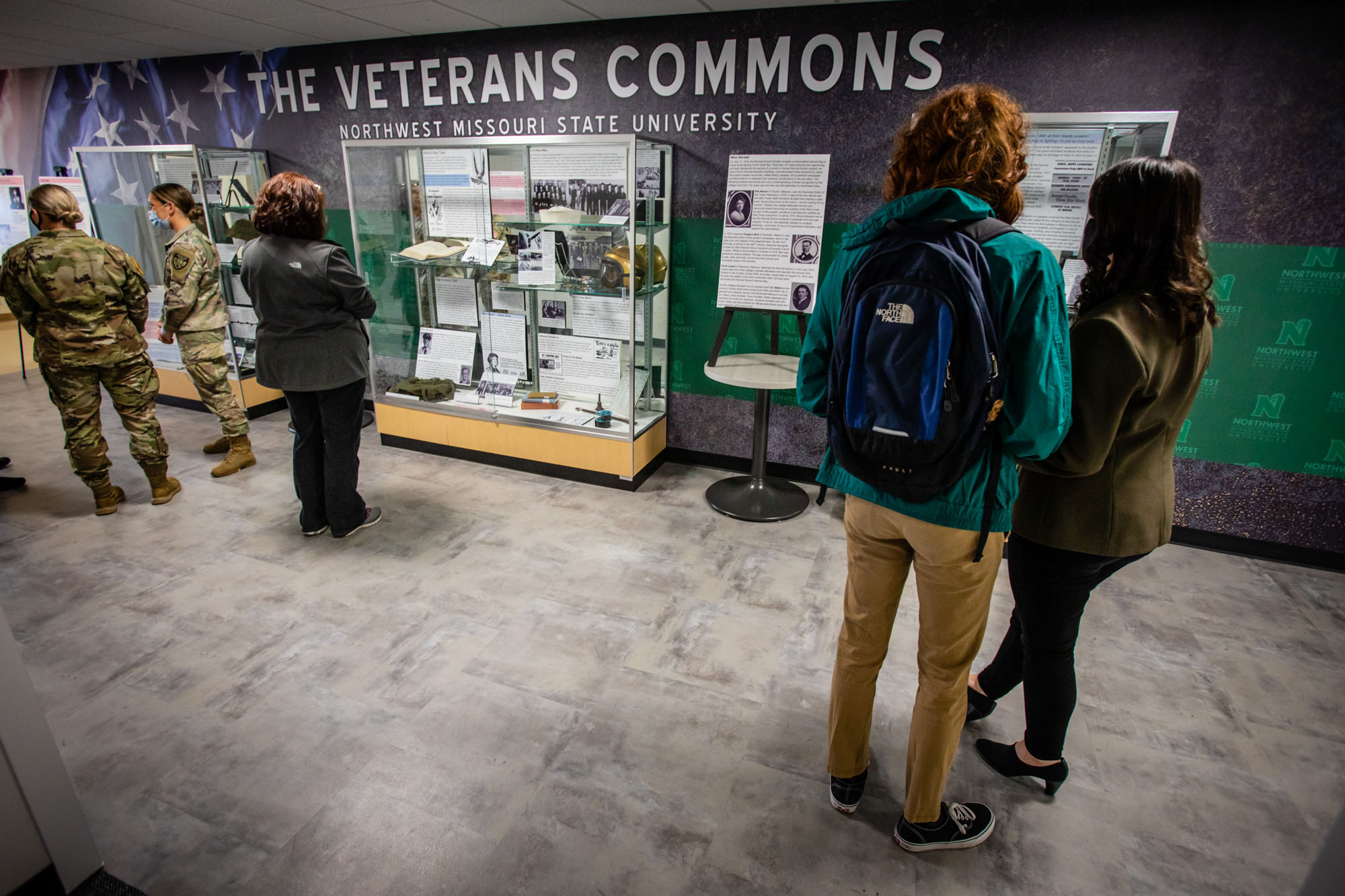 Veterans Commons features an exhibit developed by Northwest public history and museum studies students that details military experiences of students, faculty and staff as well as University activities during times of significant military conflict, including World War I, World War II, Korea and Vietnam.
Echoing that idea in his remarks, Parson, who served six years in the U.S. Army, called on citizens to remember the sacrifices of earlier generations and share those stories as a way of helping future generations uphold the freedoms Americans enjoy.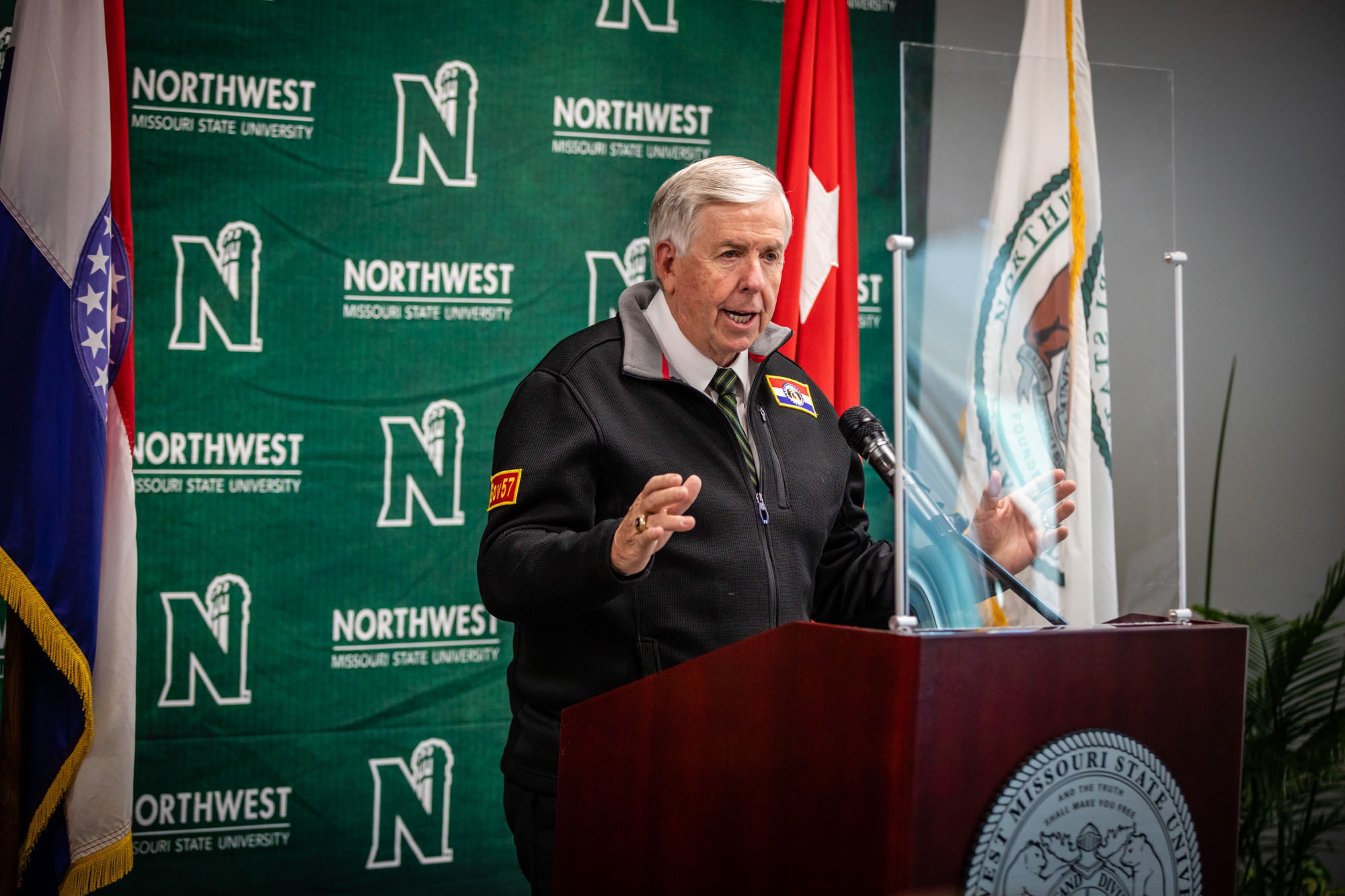 Gov. Mike Parson
"It's our time to make sure we pass that down to those next generations, to make sure they understand the importance of freedom, that we recognize the men and women that serve our country," Parson said. He added that the importance of Veterans Day extends beyond honoring soldiers, saying, "It's about wives. It's about husbands. It's about spouses, about children. It's about mothers and fathers. It's about grandparents that all lived through the life of the soldier."
Recalling the history of Veterans Day, Cumpton noted the federal holiday marks the anniversary of the armistice that ended World War I on Nov. 11, 1918. Armistice Day was declared a national holiday in 1938 and renamed Veterans Day in 1954 as a recognition of all veterans.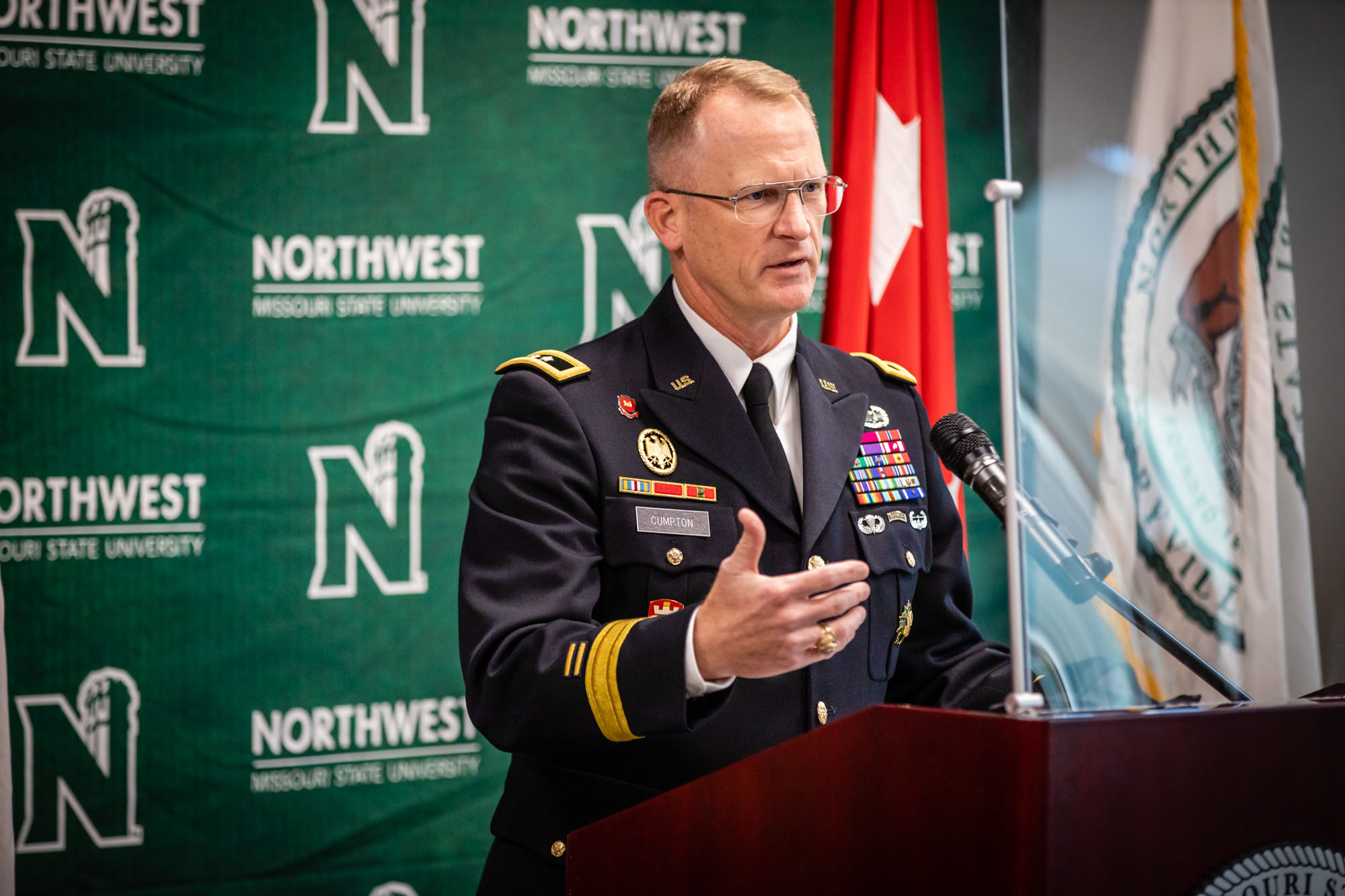 Maj. Gen. Levon Cumpton
"Veterans are the keepers of our peace, and our nation owes our veterans our deepest gratitude," Cumpton said. "Veterans Day is an important day as it reminds our nation of the men and women who signed the dotted line, agreeing to go as far as laying down their own life if necessary to preserve our freedom."
Cumpton – who has command of more than 12,000 Missouri National Guard soldiers, airmen, federal and state employees – also reflected on the role the Missouri National Guard plays in assisting the state's communities, including its response to COVID-19 and civil unrest in recent months. The Missouri National Guard has assisted with COVID testing and provided meals to families in collaboration with the Missouri Department of Elementary and Secondary Education.
"We cannot do what we do without the support of our communities, and again today we're here to celebrate one of those communities, Bearcat country, right here in Maryville," Cumpton said. "The work put into making the Veterans Commons a reality is proof that our communities realize just how special veterans are and how truly important they are."
In addition to paying tribute to veterans, Wednesday's ceremony acknowledged Northwest's enduring support of the nation's military members and its veterans. Thousands of service men and women have called Northwest "home" since the University's founding in 1905. Some enlisted after coming to Maryville as students or employees, and others enrolled or worked for the University after serving the country.
Today, Northwest is designated as a Military Friendly School, earning the distinction in 2020-21 for the ninth consecutive year, in recognition of its commitment to embracing military service members, veterans and their family members and ensuring their success on campus.
Northwest partners with several veterans organizations and regularly hosts a veterans service officer to assist with filing for VA benefits. Northwest participates in several federal and Missouri state programs such as the GI Bill and Missouri Returning Heroes and offers a variety of scholarships for military personnel and veterans, including a National Guard Scholarship to assist military students with housing.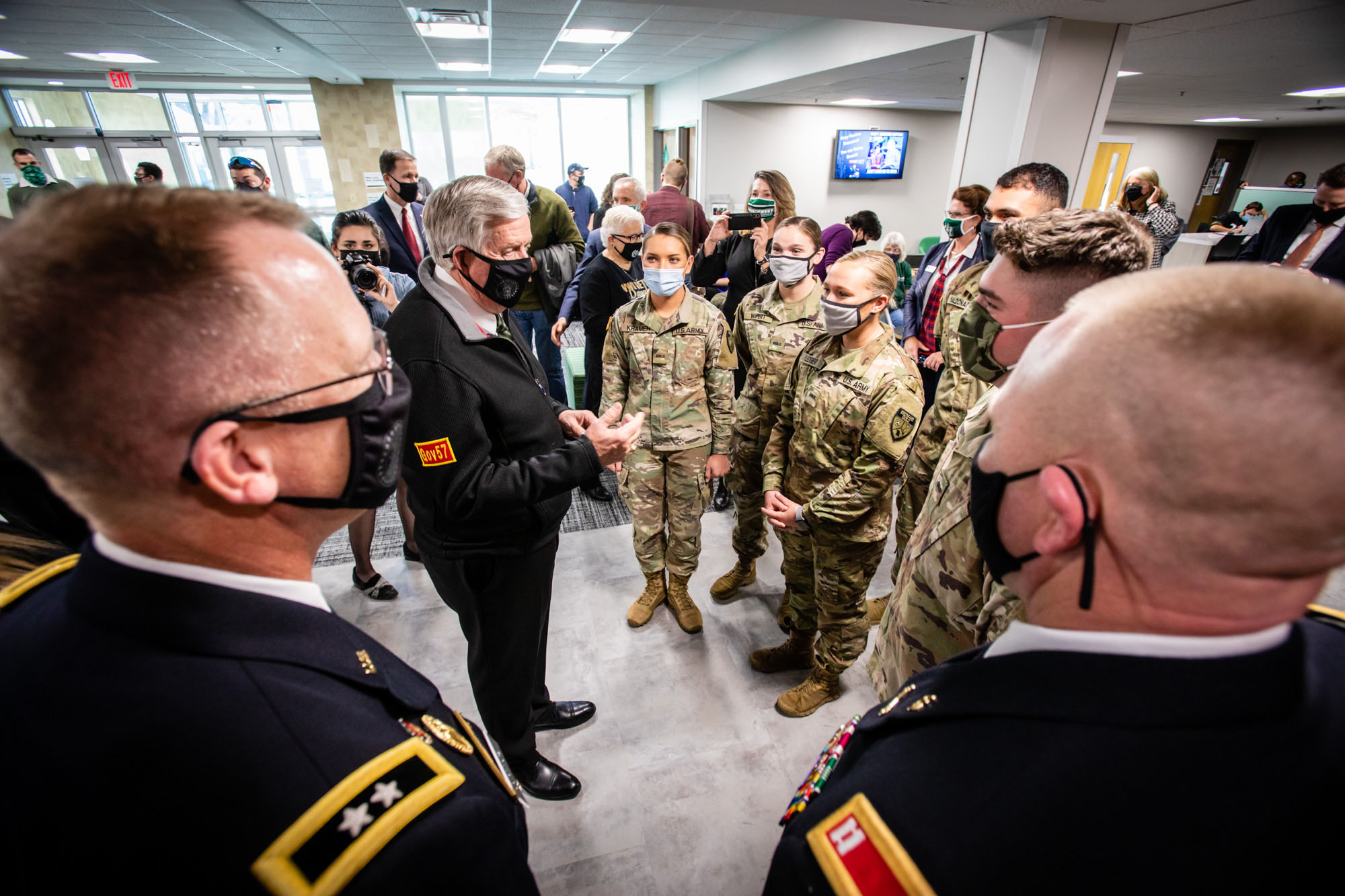 Gov. Mike Parson converses with Northwest students enrolled in the Missouri GOLD program, which provides them an opportunity to study military science while gaining valuable leadership training in preparation for becoming officers in the Missouri Army National Guard.
Additionally, its Missouri GOLD program, launched in 2016 through a partnership with the Missouri Army National Guard and headquartered in Valk Center, is the largest in the state with 48 students enrolled. The University's collaboration with military personnel and resources has enhanced multiple training opportunities, including Northwest's annual Missouri Hope emergency and disaster management simulation at Mozingo Outdoor Education Recreation Area, where a search-and-rescue tower further enhances Missouri National Guard training.
Capt. Josh Wilmes
"The University's mission is focusing on student success – every student, every day – and the University and its employees have lived up to that mission with my students and the student veterans here on campus," Capt. Josh Wilmes, the officer-in-charge of Northwest Missouri GOLD, said.
Northwest President Dr. John Jasinski said the University's goal for Veterans Commons is to honor individuals who have served the nation while assisting and supporting student veterans who are furthering their education and careers, "and certainly others who might just find solace right here in these quarters, take a moment to reflect on service and all those that came before us."
Natalie Coté, a senior from Lawrence, Kansas, who is an emergency and disaster management major with minors in with minors in English and public history museum studies, spearheaded the effort to bring some of those stories to light in an exhibit space within Veteran Commons. Coté spent the last several months reviewing University yearbooks and news accounts dating back to 1917 for military connections and stories of the campus's response to U.S.-involved conflicts, spanning from World War I to the 9/11 attacks.
The exhibit also includes books from the B.D. Owens Library collection as well as metal artifacts from Northwest's agriculture collection and uniforms on loan from the Nodaway County Historical Society. Additional themed exhibits will be rotated through the space.
The Wall of Honor, which had been housed in the Administration Building for decades, also has been relocated for permanent display in Veterans Commons.