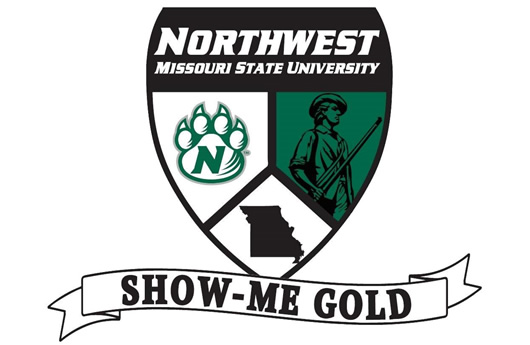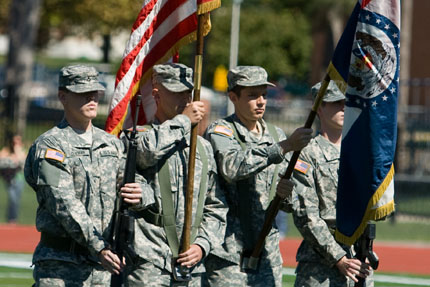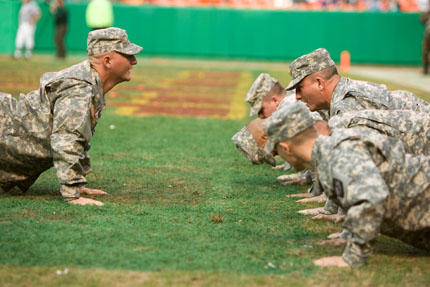 Show Me Gold
About the Program
The Missouri Army National Guard Officer Leadership Program (Show-ME GOLD) offers college students the opportunity for professional development to become officers in the Missouri Army National Guard. The officers training program will consist of credit-bearing classroom instruction, leadership laboratories, and physical training. Students wishing to participate in the program must satisfy the admissions standards of both Northwest Missouri State University and the Missouri Army National Guard. Individuals who qualify for any of Northwest's merit-based scholarships will be eligible to apply those benefits towards books, fees, and other expenses. In addition to enrolling in Northwest's regular academic programs, students will also take credit-bearing military science courses offered through the Missouri Army National Guard and fulfill additional requirements.
---
Requirements
| | |
| --- | --- |
| College: | 0hrs min/60hrs max; Graduate students accepted on an individual basis |
| Max Age: | 39 for freshman, 40 for sophomore, 41 for junior, 42 for senior |
| ASVAB: | GT of 95 for entrance and must achieve a 110 prior to attending OCS |
| Security Clearance: | Obtain a valid Secret Security Clearance prior to attending OCS |
| Physical: | Completed Commissioning Physical |
| Northwest Admissions: | Must be accepted to Northwest Missouri State University and enroll in program at University for at least 2 years |
| GOLD Candidate: | Must be screened and receive a letter of acceptance by GOLD program Cadre |
---
Benefits
Funding your higher education at Northwest Missouri State University has never been easier. By contracting in the Show-Me GOLD program and enlisting in the Missouri Army National Guard, you will gain access to some of the best education benefits available.
100% Tuition Assistance
­Montgomery GI Bill
­Paid Job Skills and Training
­Monthly Drill Pay ($200 - $280/ month)
­Student Loan Repayment (Up to $50,000)
---
Prior Service/Current Guard Members
Prior Service and current MOARNG members will not lose benefits previously contracted to them. They may also qualify for Experiential Credit for their previous training and service. If you have ever wanted to be an officer, this could be the program for you!
---
Standard Weekly Schedule
In addition to regular academic courses, students will attend:
| | | |
| --- | --- | --- |
| PT: | 6 - 7 a.m. | Mondays, Wednesdays and Fridays |
| Class: | 9 - 11 a.m. | Tuesdays |
| Lab: | 4 - 6:30 p.m. | 1st & 3rd Thursday of the month |
---
Contact Us
For more information about the Show-Me GOLD Program at Northwest Missouri State University, please visit the Show-Me GOLD office in Garrett-Strong room 1370. You may also contact the Officer-in-Charge, Tamir Middleton at:
Office: 660.562.1727
 Email: tmiddleton@nwmissouri.edu