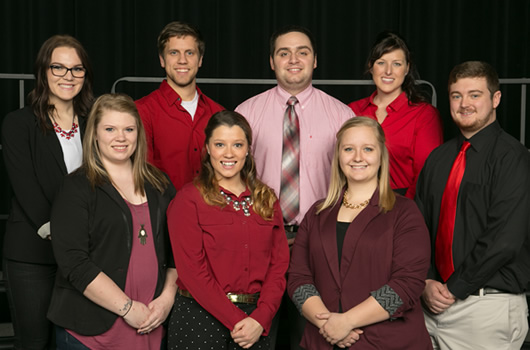 The Team
Graphic Designer Allyson Vonderschmidt, from Salem, Nebraska is a senior majoring in Fine Arts with a concentration in Graphic Design. Ally has a deep passion for animals and agriculture and hopes to someday be able to design for the agricultural industry.

Art Director Angela Bode is a senior advertising major from Hannibal, Missouri. Angela thrives in fast-paced environments and is excited to bring innovative and creative ideas to her Knacktive team. She also hopes to challenge herself and to gain real-world experience through this opportunity.

Copywriter Dani Allen is a junior Communications: Public Relations major. She is involved in the MS Walk of Nodaway County, as well as the Promo class on campus. After she graduates, she would like to get a dream job doing large-scale events, as well as major promotions for Sporting KC!

Project Manager Devin Lyons, from Minden, Iowa, is a senior majoring in management information systems. He plans on becoming a project manager that can leverage technology to improve efficiency and effectiveness within organizations. Devin enjoys reading, new electronics, Lord of the Rings, and attending comic/anime conventions in his spare time.

Public Relations Manager Taylor Polacek is a senior Public Relations major from Omaha, Nebraska. Taylor is a passionate leader and strives to find creative solutions to every problem. In her spare time, she loves to watch the St. Louis Cardinals and drink Diet Coke. 

Media Manager Kelsey Schriver is a junior Interactive Digital Media major and Advertising minor. She is the current two-year editor in chief of the Tower Yearbook and has garnered several state and national awards in her position. Kelsey's passion for media has grown and developed through several internships, opportunities with the advertising club, AdInk, and through her advertising related courses. Kelsey is from Kansas City and hopes to secure another internship in the KC area before graduating next May.

Interactive/Digital Manager Kyle Hamilton, from Weston, Missouri, is a senior majoring in Computer Science. He is interested in programming and designing mobile applications, and his dream job is to create a successful mobile application startup company and design technology within the digital entertainment industry. In his free time he likes to create and play video games.

Strategic Planner Jacob Lueck is a business management and marketing double major from Marshall, Missouri. Jacob joined Knacktive for real world experience working with a client and managing team duties.