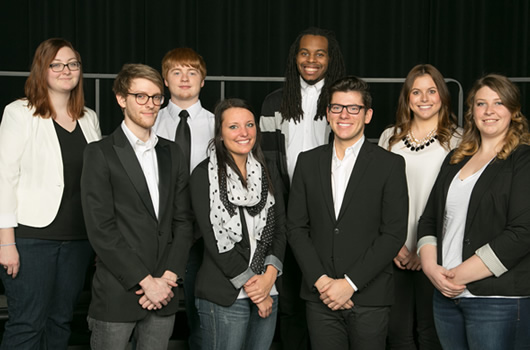 The Team
Project Manager Carsen Berry, from Saint Joseph, Missouri, is a senior majoring in advertising. His goal after graduation is to move to New York City or somewhere in Europe to pursue a career. He enjoys traveling and spending time with his family in his free time.  

Interactive/Digital Media Manager Logan Shields, from Odessa, Missouri, is a junior majoring in Interactive Digital Media: Computer Science. He is interested in computer hardware, and web applications. His main career goal is having a job as a computer hardware specialist for business and consumers. He enjoys having good internet, watching videos on YouTube, and have his computer programs compile and run successfully.

Public Relations Manager Kenzi Hoyle, from Plattsburgh, Missouri, is a senior majoring in Public Relations. After graduation in May, Kenzi plans on pursuing a position in event coordinating. She enjoys laughing, playing volleyball, running, being with my loved ones, and crafting.

Art Director Caitlyn Burkemper, from St. Louis, Missouri, is a sophomore Interactive Digital Media major with a concentration in Visual Imaging. She is in love with design, and has served as a designer in various positions for Northwest Student Media, including the Missourian and Tower yearbook, since enrolling at Northwest. She won a national contest in 2014 to redesign the branding imagery for College Media Business and Advertising Managers, and her design is now the national logo for CMBAM. 

Graphic Designer Megan Hazelrigg, from Kearney, Missouri, is a senior majoring in art with a concentration in graphic design. After graduation, she hopes to work for an advertising agency around the Kansas City area. She likes to focus her design work in branding, typography, and sculpture. She has always been interested in design and sculpture and how the two share similar boundaries.

Media Manager Kim Porter, from, Omaha, Nebraska, is a junior majoring in Interactive Digital Media: New Media with a minor in advertising. Her goals include starting a career in an advertising agency in Kansas City doing media work. Her favorite things to do in her free time is play basketball and to travel.

Copywriter Jake Mlnarik is a junior Applied Advertising major. He serves as social media manager at Northwest AdInk advertising club and will interning in social media and content management at the Kansas City Barkley office this summer. He enjoys playing guitar, beatboxing, road-cycling, and has an affinity for feta cheese and green olives.

Strategic Planner Carlton Wilcoxson, from Saint Louis, Missouri, is a senior majoring Public Relations. He has served as the president of Northwest's Advertising Club and is a former winner of Knacktive in 2014. He has a passion for advertising and will continue this line of work after college. Carlton recently accepted an offer to work for Marrah Jessee in Austin, Texas.