About the Career Pathing Program
The Career Pathing Program is an opportunity to participate in an enhanced student employment experience. Through a few simple steps, a student employee has the opportunity to increase their earnings, build connections in the workforce and advance their employment skills through professional development. The program was developed as a result of information collected through Student Employment Satisfaction Surveys and research conducted by a Marketing Research class project. 
Career Pathing Program Criteria for Advancement
Student employees, once hired, have the opportunity to advance to a new level of pay* and responsibility by completing the specified criteria.
Work both the fall and spring semester in the same department.
Attend a minimum of three development sessions

**

for both the fall and spring semester, for a total of six sessions a year. Student employees are compensated for their time while attending the sessions.
Participate in a satisfactory performance evaluation conducted by their supervisor.
*You must be in a base paid position starting at $10.30 an hour.
**Must be able to complete three development sessions within the semester (service credit will be given for a full semester regardless of start date, if participant is able to complete three sessions).
Levels of Advancement
| Level | Title | Wage Increase | Example |
| --- | --- | --- | --- |
| Level I | Student Employee | Starting Salary | $10.30 |
| Level II | Student Assistant | Increase of $0.25 | $10.55 |
| Level III | Student Associate | Increase another $0.25 | $10.80 |
| Level IV | Student Manager | Increase another $0.25 | $11.05 |
How much can a student actually earn advancing through the program? If a student works every opportunity available during a fall, spring and summer semester they could potentially earn thousands of dollars.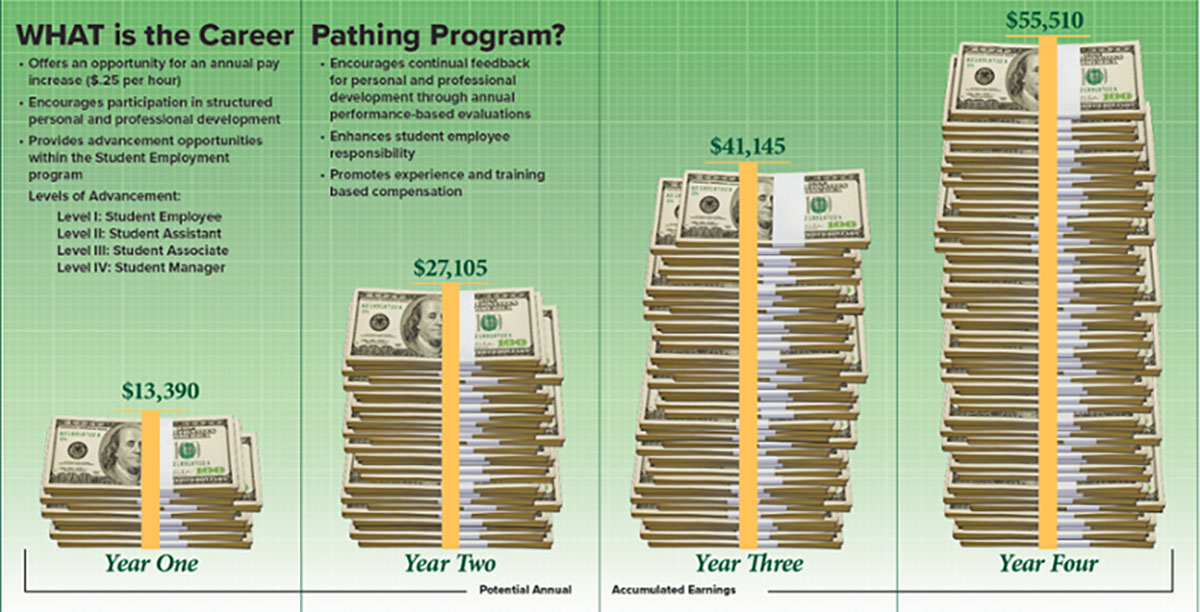 Register to Participate
Simply start attending the personal and professional development sessions if you wish to participate. You can check out the upcoming sessions and register at Career Pathing Opportunities. 
Career Pathing Results
Promotes increased student employee responsibility and challenges
Creates opportunities for pay advancement ($.25 per hour annually)
Encourages continual feedback through performance-based evaluations
Provides opportunities to participate in structured personal and professional development sessions while being paid for your attendance
Promotes experience and training-based compensation