When is SOAR?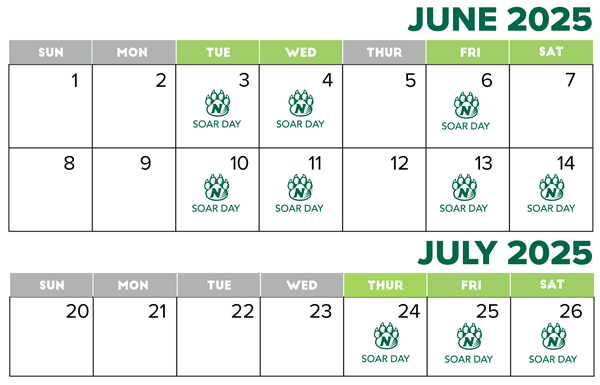 After you register, you will receive a confirmation packet. This includes details about your SOAR date, a campus map and other important information. Please read it carefully, so you don't miss any information.
Even if you cannot attend in person, we have an online option. It is important to register whether you attend in person so that we can prepare for your arrival in the summer or fall.
Tuesday, June 4
Wednesday, June 5
Friday, June 7
Tuesday, June 11
Wednesday, June 12
Friday, June 14
Saturday, June 15
Friday, July 26
Saturday, July 27
How do I sign up for SOAR?
If accessing CatPAWS for the first time you will need to set up your Northwest email account.
If you've already set up your email account. Please use the following instructions to access the application:
Go to: CatPAWS
Click: Log In/Enter Secure Area
Enter your Northwest Network Account username and password

Click the Orientation tab

Select "Click here to enter Orientation System"
Registering for SOAR will take approximately 15 minutes. Parents, it is important that your student is present to select their registration preferences, confirm personal information and answer academic information such as dual credit courses and more.
After you register, email notification of your SOAR date will be sent to you. Detailed confirmation packets will be emailed to you and available for download closer to your SOAR date. 
What happens at SOAR?
The on-campus SOAR day is a full-day program where you will:
Meet and build connections with fellow Bearcats
Become familiar with Northwest's campus and resources
View your class schedule and meet with an advisor
Take your photo and receive your Bearcat ID card
The online orientation for students who are not able to attend an on-campus SOAR date is located within the Orientation System in CatPAWS. Students who complete online orientation will be contacted by their academic advisor in their Northwest email account for more information about their fall class schedule.
When do I get my fall class schedule?
Students receive their fall class schedule at SOAR when they meet with their advisor. Students who cannot attend have the opportunity to meet via Zoom with their advisor over the summer to discuss their class schedule. 
In the weeks before SOAR, our team works hard to develop a personalized schedule that's tailor-made for each student. We use information including:
Your major
Optimal course schedules – which are recommendations from your academic school or department
Your ACT or SAT scores
Your academic profile
Any previous college credit
Your interests
Other pertinent information such as high school coursework, whether you are an athlete, whether you received a music scholarship, etc.
When you receive your class schedule on your SOAR day during Student Advisement, you can make adjustments with your SOAR Leader and faculty advisor.
There will also be a period of time after SOAR when you can call the Student Success Center and make changes by phone. Additionally, you will have opportunities to meet with your advisor during Advantage for final adjustments.
What if I cannot or do not wish to attend any of the on-campus orientation dates?
Please navigate to the Orientation System in CatPAWS and select "Online Orientation" in the "Dates" section. This will ensure you receive information and details about the summer-long online orientation!
What is a SOAR Leader?
You will be placed into groups with other students based on similar majors and interests. SOAR leaders are current Northwest students who know the ins and outs of Northwest life. Your SOAR leader will guide you through the summer-long online orientation, as well as through your on-campus orientation experience if you choose to attend!
Should I bring my family to SOAR?
If possible, we encourage you to bring one or two family members. Family members also have their own orientation at SOAR to help them become familiar with Northwest's programs, services and resources. We will also provide opportunities for family members to participate in the summer-long online orientation experience, too!
What should I bring with me to SOAR?
If you have not already submitted them, please bring your completed health history forms. We will provide you with everything else you need for your SOAR day at check-in!
Is there a charge to attend?
SOAR and several other programs are covered by your new student fee. There is no charge to you or your family to attend.
Are there places to spend the night in Maryville?
If you are driving from a long distance, there are several hotels in Maryville that can accommodate you and your family. We encourage you to make reservations early when you receive your SOAR date to ensure that you get a room.
What if I want to change my major or I'm not sure what I want to major in yet?
If you need to change your major, please navigate to the Orientation System in CatPAWS, select "Click here to view or update your registration," and go to the "Academic Information" page to change your major.
If you haven't decided on a major, that's ok too! In fact, some students will tell you that coming to college without a declared major is a positive experience. To help get you on the right track, you are able to choose a meta major from one of four interest areas:
Sciences
Business
Education
University Studies
If one of the first three areas listed above don't fit your interests, you should choose University Studies to allow yourself more time to explore and decide on a major. All students must earn 42 hours of general education credits, so you have some time to make a final decision. It may be helpful to view the list of majors that fall into each meta major listed above- you can find a list online and choose meta major map.
What else do I need to do?
Review your Task List in the Orientation System in CatPAWS to determine outstanding items.
What happens after SOAR?
Save the dates for Advantage 2024: August 22-25, 2024. Advantage is your chance to settle in and explore Northwest.