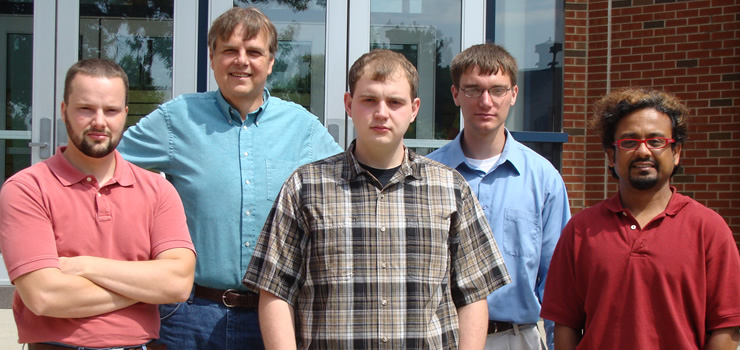 Nanophysics research group from 2011: (from left) Matt McCune, Dr. John Shaw, Dale Hopper, Andy Schmitz, Himadri Chakraborty 
Research Interests and Accomplishments
Theoretical Atomic Molecular &
Optical Physics and Computational Nanophysics


https://sites.google.com/site/tamocphysics/community/principal-investigators

DOCTORAL

Energetic ion-atom charge transfer; Electron-impact excitations of atoms and ions

POST-DOCTORAL

Photoabsorption/Photoionization of atoms and atomic ions

CURRENT

Photon and particle impact spectroscopy of atoms, fullerenes, endofullerenes, buckyonions, and metallic nanoparticles;
Ultrafast attosecond and intercoulombic decay (ICD) processes in the above systems;
Charge transfer in ion–nanostructured surface interactions
Listed Counter-Chronologically Start-Timewise
[A] Interaction of intense short-pulsed laser with macroscopic systems of noble gases: Higher harmonics and filamentation.
The pursuit of attosecond (10-18 sec) optical pulses continues unabatedly with the basic aim of chasing electrons inside an atom, just as the high-speed photography can capture an image of a bullet speeding through the air. Propagation of ultrashort IR laser pulses through a noble gas leads to the formation of single optical cycle pulses through a non-linear process called filamentation. Interestingly, the intensity of the final pulse is automatically clamped to the field ionization threshold. Utilizing this advantage we have let a filamented pulse move through a noble gas medium to create single pulses of attosecond duration via the higher order harmonic generation. Effects of carrier-envelope-phase on the final pulse formation mechanism are being investigated.
[B] Resonant charge transfer in the interaction of atomic anions with nano-structured surfaces
Resonant charge transfer is an important process among several processes occurring during the interaction of an ionic or a neutral species with a metal surface. Owing to the sensitivity of the process to the electronic structure of the participating candidates, it serves as a valuable probe to understand many salient structural features, namely, the effect of electronic band gap on the transfer dynamics, influence of surface symmetry and surface morphology, initial precursors to catalytic reactions on the surface etc. Significant thrust is being geared to understand the morphology of nanostructured surfaces by using anion beam as a probe with a long term goal of creating "designer's nano-surface" to catalize or de-catalize surface reactions as desired. We investigate this process by using the Cranck-Nicholson wave-packet propagation technique.
[C] Photoionization of electronically delocalized nanosystems: Metal clusters, fullerenes, endohedral fullerenes, carbon nanotubes, quantum dots
Finite systems, including atomic clusters, fullerenes, carbon nanotubes, and quantum dots are interesting objects as they exhibit properties that hover between realms of the single atom and the bulk. Contrary to the point-like atomic nucleus, a positive ion-core with a certain spatial extension provides the primary binding for valence electrons in such a system. As a result, these electrons delocalize over the ion-core and, consequently, the effective electronic potential acquires, in comparison to the atomic potential, a radically different shape: a flat interior and a sharp edge. The influence of this delocalization on both the single-electron and the collective phenomena is the focus of this topic. Calculations are performed in the time-dependent density functional theory to include electronic collectivity.
[D] Photoionization of atoms and ions
Interaction of a single photon with an atom is an excellent ``laboratory'' to understand the effects of many electron correlation. Possibility of precision measurements, owing to advance generation synchrotron light sources worldwide, motivates extensive theoretical work for detail understanding of the photo-processes. Also, photoabsorption studies, particularly involving ions, have crucial importance in numerous astrophysical applications. We employ the relativistic-random phase approximation (RRPA) to calculate the non-resonant photospectra. The autoionizing resonances are calculated by using the relativistic-multichannel quantum defect theory with RRPA combined as an adjunct.
[E] Positronium formation from fullerene materials
Following the impact of positrons with matter the formation of exotic electron-positron bound-pair, the positronium (Ps), is a vital process in nature. Other than probing structure and reaction mechanism of matters, the Ps formation is a unique pathway to the electron-positron annihilation. Production of BEC of Ps, the importance of Ps in diagnosing porous materials and in probing bound-state QED effects, and its role as the precursor of the production of dipositronium molecules and antihydrogen atoms required to study the effect of gravitational force on antimatter are known. However, little attempt of Ps formation by implanting positrons in nanoparticles, particularly in gas phase, has so far been made. Our research aims at calculating and studying Ps formation cross sections from various gas-phase fullerene systems.
Research Grant Awards
Applied Research Award (Internal; Northwest Missouri State U): Probing Electronic Properties of Plane and Nanostructured Surfaces by Ions: Simulation via Wavepacket Propagation Technique, 2007.
US National Science Foundation Award (Theoretical AMO Physics): Subshell-Differential Photoionization Studies of Single- and Multi-Walled Fullerene Endohedrals; 2008.
US National Science Foundation Award (Theoretical AMO Physics): Response of Single- and Multi-Walled Fullerenes and Endohedral Fullerenes to Photons and Charged Particles; 2011.
US National Science Foundation Award (Theoretical AM Physics): Photon Impact Ionization of Fullerene and Endofullerene Molecules: Cross Sections, Resonances, and Time Delays; 2014.
XSEDE-STAMPEDE cluster grant: Computational Simulations of Electronic Motions and Excitations in Nanostructured Surfaces by Ion-Surface and Adsorbate-Surface Charge-Transfer Interactions; 2014.