Nov. 16, 2023
A longtime Maryville couple with ties to Northwest Missouri State University and the Northwest Foundation is helping increase opportunities available to future agriculture students through their financial support of the University's planned micro-creamery.
Rex Brod, a 1982 graduate of Northwest and member of the Northwest Foundation Board of Directors, and his wife, Vicki, have joined the University's Homesteaders society, a group of donors providing gifts of $25,000 or greater in support of the Agricultural Learning Center. With their gift, the Brods are supporting the construction of a micro-creamery inside the Agricultural Learning Center.
"We really appreciate Rex and Vicki, their support of the School of Agricultural Sciences and all they've done for Northwest," Dr. Rod Barr, the director of Northwest's School of Agricultural Sciences, said. "Rex has been a part of our advisory committee for several years, but being able to financially support what we've done at the Ag Learning Center is always a great thing to help our students. It's going to provide opportunities for our students to learn, especially on the food science side. We're excited about that, and we're truly appreciative to have a family like the Brods support that."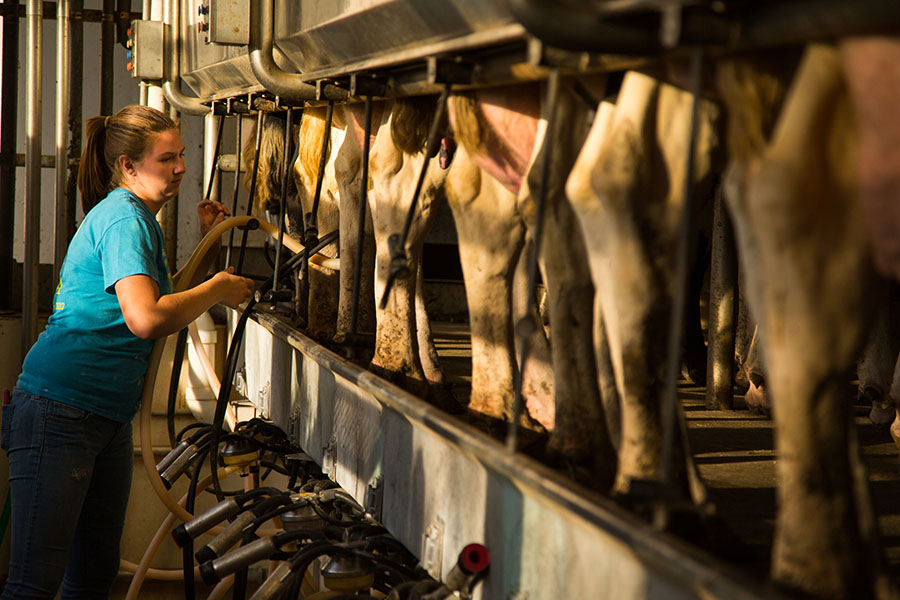 A Northwest student practices milking dairy cows at the University's R.T. Wright Farm. (Photos by Todd Weddle/Northwest Missouri State University)
Last summer, Northwest's Board of Regents approved plans for the micro-creamery, which will be housed within Northwest's Agricultural Learning Center at the R.T. Wright Farm, giving the School of Agricultural Sciences an opportunity to enhance profession-based learning for its students and the potential to one day offer milk and other dairy products to consumers.
Northwest maintains a dairy herd of approximately 70 cattle at the R.T. Wright Farm, which is located north of the Maryville campus and used to teach agriculture students about dairy health, management and collection. A lack of processing facilities at Northwest, however, means students' profession-based learning ends after the collected milk leaves the farm.
The proposed project will remedy that gap, allowing students and regional producers to experience the entire lifecycle of dairy production, from herd management and collection through processing, food production, safety testing and potentially even the marketing and retail of fluid milk, ice cream, butter, cheeses or other dairy products.
Additionally, the University wants to help improve the state's dairy industry by offering expanded education and training opportunities for regional producers and agriculture students. To assist with purchasing equipment for the micro-creamery, Northwest is receiving $250,000 from the Missouri Agricultural and Small Business Development Authority (MASBDA) through the Show-Me Entrepreneurial Grants for Agriculture (SEGA) program.
The Brods were motivated to support the micro-creamery project with a gift to the Northwest Foundation not only as a show of appreciation for their long-standing connection with the University but also because of their passion and interest in supporting agriculture initiatives.
"Hopefully it will give more opportunities, especially in agriculture," Rex said. "The hands-on experience of working with a dairy or livestock or even agronomy and dealing with plant science – that's invaluable. So to be able to help someone along on their walk and maybe their love of agriculture is important to us."
Rex and Vicki Brod are pictured in the atrium of the Agricultural Learning Center.
Rex graduated from Northwest with a Bachelor of Science degree in agricultural economics and was active in agriculture organizations as well as the Tau Kappa Epsilon fraternity as an undergraduate student.
Prior to attending Northwest, he developed a passion for agriculture while growing up on a small diversified farm in southeast Nebraska, where his family raised registered Jerseys.
Rex says he was attracted to Northwest after earning an associate degree at a Nebraska community college. When he had trouble securing employment without a four-year degree, some of his classmates encouraged him to consider pursuing his bachelor's degree at Northwest.
He recalls being swayed by the beauty of the campus and the welcoming community in addition to the ways faculty and staff invested in their students. Rex's academic advisor was Dr. Alfred Kelley, a Northwest faculty member from 1975 until retiring in 2017. 
"He said, 'When you get your four-year degree, it'll open up so many more doors,'" Rex said. "He took the time and the interest. There was a lot of that (at Northwest) and always has been. The faculty always has a sincere interest in their students, and I've really appreciated that."
Rex began his career with Ameribanc in St. Joseph, Missouri, and – through ownership and company name changes – has maintained his place in rural banking in northwest Missouri. Today, he is a market president for U.S. Bank in Maryville.
The Brods have lived in Maryville for 28 years and raised four children around the University campus. Vicki has worked in education for the last 15 years and currently is the registrar at Maryville High School. Their daughter, Hannah Brod, is a 2018 graduate, and their son, Mark Hendrix, is employed at Northwest as the university events scheduling coordinator.
Further extending the family's legacy with Northwest, Vicki's grandmother graduated from
Northwest and went on to teach in rural Andrew County, Missouri, while Vicki's
grandfather worked the family farms. Vicki's sister and brother also are alumni of the University.
To make a gift to support the University, including the micro-creamery, contact the Northwest Foundation at 660.562.1248 or visit www.nwmissouri.edu/GiveOnline.