Oct. 24, 2023
The president of the Northwest Foundation Board of Directors and her husband have added their funding support to Northwest Missouri State University's renovation of Martindale Hall.
Leisha and Ken Barry with Martindale Hall behind them. (Photo by Todd Weddle/Northwest Missouri State University)
Leisha Beckemeyer Barry and her husband, Ken Barry, have pledged $25,000 in support of the renovation project, which will upgrade and modernize the building that houses the University's School of Health Science and Wellness. With their gift, they are joining the Champions of Caring, which celebrates donations to the project between $25,000 and $99,999.
"We truly appreciate Leisha and Ken's support of the Martindale Hall renovation," Laurie Long, a senior gift planning officer with Northwest's Office of University Advancement and the Northwest Foundation, said. "Their commitment to advancing the offerings of the School of Health Science and Wellness will enrich the experience of Northwest's students for generations to come."
Leisha Barry joined the Northwest Foundation Board in 2017 and is in the second of her two-year term as president. (Photo by Todd Weddle/Northwest Missouri State University)
Leisha, who joined the Northwest Foundation Board in 2017 and is in the second of her two-year term as president, said the couple's gift represents their belief in the importance of health care, particularly in rural areas such as northwest Missouri.
"The importance of great health care at all levels is at our front door nearly every week," Leisha said as she reflected on the needs of hers and Ken's aging parents. "The students who are coming out of Northwest with physical therapy or any kind of health care direction is helpful."
Further, the Barrys said their recent pledge toward the renovation project is an investment in the profession-based experiences Northwest offers students.
"We both believe in the value of higher education," Leisha said. "I still believe in the on-ground experience that students are having when they move away from home, have to live on their own and solve problems."
A native of Wellington, Missouri, Leisha earned her bachelor's degree in medical technology at Northwest in 1984 before completing a master's degree in business administration and management at Rockhurst University in 1990.
She retired in 2015 as a vice president with Cerner Corporation, a leading healthcare technology company based in Kansas City, Missouri, after 30 years of employment with the business.
Like most Northwest alumni, Leisha's primary connection with Martindale Hall as an undergraduate student was to fulfill physical education course credits. Today, as the University's School of Health Science and Wellness has evolved to better prepare students for not just recreation and physical education but health care fields, Leisha said she understands the compelling need to renovate the 98-year-old building.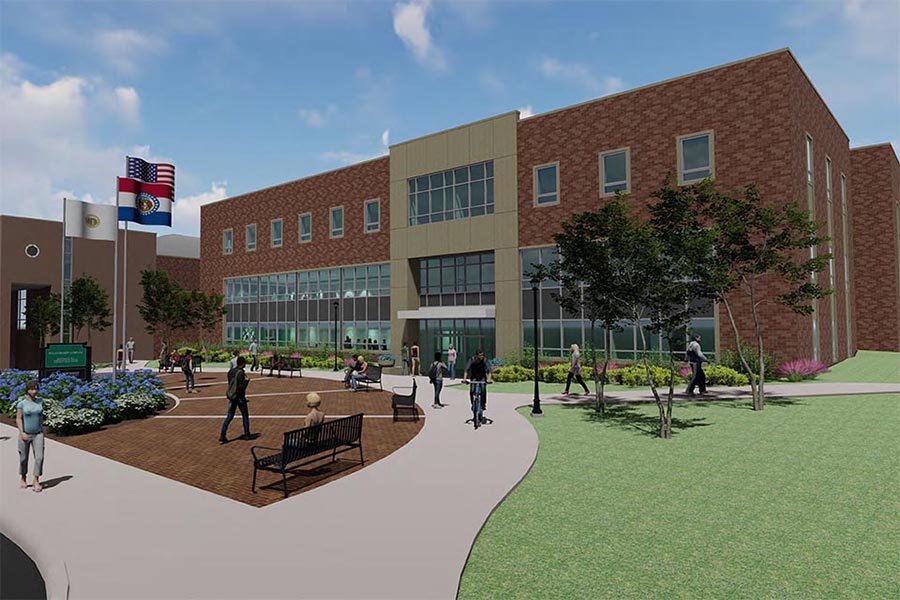 Northwest is raising funds for a renovation of Martindale Hall that will transform the face of the building and better align academic programs with industry needs and workforce demands.
Northwest completed a $1.3 million renovation of Martindale Hall's third floor, a 4,260-square-foot section, last spring that includes academic laboratory spaces to support nursing, human services and school counseling programs as well as faculty offices.
However, the third-floor renovation of Martindale Hall is just the first phase of long-term plans to update the entire building. The Missouri General Assembly approved $8.5 million, and Northwest is raising funds to match the state grant and fund the $17 million project total by December 2024.
"With the renovation of Martindale Hall, Northwest students will have enhanced project-based learning experiences that position them for a variety of health care roles," Leisha said.
Previously, the Barrys have generously provided funding toward the construction of the Agricultural Learning Center and the recent renovation of the Bearcat football locker room. They also are members of The 1905 Society.
In addition to her service with the Northwest Foundation Board, Leisha also gave her time to the University as a member of Northwest's presidential search committee during the 2022-23 academic year.
Although not a Northwest alumnus, Ken, a retired engineer, has roots in Nodaway County as his parents grew up in the area. Leisha and Ken have three adult children and reside in Liberty, Missouri.
The Northwest Foundation, a 501(c)(3) not-for-profit corporation, develops and stewards philanthropic resources for the benefit of Northwest Missouri State University and its students. It is governed by a volunteer board and staffed by members of Northwest's Office of University Advancement.
To make a gift to support Northwest, including Martindale Hall, contact the Northwest Foundation at 660.562.1248 or visit www.nwmissouri.edu/GiveOnline.