Sept. 27, 2023
A couple with long-standing ties to Northwest Missouri State University and the Maryville community is continuing their support of the institution and its health and wellness initiatives through a pledge to assist with renovations at Martindale Hall.
Dr. Pat Harr and his wife, Teri, have committed $25,000 in support of the renovation project, which will upgrade and modernize the building that houses the University's School of Health Science and Wellness. With their gift, the School's counseling lab will be named in their honor.
"Since the (COVID-19) pandemic and with the trend over the last few years of more mental health issues in the general population, particularly in young people, we thought anything that we can do to facilitate access and knowledge of issues would be helpful," Pat, a family physician in Maryville for nearly 40 years, said. "It is our responsibility for the well-being of students we serve – whether it's in a physical sense through physical activity and being involved in various campus activities or the mental part of it. Any way that we can expand counseling services and help our students cope with issues that disturb their college experience, to me that's a no-brainer."
Teri, a registered nurse and committed health educator, provided prevention programming to the Northwest community during her 30-year career with the former St. Francis Hospital in Maryville, retiring in 2013. She continues to volunteer in local communities and assists prevention-based organizations.
"Health and wellness have always been my passion," Teri said. "I've spent my career helping people be well in our community for it to be a healthy place to live, work and play. To support the University, and specifically health and wellness, is an exciting and fulfilling opportunity for us."
Teri and Dr. Pat Harr in front of Martindale Hall (Photo by Todd Weddle/Northwest Missouri State University)
Mitzi Marchant, vice president of university advancement and executive director of the Northwest Foundation, expressed her gratitude to the Harrs for their continued support.
"All of us at Northwest are incredibly grateful that Pat and Teri are supporting the renovations at Martindale Hall, which is so fitting given their passion for the health and well-being of our community," she said. "Their legacy will forever inspire others to continue to uplift Northwest and will allow the University to reach new heights."
The Harr family's connection to Northwest and memories attached to Martindale Hall are lengthy. 
Pat, who was born and raised in Maryville, attended Horace Mann Laboratory School and grew up playing in the Martindale Hall gymnasium. He then attended Northwest as a pre-med student before completing his medical degree at the University of Missouri-Columbia School of Medicine.
After completing his service in the U.S. Air Force, he returned to Maryville in 1974 to begin his medical career and retired as a practicing physician in 2012. Additionally, this fall marks his 50th year as a volunteer physician for Bearcat and Maryville Spoofhound athletics teams.
Pat was a member of Northwest's Board of Regents from 2013 to 2019, serving as Board chair from 2015 to 2019. In 2020, in recognition of his decades of service to the University, Northwest presented him with the honorary Doctor of Humane Letters degree.
In 2018, Northwest dedicated its Harr Athletic Success Center in Lamkin Activity Center in honor of his dedication to the University as well as that of his father. Dr. John Harr was a member of the Northwest faculty from 1944 until 1979 and made impacts as chair of the history department and as the Homecoming faculty chairman, helping to shape many of the Homecoming traditions Northwest continues today.
Furthermore, the couple supported the construction of the Carl and Cheryl Hughes Fieldhouse as members of the Founding 50, and they joined the Homesteaders to support the Agricultural Learning Center.
All four of Pat and Teri's children attended Horace Mann on the Northwest campus.
"Northwest has been a part of our lives and our kids' lives," Teri said. "It continues to be such a vital part. It always has been, and we hope it always will be. We want to support initiatives to make it a better place and continue to progress."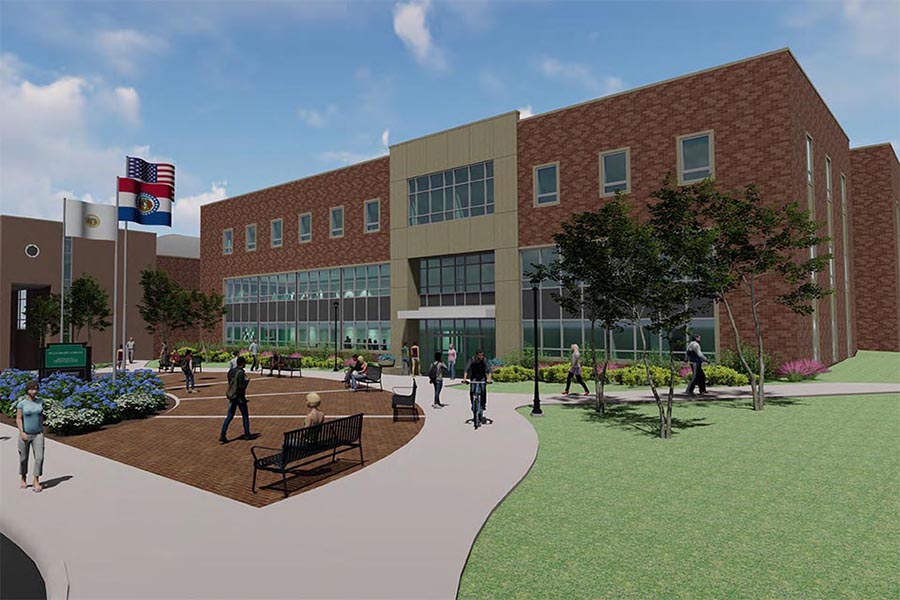 A rendering of how Martindale Hall may appear after renovations to the facility are complete.
Northwest completed a $1.3 million renovation of Martindale Hall's third floor, a 4,260-square-foot section, last spring that includes academic laboratory spaces to support nursing, human services and school counseling programs as well as faculty offices.
However, the third-floor renovation of Martindale Hall is just the first phase of long-term plans to update the entire building. The Missouri General Assembly approved $8.5 million, and Northwest is raising funds to match the state grant and fund the $17 million project total by December 2024.
The Northwest Foundation, a 501(c)(3) not-for-profit corporation, develops and stewards philanthropic resources for the benefit of Northwest Missouri State University and its students. It is governed by a volunteer board and staffed by members of Northwest's Office of University Advancement.
To make a gift to support Northwest, including Martindale Hall, contact the Northwest Foundation at 660.562.1248 or visit www.nwmissouri.edu/GiveOnline.