April 28, 2023
While Northwest Missouri State University annually recognizes a Student Employee of the Year, this spring's award recipient also is being honored by regional and national student employment organizations.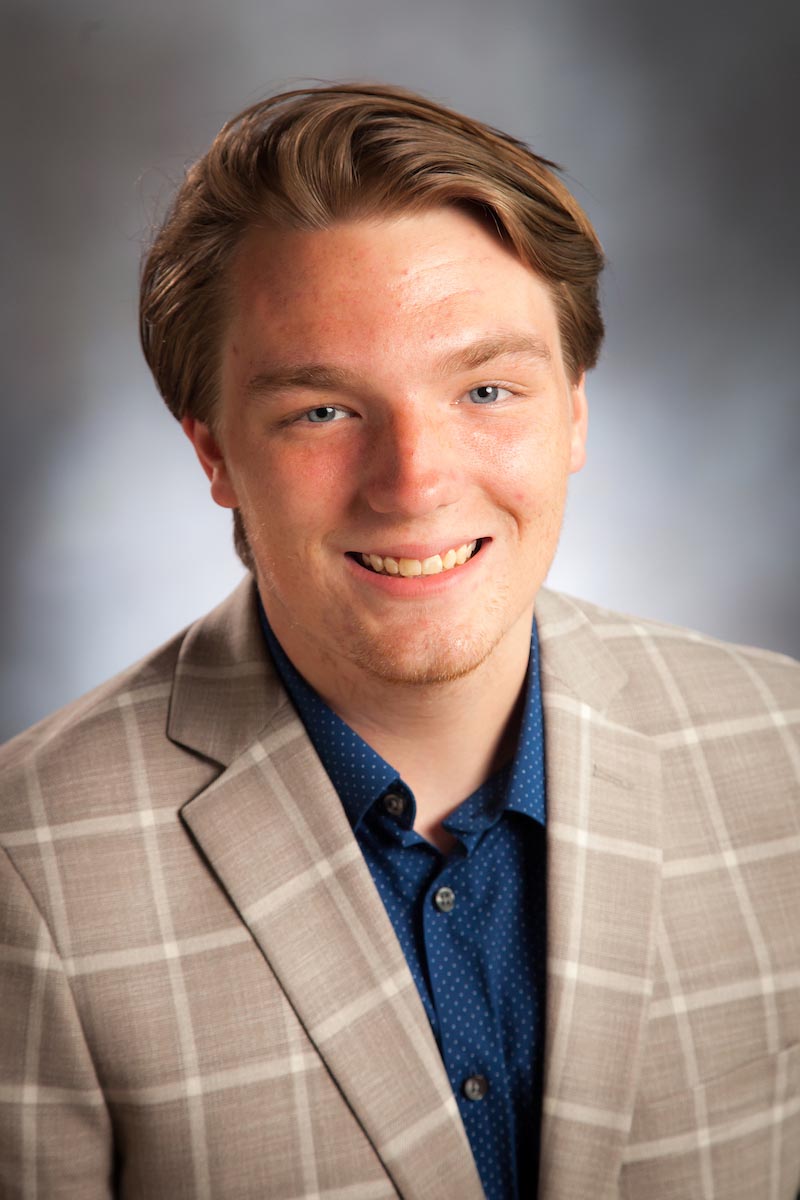 Garrison Kennedy
Northwest announced during its annual awards and recognition ceremony in April that Garrison Kennedy, a junior general studies major from Excelsior Springs, Missouri, had been selected as its Student Employee of the Year.
Additionally, he was recognized by both the Midwest Association of Student Employment Administrators and National Student Employment Association with the Student Employee of the Year award for leadership.
Dr. Kori Hoffmann, Northwest's assistant vice president of student affairs for student engagement and development, nominated Kennedy for his work as an office assistant during the last three years in the Office of Student Involvement (OSI).
"His service at the OSI will have lasting impacts for many students on campus," Hoffmann said. "He is a true change agent when it comes to improving processes and implementing new ideas."
In his student employment role, Kennedy has developed training programs for the office's student staff and helped improve OSI processes and policies to benefit student organizations. Simultaneously, he has taken on some responsibilities usually reserved for full-time staff that include updating data and process management software systems. 
In addition to his work in the student involvement office, Kennedy has served as a director with the Student Activities Council, a committee chair for the Northwest Dance Company, treasurer for It's On Us, a committee chair and executive secretary with Student Senate, and vice president of Phi Sigma Kappa fraternity.  
"All of these leadership positions have provided Garrison a unique position to serve in the OSI," Hoffmann said. "Not only does it speak highly of Garrison that he has been selected for so many leadership positions, but it also allows him to serve others in his role working for the OSI. He is able to work with student leaders in other organizations and help them problem-solve issues they are facing because he has been in their position."
Kennedy says he enjoys the community-building that happens in the student involvement field and the variety of opportunities available to students when they connect with student organizations.
Because of his experience at Northwest, Kennedy is interested in exploring a career in student affairs and is using his general studies major to complete coursework that will help him be successful in the profession.  
"Northwest provides a lot of opportunities for developing soft skills like communication and leadership, teamwork and valuing diversity," Kennedy said. "These are skills that I think students involved in organizations develop a lot more quickly than students who don't find an organization."
Northwest's internationally benchmarked student employment program offers students about 1,200 opportunities to develop skills and build their résumés in nearly every office on campus. In their varied roles, student employees are actively engaged in the institution's educational, research and operational excellence. 
"Student employees perform invaluable services with enthusiasm, dedication and initiative," Paula McLain, Northwest's student employment coordinator, said. "Student employment is our bridge to those we serve, a bridge that personally brings us friendship, ideas, motivation, among many other valuable assets."