April 6, 2023
By Edidiong Idong-Bassey, communication assistant
Northwest Missouri State University alumnus Dr. Gary Tunell and his wife, LuAnn, share a passion for higher education as well as health science and wellness sciences.
With that in mind, they have pledged $25,000 to support the University's Martindale Hall improvement project, and the nursing program's new office suite will bear the couple's name.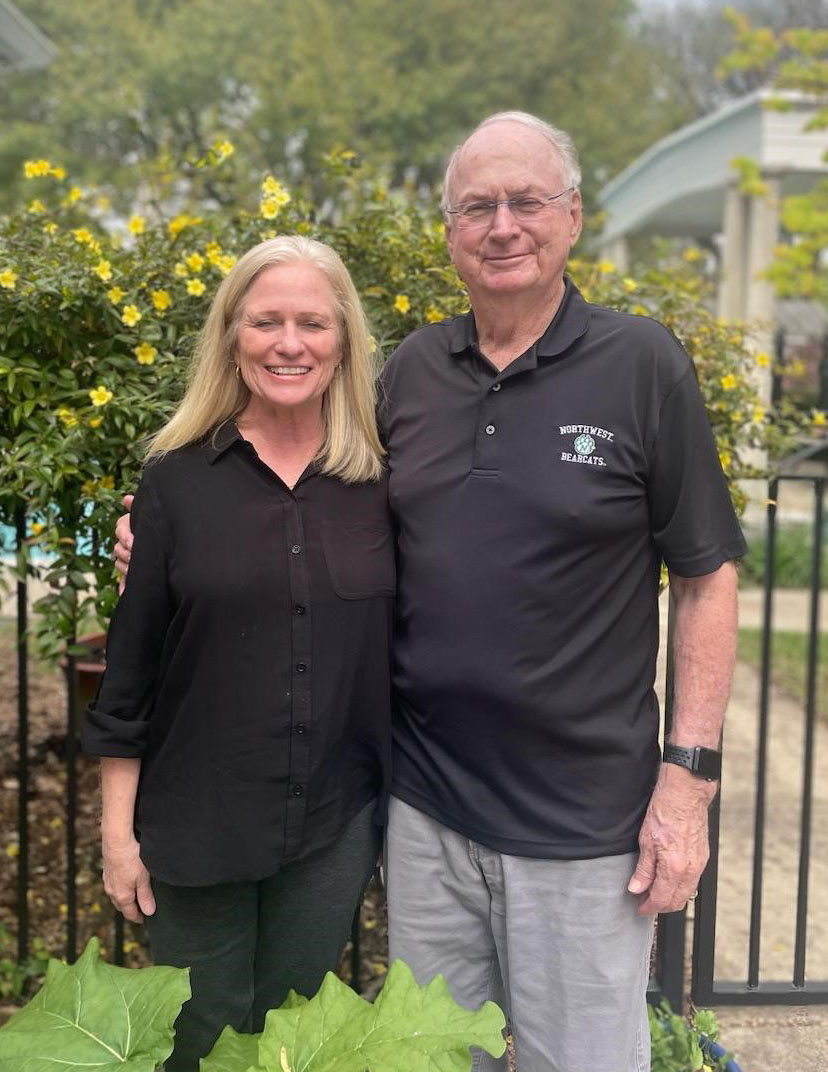 LuAnn and Gary Tunell
"The Tunells are such wonderful supporters of all things Northwest," Sam Mason, a major gift officer with Northwest's Office of University Advancement, said. "Gary's roots in the region run deep, and he has never lost sight of the opportunities he was afforded and the doors that were opened for him through his experiences at our great university. To have them support the School of Health Science and Wellness and the much-needed renovation of Martindale Hall is truly a testament to the important role Northwest played in helping him launch a successful career in medicine."
Adding to their previous scholarship gifts and donations, the Tunells are always looking for ways to give back to the University.
"We think it's an obligation," Gary said. "We are fortunate to be able to help financially, and we want to set an example for other alumni. It's an honor and a privilege to be able to give back for the benefits that we've reaped from Northwest. My Northwest education allowed me to have a successful and satisfying career in medicine, to do things and go places that Missouri farm boys only dream about."
A $1.3 million remodel of Martindale Hall's 4,260-square-foot third floor is nearing completion and includes academic laboratory spaces to support nursing, human services and school counseling programs.
However, the third-floor renovation of Martindale Hall is just the first phase of long-term plans to update the entire building. The Missouri General Assembly approved $8.5 million toward the $17 million total project cost with the requirement that Northwest raise the additional $8.5 million by December 2024.
When complete, the renovation of Martindale Hall, which opened in 1926 and was last remodeled in the 1970s, will help Northwest and the School of Health Science and Wellness better align academic programs with industry needs and workforce demands. Additionally, Northwest expects to enhance its competitive edge in recruiting quality students interested in careers in the healthcare field while strengthening regional partnerships related to health science and wellness.
It's a profession Dr. Tunell knows well. He retired in 2020 after a 39-year career as a physician and president of Texas Neurology, his private practice in Dallas. Simultaneously, he spent 21 years as chief of neurology at Baylor University Medical Center in Dallas. He also served as president of the Dallas Epilepsy Board and president of the Texas Neurological Society.
In retirement, he remains committed to mentoring the next generation of physicians. He lectures to residents and interns at Baylor University Medical Center, performs physical examinations for underprivileged kids and continues medical education courses to keep up with trends in medicine. Additionally, he serves on the professional advisory committee for Northwest's online nursing program by offering guidance related to curriculum and trends in the nursing field.
Gary and LuAnn have been married more than 30 years and share appreciation for Northwest as well as the value of higher education. LuAnn holds a bachelor's degree in dietetics and nutrition from the University of Nebraska-Lincoln and worked as a sales representative with a pharmaceutical company before retiring to raise their children.
As a Maryville native, Gary has deep ties to the University. He attended Horace Mann Laboratory School on the Northwest campus before completing high school in nearby Graham. He was the first of nine children to attend the University. His father worked in Northwest's maintenance department, and his mother worked in the Maryville High School cafeteria.
Gary graduated from Northwest in 1967 with a bachelor's degree in biology before furthering his education at Kansas State University, the University of Missouri-Columbia and the University of Texas Southwestern.
He reminisces fondly of former Northwest science faculty, including Dr. David Easterla, William Garrett, Dr. Gerald Kirk and Dr. Gordon Strong – each of whom inspired him to pursue higher education. In 2020, Gary joined the Northwest Foundation Board of Directors, which offers opportunities to give back to the University at a deeper level.
"It's just amazing to walk into the Foundation meeting room and see all the other alumni volunteers from across the United States and giving back their time," Tunell said. "There's a remarkable amount of energy and knowledge in that room."
The Northwest Foundation, a 501(c)(3) not-for-profit corporation, develops and stewards philanthropic resources for the benefit of Northwest Missouri State University and its students. It is governed by a volunteer board and staffed by members of Northwest's Office of University Advancement.
To make a gift to support Northwest, including Martindale Hall, contact the Office of University Advancement at 660.562.1248 or visit www.nwmissouri.edu/GiveOnline.