March 9, 2023
The chair of Northwest Missouri State University's Board of Regents is continuing his support of the institution as a donor through a recent gift to assist with renovations at Martindale Hall.
John Moore, who is a 1978 alumnus of the University, recently provided $25,000 toward the project, which is designed to better align academic programs with industry needs and workforce demands.
John Moore (Photo by Lauren Adams/Northwest Missouri State University)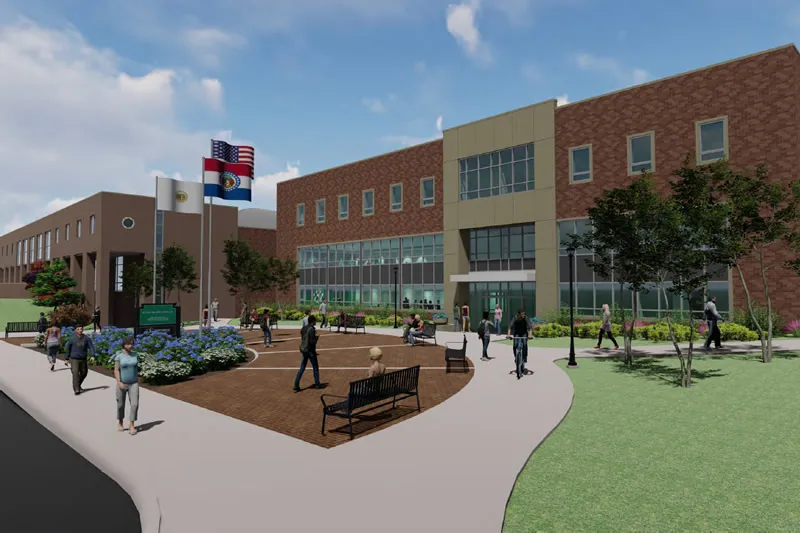 Northwest is raising funds for a renovation of Martindale Hall that will transform the face of the building and better align academic programs with industry needs and workforce demands
Through his multiple volunteer roles at the University, Moore understands the priority Northwest has placed on the project and enhancing programming within the School of Health Science and Wellness to meet future needs of students interested in careers in the health care field while strengthening regional partnerships related to health science and wellness.
"As I've thought about, in retirement, where can I make some contributions and investments that would have the most impact on people, Northwest, in general, is at the top of my list," Moore said.
As a former member of the Northwest Foundation Board of Directors, he helped raise funds for the Carl and Cheryl Hughes Fieldhouse with the idea of forming the Founding 50, a group of leadership donors providing gifts of $50,000 and greater. He also has supported many Northwest initiatives through the years, including the Agricultural Learning Center, numerous scholarships and athletics teams as well as the Bearcat football locker room renovations and the Northwest Fund.
Additionally, Moore has given his time to Northwest fraternities and sororities, providing leadership and support during the University's Greek Life visioning process. In 2018, he was appointed to the University's Board of Regents, becoming its chair in 2020 and leading its presidential search process this year.
During a 30-plus-year career with the Federal Reserve Bank, he held positions in Kansas City, Los Angeles and finally in San Francisco, where he was the senior officer presiding over the largest payments processing operation in the Federal Reserve System. In 2014, Moore retired as chief operating officer of the Federal Reserve Bank of San Francisco and returned to the Kansas City area.
"My parents instilled in me at a very early age the notion of expressing gratitude to those who have helped me and of being generous," Moore said. "It is definitely fair to say that Northwest did a lot for me. My career trajectory changed quite a bit as a result of my experiences as a student at Northwest."
As an undergraduate student, Moore was a sophomore class president and Student Senate president as a senior. He also was active in the Tau Kappa Epsilon fraternity, serving as president of the Northwest chapter as a senior, and he was a member of Blue Key Honor Society. Because of the connection he established with then-University President Dr. B.D. Owens, Moore also is a contributor to the B.D. and Sue Wright Owens Scholarship.
With gratitude for those undergraduate experiences, Moore has designated his gift toward Martindale Hall in honor of Northwest's Student Senate, which also is providing $25,000 to the renovation project. Combined, the gifts will allow for the naming of a second-floor student lounge in the remodeled facility.
"Speaking for Student Senate, his contributions – both monetary and in-service to the University – have greatly impacted students' lives and Northwest's ability to further serve Bearcats," said Elizabeth Motazedi, Northwest's 2022-23 Student Senate president and a senior from Joplin, Missouri, who is majoring in social studies education with an emphasis in history. "I am delighted to work with Regent Moore during my time as president and am grateful for his service. With that, I encourage others to provide their support for the future of Northwest and its success."
Moore structured his gift after attending a gathering of former Student Senate presidents, in celebration of the organization's 100th year, hosted by Motazedi and other current senators. Moore said he was inspired by the dedication past and present senators have shown to Northwest and hopes they will consider donating to the project and doing so in the name of Student Senate.
"In my involvement with the University, I've had a chance to interact with many of the students, and I've also become acquainted with a fair number of the staff and faculty, and I just see this as a place that is special," Moore said of Northwest. "I've seen it improve students' lives. They came in, maybe with – like me – moderate expectations about their future. They came out with confidence that, 'I can do well in this world,' and that came not only from the classroom training but also from the many other experiences available. That makes me feel like the money I give is going to a good place. It will be used well, and it will impact lives."
A $1.3 million remodel of Martindale Hall's 4,260-square-foot third floor is nearing completion and includes academic laboratory spaces to support nursing, human services and school counseling programs.
However, the third-floor renovation of Martindale Hall is just the first phase of long-term plans to update the entire building. The Missouri General Assembly approved $8.5 million toward the $17 million total project cost with the requirement that Northwest raise the additional $8.5 million by December 2024.
The Northwest Foundation, a 501(c)(3) not-for-profit corporation, develops and stewards philanthropic resources for the benefit of Northwest Missouri State University and its students. It is governed by a volunteer board and staffed by members of Northwest's Office of University Advancement.
To make a gift to support the University, including Martindale Hall, contact the Office of University Advancement at 660.562.1248 or visit www.nwmissouri.edu/GiveOnline.