Nov. 18, 2022
The memory of a beloved Northwest Missouri State University faculty member and his passion for astronomy and teaching are now enshrined at the viewing area he envisioned.
Northwest on Thursday dedicated its outdoor observation area at the Mozingo Outdoor Education Recreation Area (MOERA) as the Jim Smeltzer Astronomy Observation Area during a brief ceremony attended by members of the Smeltzer family as well the family of Northwest alumnus Darin Stephens.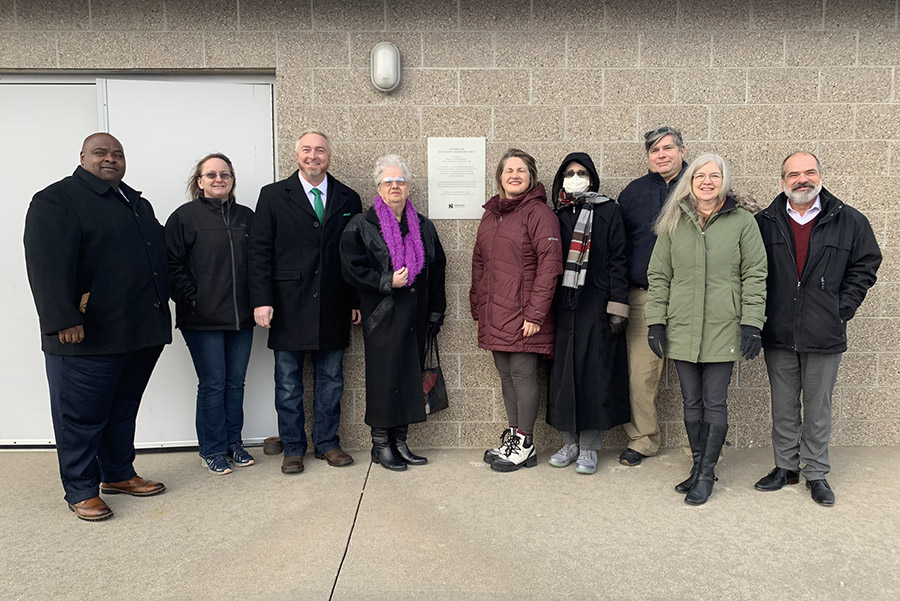 Northwest dedicated its outdoor observation area at MOERA as the Jim Smeltzer Astronomy Observation Area. Left to right are Northwest Interim President Dr. Clarence Green; Lisa Crater, office manager of Northwest's Department of Natural Sciences; Northwest alumnus Darin Stephens; Naoma Smeltzer, widow of Dr. Jim Smeltzer; Sherry Smeltzer Barnes and Lisa Smeltzer, daughters of Jim Smeltzer; Dr. Mark Corson, chair of the Department of Natural Sciences; Lori Steiner, assistant vice president of University Advancement and chief finance officer of the Northwest Foundation; and Dr. Mike Steiner, associate provost and dean of the College of Arts and Sciences.
Stephens, a 1995 graduate of the University, recently made a gift to the institution in honor of Dr. Jim Smeltzer, who served Northwest as a professor of astronomy and physics from 1969 until retiring in 2003. Smeltzer died in 2006, ending his five-year battle with a rare form of cancer. 
A plaque honoring Smeltzer, who was instrumental in the creation of the MOERA observation area prior to his retirement, now marks the location. Funding provided by Stephens will help create the Jim Smeltzer Community Astronomy Program and support a faculty stipend, equipment upgrades needed for enhanced outreach, and students assisting with the community program. The program will offer up to five community events per year during the course of five years.
"We greatly appreciate the generosity of Darin in honoring Doc Smeltzer in this manner," Jill Brown, director of corporate relations and a major gift officer at Northwest, said. "Astronomy is a shared passion of both and there's really nothing better than when passion meets purpose."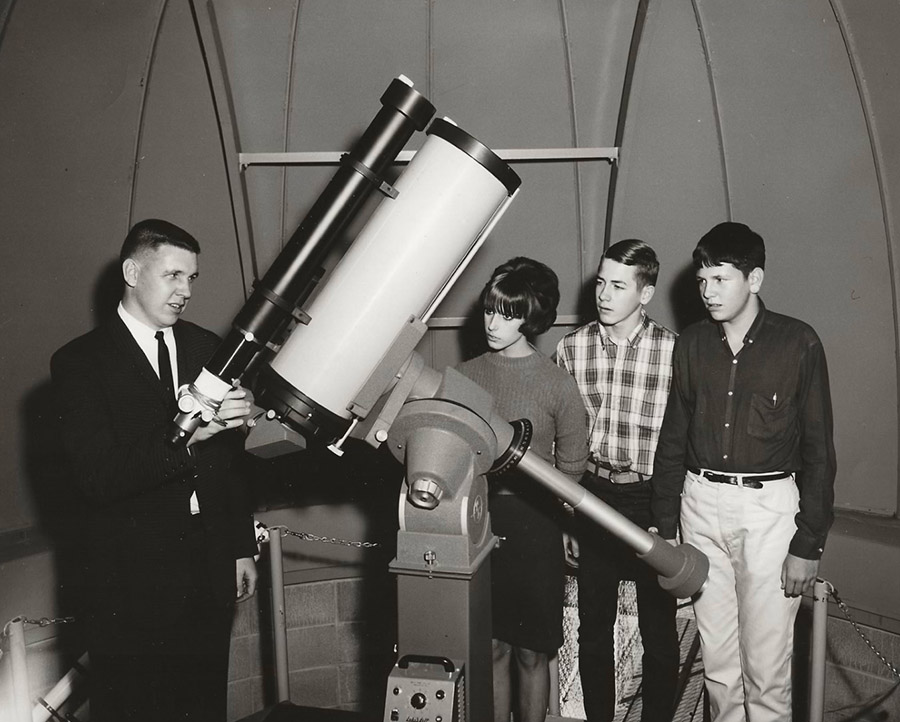 Dr. Jim Smeltzer, left, was passionate about education and sharing his interest in astronomy with students. (Submitted photo)
"Doc," as he was known to colleagues and students, was committed to teaching astronomy and continuing education. He was a lifelong student, regularly attending NASA conferences and returning to the classroom to share with his students the knowledge he obtained about space travel and exploration.
He launched his teaching career in 1961 in Enid, Oklahoma, after earning a bachelor's degree from Oklahoma Baptist University and a master's degree from the University of Oklahoma. He later earned his doctorate degree at Oklahoma State University.
Stephens, as a freshman student at Northwest in 1991, fondly remembers meeting Smeltzer in a field west of the University's high-rise residence halls while Stephens was gazing at the night sky with a Celestron CA telescope. An astronomy enthusiast himself, Stephens had attracted the interest of a number of students, and it wasn't long before Smeltzer came around, too.
"I was an undeclared major but had a strong science interest passed down by my dad, who taught junior high and high school science for 48 years," Stephens recalled. "Doc said, 'You should become a physics major. Even if you don't see yourself as a physicist, you will learn how everything in the world works and it will prepare you well for any technical application later in life.' That's what I did."
After completing his bachelor's degree in physics at Northwest, Stephens applied the knowledge he gained from Smeltzer to an internship at NASA Goddard Space Flight Center in Maryland. He went on to have a 20-year career with Bushnell, a company specializing in production of sporting optics and outdoor equipment, and supervised the development of astronomical telescopes.
In 2017, Stephens launched his own company, Red Bros. Outdoors, and provides product development consulting in the optics field.
"All of the space exploration that has just recently really gotten a lot of traction with SpaceX and other companies has really reignited that interest," Stephens said.
The observation area at MOERA, a 320-acre parcel of land that Northwest operates at Mozingo Lake Recreation Park east of Maryville, is a testament to Smeltzer's dedication to sharing the wonders of space with others, Stephens said.
Smeltzer selected the location of the observation and outdoor telescope viewing area for its remoteness and geographic height, and Stephens offered advice as the professor was building the facility. Stephens said he feels fortunate to have toured the observation area with Smeltzer after it was finished, seeing firsthand the pride he held for it.
"Doc was not a seeker of the spotlight and, candidly, wouldn't have promoted his name to be put on anything," Stephens said. "But I, for one, appreciate his dedication to astronomy and, more importantly, his passion for astronomy. Passion is so important, especially in today's world. Without passion, life is mundane. It is good for us all to find our passion and to share it."
Interestingly, the MOERA observatory is the second of two that Smeltzer built in his career. Before leaving Enid High School in 1965, he secured a nine-inch reflecting telescope to put inside an observatory he helped construct there. That facility remains in use more than 50 years later and recently was restored.
"That was the beginning when the space race was going on," said Sherry Smeltzer Barnes, one of Smeltzer's daughters and a Northwest alumna with Lisa Smeltzer, both of whom attended Thursday's ceremony. "There was a lot of funds available. The government was pouring money into that, and he got a grant."
Barnes added, "We appreciate his memory being important to others outside of the family. We have a lot of fond memories, but it's very good to hear the impact that he's had and see the impact he's had on his students over the years."