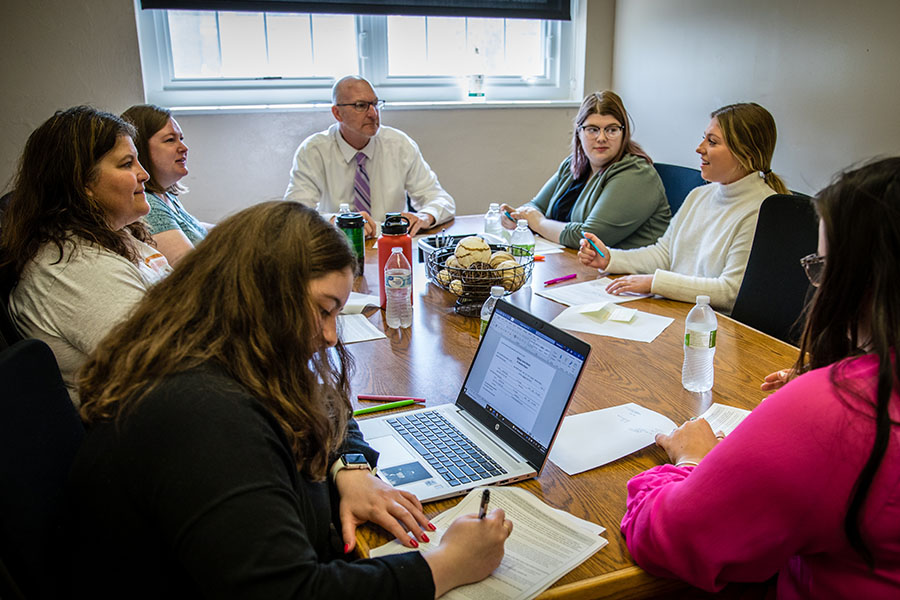 Elementary education and special education majors in Northwest's School of Education participated on Thursday in simulated meetings to discuss individual education plans, or IEPs. (Photos by Lauren Adams/Northwest Missouri State University)
April 29, 2022
Northwest Missouri State University students training to be special education teachers put some of their learning to the test Thursday and gained valuable experience during simulated meetings with school administrators and parents.
Junior elementary education and special education majors in the School of Education's Implementing Strategies of Behavior, Instruction and Evaluation course participated in the meetings, a culmination of their semester, to discuss individual education plans, or IEPs.
"They've had an essential question that's guided them throughout this entire semester and they've now taken everything that they've learned and put it into this plan that they've written for a student," said Dr. Tamara Lynn, an instructor of professional education, who teaches the course.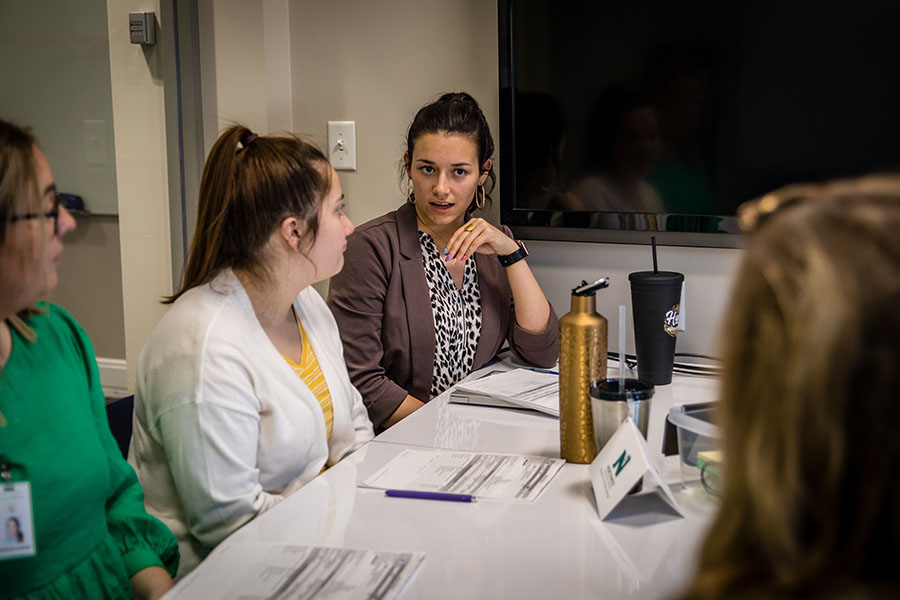 Northwest students played the role of teachers and reviewed their IEPs with groups of school administrators and parents during Thursday's simulation.
An IEP is a collaboratively written document for a student who receives public education services related to a disability. It documents a student's strengths and abilities in addition to goals for them to achieve during the academic year. A working document, the IEP also helps guide instruction and support services for the student.
The Northwest education students participating in Thursday's simulation began the project with an evaluation report that included the assessments given to a fictional student. It was then up to them to determine how their student would be eligible for services, under criteria outlined within the Individuals with Disabilities Education Act (IDEA), and draft an IEP.
During the simulation Northwest students played the role of teachers and reviewed their IEPs with groups of school administrators and parents. Northwest faculty participated in the simulation along with teachers and parents representing Horace Mann Laboratory School as well as Maryville and Savannah schools.
As Northwest students outlined the academic and behavioral goals documented on their IEPs, faculty and parents peppered the students with questions about their plans. Faculty also offered insight from their own professional experiences, and the parents participating in the simulation brought personal experiences as parents of real children with disabilities.
"Some of the feedback that we probably experienced as teachers from many years ago all the way through is that that very first meeting can be scary," Dr. Shantel Farnan, an associate professor of professional education, said. "They can take what they've learned, they can practice, and we give input. So it really is just that scaffolded approach to where then they will be confident when they are first-year teachers and they will see how teachers build relationships with parents."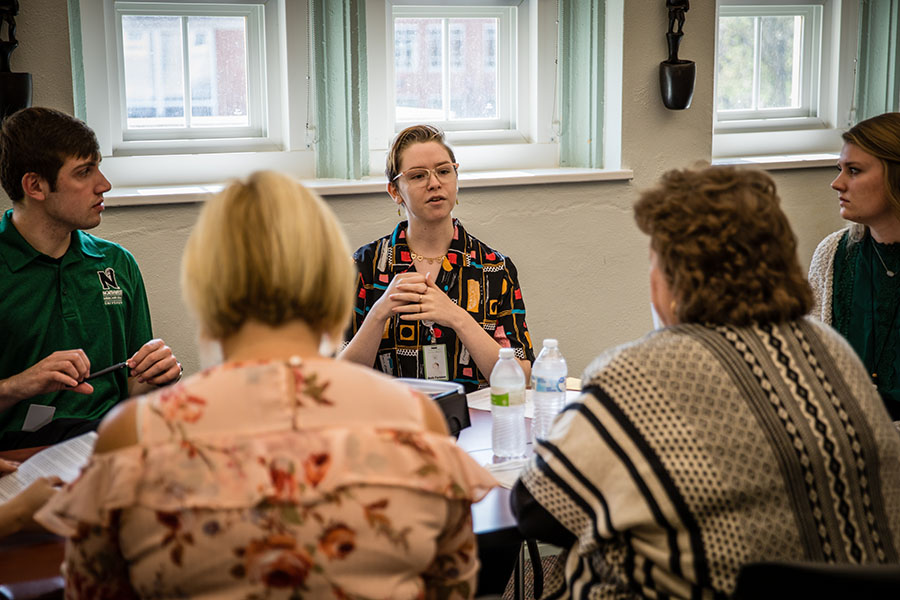 Northwest students, left to right, Hunter Grantham, Beth Farabee and Madeline Allen presented their IEP to a group of parents and administrators during a simulation Thursday.
Students said the semester-long project and the culminating simulation helped them gain confidence in their abilities as they prepare for their student teaching assignments next fall.
"As we get closer to student teaching, I've been really worrying about like, 'Am I really ready? Do I have the skills that I need in order to be successful for these students?'" said Beth Farabee, who will teach in Independence, Missouri, schools next fall. "Being able to have this experience really showed me, yeah, we know what we're talking about, and it really helped me feel a lot more strong about my decision."
Added Madeline Allen, who will teach in Omaha Public Schools next fall, "The Northwest School of Education does a really great job giving us these real-world experiences with meetings like these, at Horace Mann, and then we're able to see so many different settings of what our academic careers are going to look like because no school is the same. We can go to three different schools in Maryville, and they're all going to function differently. So being able to see those differences and similarities and strengths and weaknesses is super important."
In addition to gaining experience with IEPs, establishing a culture of collaboration was another important facet of the project.
"We preach to our students, collaboration, getting to know people, networking in the community, and this really highlights all of those things," Lynn said. "These are people who we've worked with personally, before we've been at Northwest, and who we continue to work with."
Farnan added, "We hope everyone knows that we appreciate the support of our communities, the school districts that we have strong partnerships with, as well as the families that we've continued those partnerships with and their willingness to spend their time doing this."