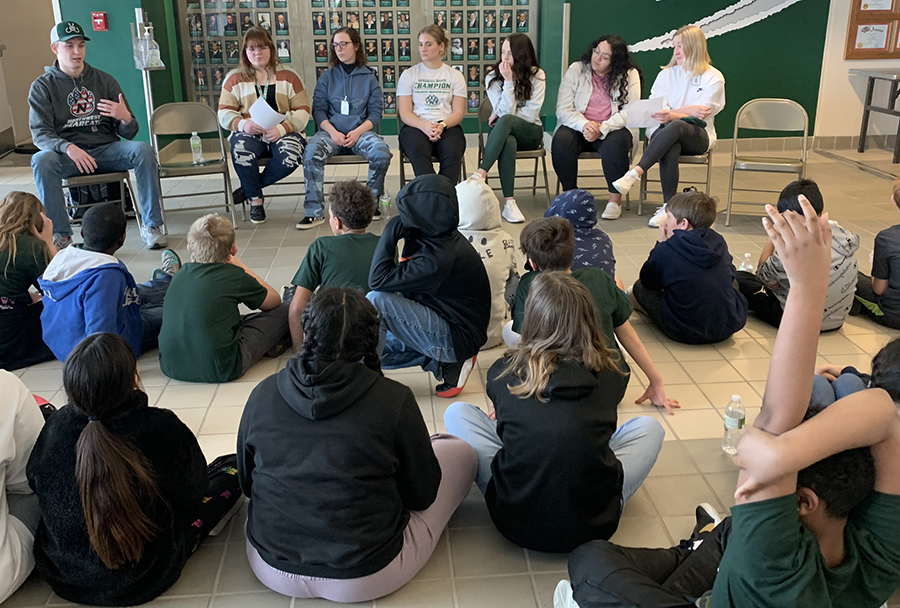 Northwest teacher candidates participated in a panel discussion Wednesday with fifth-grade students from Fairmount Elementary School in Independence, Missouri. The fifth graders' visit to the campus was part of an ongoing partnership with the School of Education. (Northwest Missouri State University photos)
April 1, 2022
Forty-two fifth graders and their classroom teachers from Fairmount Elementary School in the Independence (Mo.) School District spent Wednesday at Northwest Missouri State University's Maryville campus to gain a better understanding of what it's like to attend college.
The grade schoolers' campus visit was part of an ongoing partnership with the Independence School District that involves a collaboration experience for Northwest teacher candidates who also spend a day at Fairmount to observe and teach literacy lessons.
"The partnership between the two schools is amazing," Noah Iwig, a junior K-12 special education major from Urbandale, Iowa, said. "Just seeing the joy on their faces is awesome, and I enjoy the fact that the professors are supportive of us going, helping us prepare to get there. We're making lesson plans weeks to months in advance."
Further, the partnership gives the diverse students attending Fairmount, which serves a low-income area of the city, an opportunity to observe life on a university campus while interacting with students and faculty.
"It's a great opportunity for the kids to be able to experience what their futures can look like and for our kids to experience being able to take a field trip of sorts that allows them to get outside of the city limits," Fairmount Principal Nick Younts said. "A lot of our kids, they don't tend to venture outside of Independence. So to be able to get on to a bus, be able to travel an hour and a half here, be able to see instead of just looking at pictures, be able to experience what does a college or university look like, as well as just to be able to take things in and be able to ask questions and aspire to have this opportunity."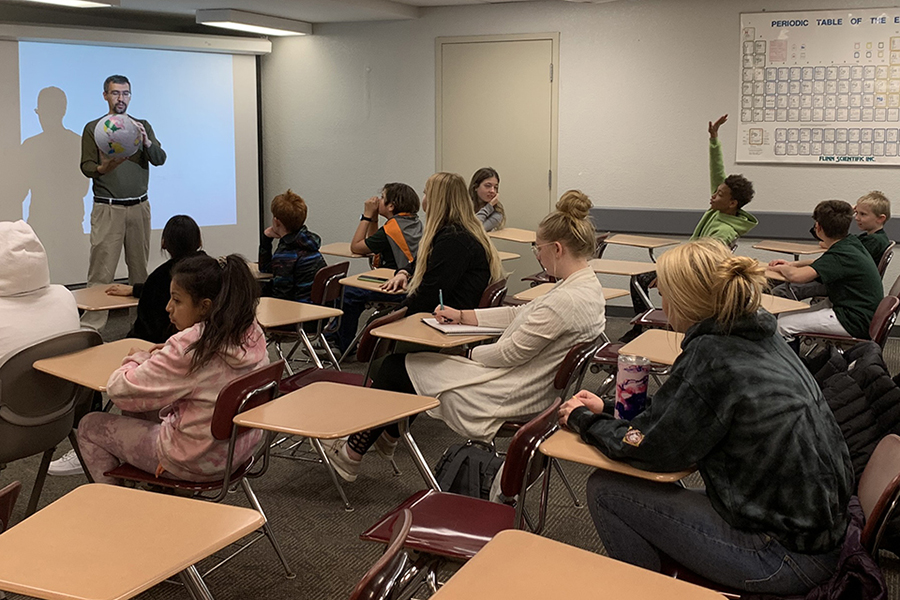 Fairmount Elementary students participated in a general statistics course in Garrett-Strong, where Dr. Taylor Harrison, an assistant professor of mathematics and statistics, had the class pass an inflatable globe to demonstrate the statistical probability of the receivers' index finger landing on the globe's water.
After arriving on the Northwest campus Wednesday and receiving T-shirts to commemorate their visit, the Fairmount students had opportunities to join class sessions throughout campus such as a coaching course in the Carl and Cheryl Hughes Fieldhouse, a statistics class in the Garrett-Strong Science Building, and an anatomy and physiology course in Martindale Hall. The Bearcat women's basketball team joined the students for lunch in the Lamkin Activity Center, and then a panel of Northwest teacher candidates answered their questions about attending and living on a university campus.
For Iwig, participating in the panel discussion was an opportunity to reacquaint with some of the Fairmount students he befriended when Northwest students visited the elementary school last fall and he taught a literacy lesson. He said the partnership provides Northwest teacher candidates with another valuable experience in honing their teaching craft as well as classroom management and leadership skills.
"It was a great experience," Iwig said. "The students were great. The experience was great, being able to get into a classroom only two years into college, and then I played recess basketball with most of them and just kind of sat and listened to them and talked to them … It made me appreciate even more why I'm going into this field."
Northwest's partnership with Fairmount Elementary takes about 75 teacher candidates to the Independence school buildings each fall and spring semester. There, Northwest students spend a full day collaborating with professional teachers on lessons, observing teaching practices and interacting with the elementary students during all pieces of the school day.
"It really gives them a feel for what that might be like as a teacher, and to understand that 'yes, that's my passion,' or 'maybe not, maybe I want to be in a rural setting, and I don't want to be in an urban setting,'" Dr. Vicki Seeger, a Northwest associate professor of professional education, said.
Northwest's School of Education offers undergraduate programs in elementary education, early childhood education, special education, middle school education and early childhood special education. The School also offers master's degree programs in elementary education, early childhood education, special education, middle school education, reading specialist and English language learners.
The School prepares future teachers and administrators for the state's and nation's school systems. Northwest is accredited at the national level through the Council for the Accreditation of Educator Preparation and by the Missouri Department of Elementary and Secondary Education.
For more information about Northwest's School of Education, visit www.nwmissouri.edu/education/.