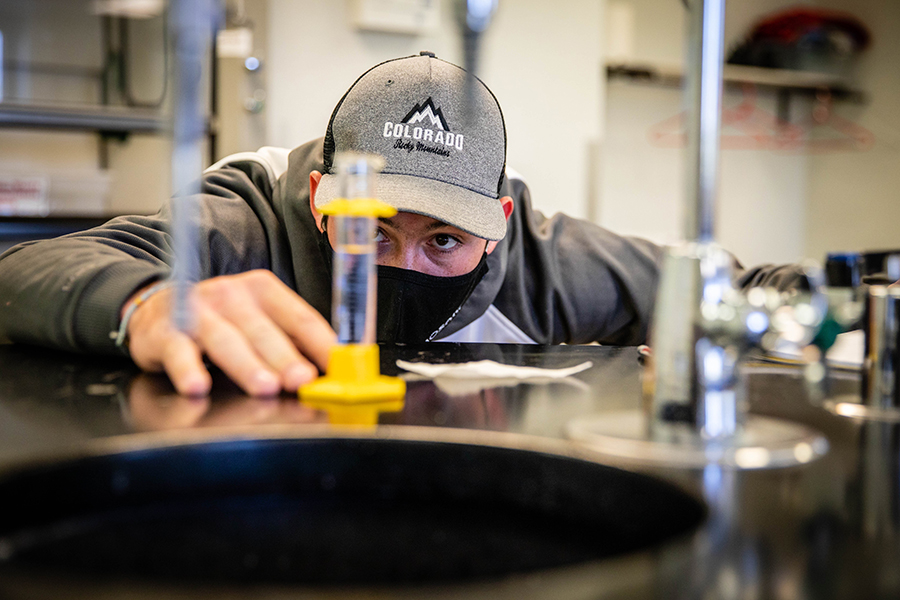 Above, a student participates in a Northwest chemistry lab. The University's curriculum recently received certification from the American Chemical Society. (Photo by Todd Weddle/Northwest Missouri State University)
The American Chemical Society Committee on Professional Training has added Northwest Missouri State University to its listing of approved institutions.
"This is a testament to the quality of our program as well as the considerable work entailed by our faculty and department leadership in maintaining the rigorous standards required," Dr. Michael Steiner, the dean of Northwest's College of Arts and Sciences said. "In that respect, I thank, in particular, Dr. Rena Smith and Dr. Mark Corson for their leadership with the chemistry program."
Northwest's ACS-certified major in chemistry prepares students with a comprehensive and deep exposure to the many aspects of chemistry. Students are intellectually challenged and gain an appreciation of how the discipline impacts their daily lives. The degree program is designed to prepare up-and-coming professional chemists for careers in research institutions, industry or the pursuit of graduate studies.
Northwest students who complete the course curriculum receive certificates in conjunction with their degree.
"Northwest students who graduate with an ACS-approved major in chemistry have the security and confidence to know that the rigor of the classroom and laboratory coursework has more than adequately prepared them to be more competitive toward entering a graduate program or the workforce with the skills to be successful," Smith said. "They have the security of knowing that the national governing body for public chemistry education has approved the faculty, the curriculum and the resources at Northwest and found them to be deserving of their approval."
Programs maintain approval based on criteria that include the number of degrees granted and the number of graduates who receive certificates for completing the approved curriculum.
Founded in 1876 and chartered by the U.S. Congress, ACS is one of the world's largest scientific organizations with membership of more than 151,000 in 140 countries. Its mission is to advance the broader chemistry enterprise and practitioners for the benefit of Earth and its people.