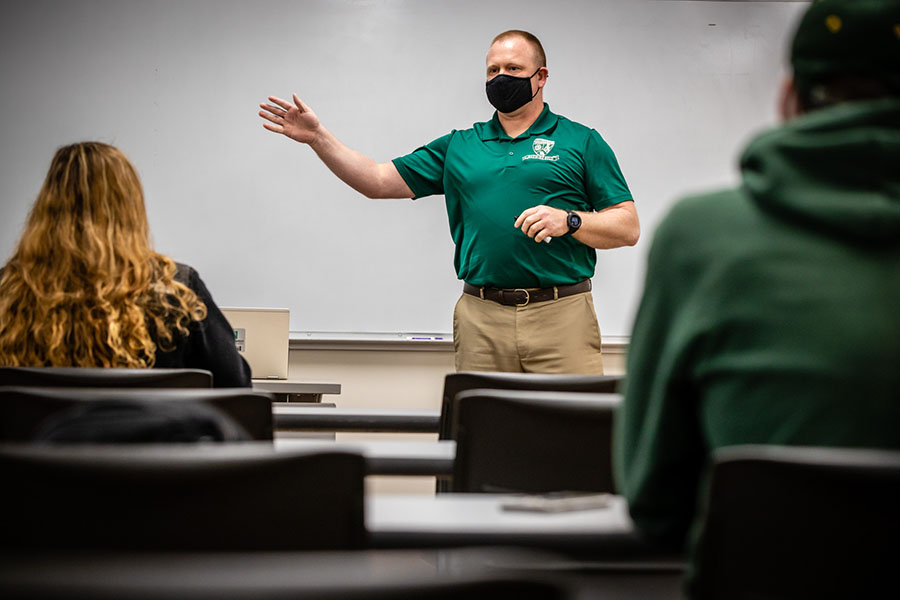 Capt. Joshua Wilmes, officer in charge of the Missouri Army National Guard Officer Leadership program at Northwest, leads a course in small unit leadership and tactics. Northwest's Missouri GOLD program has grown to become the largest in the state. (Photos by Todd Weddle/Northwest Missouri State University)
Feb. 24, 2021
By Sidney Lowry, communication assistant
Northwest Missouri State University's Missouri Army National Guard Officer Leadership Development (GOLD) Program has enrolled 50 students since its 2016 launch, making it the largest of the state's five GOLD programs.
Northwest's GOLD program hit the mark this spring, growing from just seven students in 2018 when Officer in Charge Joshua Wilmes began his leadership of it.
"It's pretty amazing," Wilmes said. "I think most of this is because of the community and the University. They've been very supportive of the program and we get a lot of referrals from faculty and staff members who think the program will be a great fit for a student. Then, of course, our own students bringing their friends into the program. We've grown pretty fast and I'm really impressed."
The GOLD program allows students enrolled at Northwest and enlisted in the Missouri Army National Guard (MOARNG) to develop into commissioned officers. It provides benefits that include tuition assistance, monthly payments and leadership skills.
"I want them to develop into future leaders," Wilmes said. "Not only for the Missouri Army National Guard, but for their communities. Most of our soldiers are part-time or for one weekend a month, so I want them to take the training from this program and apply it to their civilian careers."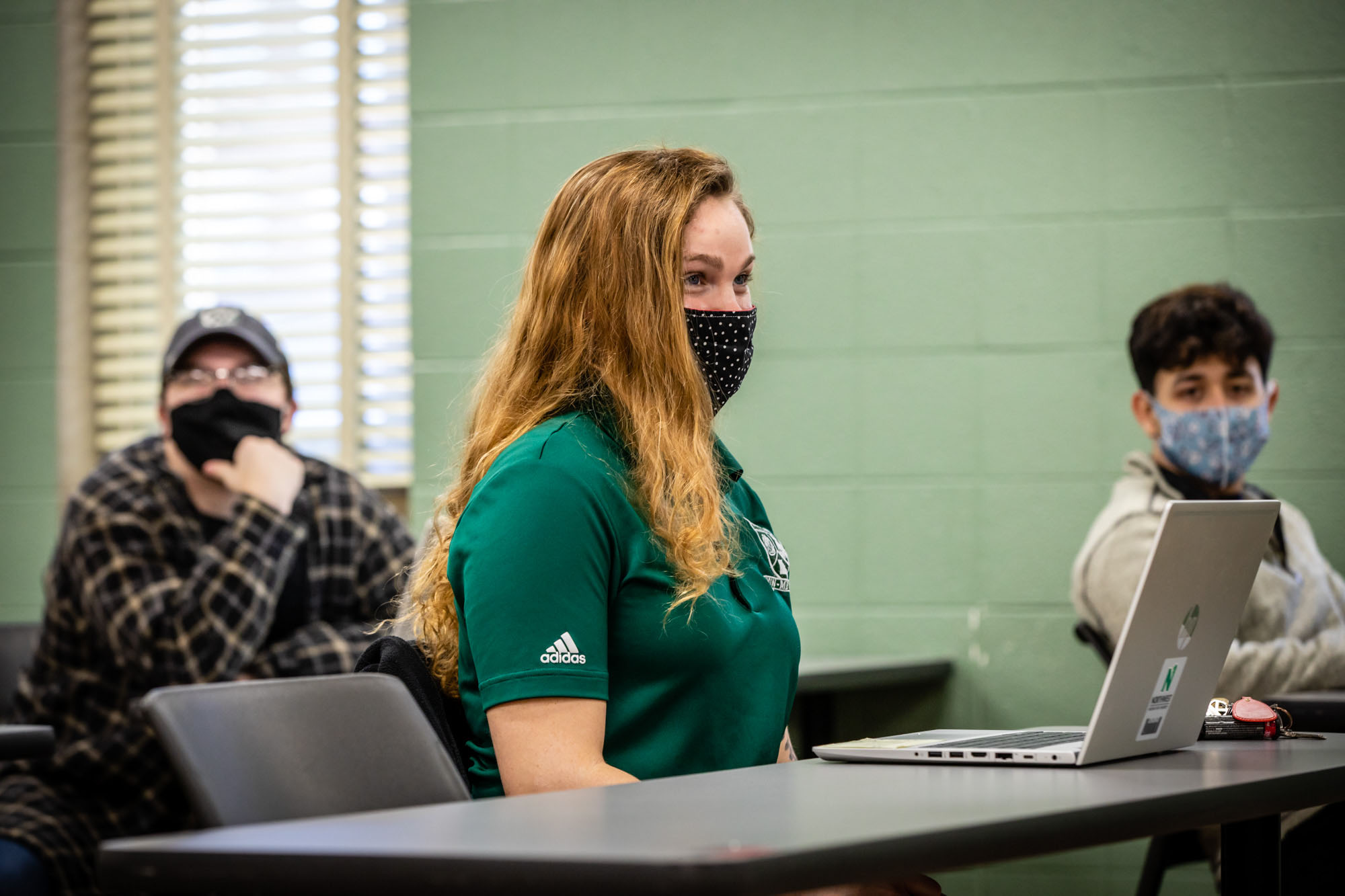 Mary Weipert joined the Missouri GOLD program as a transfer student and works as a human resources assistant in the GOLD office located in Valk Center.
For Mary Weipert, a junior emergency and disaster management major from Easton, Missouri, the GOLD program was a job opportunity and a chance to continue her higher education. She transferred to Northwest and found a position as a human resources assistant in the GOLD office located in Valk Center.
"I still wanted to be a lieutenant and an officer in the National Guard, but I had just left school and had no plans on going back," Weipert said. "When I got this position, I was able to go back to school and pursue my career with the Guard."
Weipert also discovered her major, emergency and disaster management, through the GOLD program and added a military science minor. She aspires to go into public service when she completes her degree.
"The military science minor gives you an overview of military history, leadership tactics, tactical operations," Weipert said. "It teaches you how to be a leader. Most of my classes line up with it because with the GOLD program you take the leadership practicum course, which is also a part of the military science minor. It was really beneficial for me to take the minor, and I also wanted that background and experience to take into my career field."
Like Weipert, many students in the program take advantage of the tuition assistance to return to school and complete their degrees.
"Paying 100 percent of college tuition is a huge benefit, not to mention the development and leadership that you get from it," Wilmes said. "It is a great résumé builder for your life after college."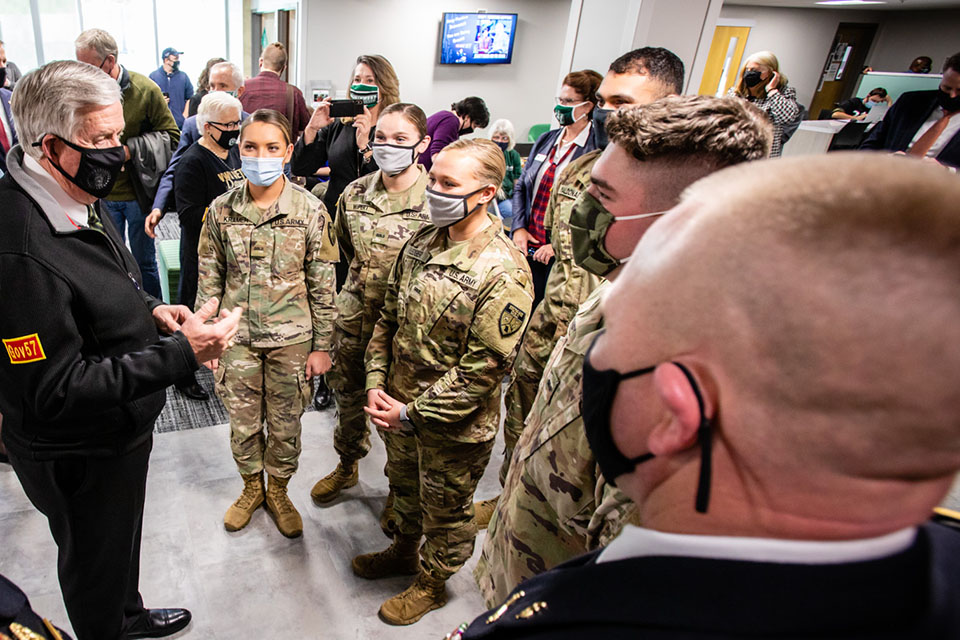 Students in Northwest's Missouri GOLD program conversed with Missouri Gov. Mike Parson on Veterans Day last November after a ribbon-cutting event to commemorate the opening of Veterans Commons in Valk Center.
One weekend each month, students also participate in training and courses to develop teamwork and leadership skills. Bradley Pirkel, a freshman music education major from St. Joseph, Missouri, said he favors the weekend experiences, which include working through a land navigation course at Northwest's Mozingo Outdoor Education Recreation Area (MOERA).
"It is nice to have that camaraderie together to make sure no one is falling behind," Pirkel said. "It's almost a family."
He added, "Even though I have only been in the program a few months, my skills as a leader and soldier have already pushed me to be a part of leadership."
Hannah Smith, a sophomore deciding major from Cameron, Missouri, said her favorite part of the program is the connections she develops with other students in the program.
"I naturally am quite shy and introverted, but they all just are such sweet people," Smith said. "I would also have to say that another huge benefit is the amazing leadership. Captain Wilmes and Sergeant (Jeremy) Kramer both are incredible at their jobs and helping us become the best versions of ourselves."
Despite the added responsibilities and requirements of the GOLD program, balanced with coursework, Smith said she joined the program to build her leadership skills without having to worry about deployment.
"I pilot a program for the military that takes college students and keeps them in college, while also training them to be a leader in the Army," Smith said. "So, while I am at Northwest and continue to take classes, I am non-deployable, keeping me in my area of study and allowing it to be easier to earn my degree."
For more information about the Show-Me GOLD Program at Northwest, visit www.nwmissouri.edu/showmegold/, or contact Jeremy Kramer at 660.562.1098 or Jeremy.w.kramer.mil@mail.mil.