Jan. 31, 2020
Updated Feb. 3
As the Kansas City Chiefs appeared in the NFL's Super Bowl for the first time in 50 years Sunday in Miami and beat the San Francisco 49ers, 31-20, a little bit of Northwest Missouri State University was there, too.
Northwest has enjoyed a variety of unique connections to Kansas City's professional football team through the years – from their partnership to organize the Fall Classic football game that features the Bearcats and one of their MIAA rivals at Arrowhead Stadium, to the Bearcat Marching Band turning the Chiefs on to the tomahawk chop.
Several Bearcats have worked closely around the Chiefs in recent years and have enjoyed an up-close view of the team's Super Bowl run this season. Here are some of their stories.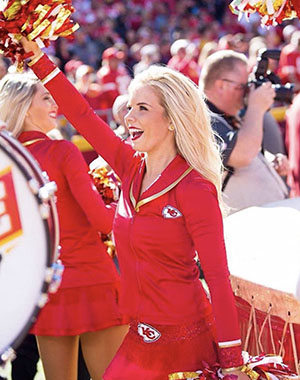 Chloe
Chloe
After four years of performing at Northwest with the Bearcat Steppers and the Northwest Dance Company, Chloe wasn't ready for her dance career to end. Now she's heading to the Super Bowl with the Chiefs cheerleading squad.
The Chiefs requested that Northwest not use her last name to protect her identity.
"Our city has waited 50 years for this, and to be part of the organization during such an exciting time means a lot," Chloe, who fondly remembers attending her first Chiefs game when she was 6, said. "Being there when the Lamar Hunt Trophy was brought back to Kansas City was definitely something I'm going to tell my kids about. Just being a part of all the excitement in K.C. and bringing a little bit of home down to Miami – I'm really excited about that."
Chloe, now in her third year with the team, performs at every game and appears with the squad at community events. Being a member of the squad also has taken her to visit military bases in San Antonio and Hawaii.
She received her bachelor's degree at Northwest in communication with a public relations emphasis. In addition to dancing, she was a Student Ambassador and active with Alpha Sigma Alpha sorority.
She says Northwest prepared her well to represent the Chiefs as well as her full-time work as a brand ambassador with Big Brothers Big Sisters Kansas City. In the latter role she works to spread the mission of Big Brothers Big Sisters and build connections with the community on a deeper level.
"The public relations department (at Northwest) did a great job of prepping me in all aspects, whether it was writing or being articulate, to public speaking and knowing etiquette and communicating on behalf of an organization – that's something that really helped me," she said. "It's understanding that we do represent a brand, and whatever comes out of our mouth represents the whole organization. Taking that seriously and understanding what we say matters has a huge effect on the whole organization."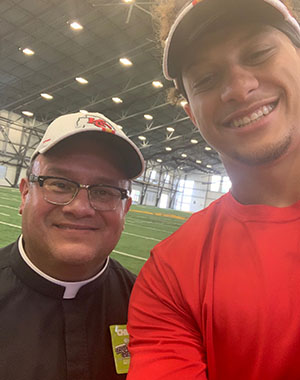 Father Richard Rocha with Patrick Mahomes
Father Richard Rocha
When Rocha felt a calling to serve God and enter seminary, he didn't stray far from the game he loves, and he's heading to the Super Bowl as the Catholic chaplain for the Chiefs.
Rocha began serving as a Catholic chaplain for the Kansas City Royals 13 years ago, and the Chiefs called on him to become their Catholic chaplain four years ago. As he does for every home game, and some of the team's road games, he'll celebrate mass with players on the eve of the Super Bowl and on Sunday morning with team staff and administrators.
Rocha earned his master's degree at Northwest in education in 1991 while working as a graduate assistant and defensive line coach for the Bearcat football team.
"I'm just so proud to be a member of Northwest," Rocha said. "I will always take the family, the hard work aspect and that strong desire to win that truly helped me when I became a head football coach on the high school level and had some success."
In all, Rocha coached football for 14 years – 10 at the high school level and four at the college level – making his last stop at Mt. Vernon High School in southwest Missouri. By that point, he was attending mass every day – and questioning whether he was meant to coach any longer.
Eventually, Rocha shared his thoughts with his pastor.
"He looked at me and he said, 'Coach are you sure God's not calling you to the priesthood?" Rocha recalled. "I remember I just welled up with tears, and the first thing out of my mouth was, 'He may be, Monsignor, but I don't want to be a priest. I want to coach football, get married and have a family.' He gave me a couple great pieces of advice that I embraced, and the more I kept praying about that, doing God's will, it was evident that he didn't want me coaching football. He wanted me to coach on his team."
Rocha submitted his resignation at Mt. Vernon and, in 1997, enrolled in Mundelein Seminary near Chicago. In 2002, he became an ordained priest. In a twist, a benefactor helped Rocha attend every Notre Dame home football game while he was at the seminary.
"It's interesting how God works in your life. Leaving football, I felt like the apostles, 'I'm giving everything up to follow you,'" Rocha said. "It was kind of a neat little God thing. (He said) 'Don't worry, I'll take care of you. You're not going to be leaving the sport.' It really was a great comfort to know that, 'Wow, I can still have my hand a little bit in football.'"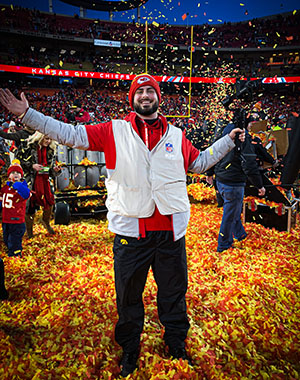 Andrew Sherry
Andrew Sherry
The confidence and work ethic Sherry developed at Northwest took him to the Super Bowl this week as a seasonal production assistant with the Chiefs.
As part of the staff that produces video content for the Chiefs, Sherry's responsibilities include everything from assisting with live production to recording on-field highlights and the game atmosphere. He worked all of the Chiefs' home games this season and traveled to some of the team's away games. On the Sundays when he wasn't traveling with the Chiefs, Sherry was at Arrowhead Stadium cutting and producing the video content being dispatched from staff members at the opposing stadium. 
"It's definitely going to be surreal," he said of his opportunity to film the action from the sidelines in Miami on Sunday. "I definitely have a worker's mentality that I will be so focused on capturing what I can to help the team and be where I need to be, but I'm definitely going to, at some point, just stand there and focus in on that this small town kid made it to the biggest stage in football."
Sherry completed his bachelor's degree in 2015 in geographic information systems (GIS) with an emphasis on data and technology, and he added a master's degree in applied health and sport sciences in 2017. A Maryville native who comes from a long line of Northwest alumni, Sherry says he didn't think about attending another university.
But he began feeling an itch to develop his videography skills during his GIS coursework. As drones were becoming more common, Sherry realized that learning the technology might give him an advantage in the job field after he completed his degree. Soon afterward, Northwest's Department of Athletics awarded him a graduate assistantship and he honed his craft on Saturday afternoons at Bearcat Stadium.
"I love to see the different perspectives," he said. "I love to tie the emotions back to the videos, and I just have always loved seeing what a computer can do and what different programs can do to build imagery and visuals for people."
Sherry spent the 2018 football season with the University of Iowa, where he worked as a football video specialist, contributing to that football program's video and social media channels.
In addition to working three national championship games won by the Bearcat football and basketball teams between 2015 and 2017, Sherry's work took him to the Outback Bowl with the University of Iowa and to two College World Series tournaments.
As he looks forward to the Super Bowl, Sherry takes pride in his opportunity to spend time around championship cultures, and he is grateful for the connections he is making along the way.
"I didn't really know what life was going to bring me, but I knew that through Northwest I was going to figure out what my niche was," Sherry said. "I feel like Northwest gave me the confidence, hard work and connections. It's all about relationships."