Jan. 26, 2020
As the Kansas City Chiefs take the field Sunday in Miami to appear in the NFL's Super Bowl for the first time in 50 years, a little bit of Northwest Missouri State University will be there, too.
Northwest has enjoyed a variety of unique connections to Kansas City's professional football team through the years – from their partnership to organize the Fall Classic football game that features the Bearcats and one of their MIAA rivals at Arrowhead Stadium, to the Bearcat Marching Band turning the Chiefs on to the tomahawk chop. Keep reading for the latter piece.
A handful of Bearcats have worked closely around the Chiefs in recent years and have enjoyed an up-close view of the team's Super Bowl run this season. Here are some of their stories.
Related links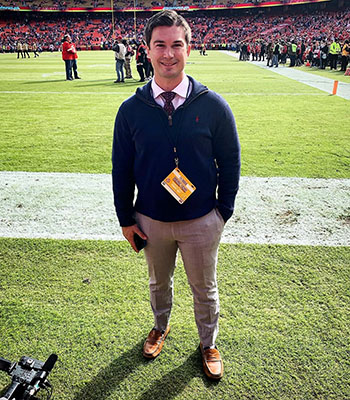 Brandon Zenner covers the Kansas City Chiefs for the St. Joseph News-Press.
Brandon Zenner
Zenner earned his bachelor's degree in mass media with an emphasis on multimedia journalism at Northwest in 2015 and is sports director for the St. Joseph News-Press, but he never expected to be adding "Super Bowl coverage" to his résumé so early in his career.  
A native of Platte City, Missouri, Zenner was news editor for The Northwest Missourian during 2013-14 and editor-in-chief during 2014-15. After a year as a sports reporter in Hays, Kansas, he returned to northwest Missouri during the summer of 2016 to become a sports reporter and anchor for the News-Press and its television affiliates. He was named sports director in 2017.
"Growing up in the area, being a fan of the team since I was a kid and then getting my start in sports media at Northwest and getting to cover national champion football teams – that felt like a dream," Zenner said. "Then, getting to St. Joseph in 2016, getting to do training camp and seeing everything (the Chiefs) were able to do, you could see things turning around. But how everything has worked out for the team the last couple years, it's been a dream come true for sure."
A campus tour convinced Zenner to pursue his bachelor's degree at Northwest.  
"Seeing the facilities and the experience I was going to get right away in broadcasting and media, I wasn't 100 percent sure that's what I wanted to do, but it was something that excited me," Zenner said. "Seeing the resources that were available, it checked every single box and made it feel like home. Then, seeing the experiences I was able to get over my four years, writing with the team and not having to wait until my senior year to get published or to do stuff on a TV station, it was 100 percent the perfect choice for me."
When Zenner arrived in St. Joseph, which is home to the Chiefs' training camp, in 2016, his first assignment was to cover the team's arrival to camp. Since then, Zenner has played a key role in leading the media outlet's Chiefs coverage and hasn't missed a game at Arrowhead Stadium in four seasons.
He attributes his successful work to the preparation he had at Northwest. In addition to his leadership roles with The Northwest Missourian, he spent time with KNWT and KZLX.
"I was really broadening my horizons, and we're unique at the News-Press because we have the TV and the newspaper elements," he said. "At Northwest, I learned how to do it all, and it prepared me in every single way from being able to do photography and video and interview and write. Everything that I did at Northwest, I've been able to continue that without missing a beat."
Reaching the Super Bowl is almost indescribable for Zenner.
"It's going to be crazy thinking there's people that have covered the team for decades and I've only been out of college now for just over four years and get this opportunity to cover the biggest sporting event in the world with millions of people watching," Zenner said. "Being in this environment, I can't even describe how grateful I am and how humbled I am. There's people who have waited their entire lives for this and their entire journalism careers, and I've only had to wait a matter of years, and hopefully it's just the first of many."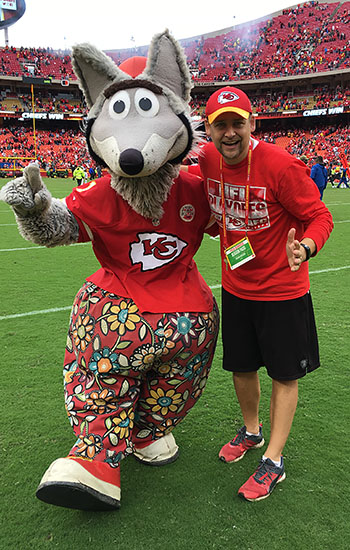 Shawn Emerson works with Chiefs mascot K.C. Wolf as a game assistant.
Shawn Emerson
Emerson, a 2001 Northwest graduate, is a game assistant with the Chiefs and works alongside K.C. Wolf, the team's mascot portrayed by Dan Meers.
While pursuing his bachelor's degree in elementary education and physical education at Northwest, Emerson played Bobby Bearcat from 1998 to 2001. Since completing his degree at Northwest, Emerson has worked at rural schools in northwest Missouri and southeast Nebraska. He currently serves as principal at Nodaway-Holt Elementary School in Maitland, Missouri.
Emerson was continuing his mascot work in 2006 with the St. Joseph Saints, a college baseball team at the time, when Meers contacted him about assisting with the Chiefs' game day entertainment. Emerson has been at Meers' side for Chiefs game days at Arrowhead for the last 14 seasons.
"I never really thought that this would be a full-time thing, working with the Chiefs for this long," Emerson said. "I think that being Bobby really helped me. When I was Bobby, I had a very similar personality. I kind of geared mine off the persona of K.C. Wolf. I looked up to Dan as a performer and how he interacted with people with his mannerisms and mirrored my walk after K.C.'s."
On game days, Emerson arrives at Arrowhead Stadium about three and half hours before kickoff. He works the crowds gathered in parking lots during pregame tailgates. He directs K.C. Wolf to points throughout the stadium during games and helps Meers with fan engagement activities.
"I just remember my first time getting to go into the stadium," Emerson said. "Our dressing room is down the tunnel. Getting to be in the tunnel, behind the scenes and interacting with the players as they walked in. I'm so excited about heading to Miami."
Emerson will assist Meers at Super Bowl activities throughout the week in Miami.
"I'm just so excited," he said. "I like the organization. They're great people to work with. Dan's an awesome, not just person but an awesome mentor. There's been a lot of cool, fun things I've got to do, but the Super Bowl is going to be right there at the top."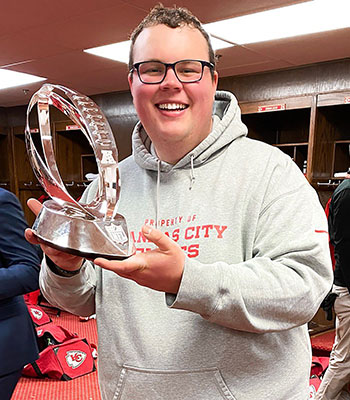 Tucker Peve, who assists the Kansas City Chiefs equipment staff, holds the Lamar Hunt Trophy after the team clinched the AFC Championship Jan. 19.
Tucker Peve
Peve put his football cleats away when he graduated from high school and left Lee's Summit, Missouri, for Northwest. He wanted to stay close to the game, though, and found his niche in the equipment rooms of the Lamkin Activity Center and Arrowhead Stadium.
As a freshman at Northwest, Peve worked as a student employee in the athletic training room but gravitated to the equipment room. When a student manager job opened across the hall, he seized it, parlaying his newfound passion for maintaining – and enhancing – the Bearcat football team's equipment into a graduate assistantship and eventually a full-time job.
"When I first came to Northwest I wanted to be the history teacher-football coach," Peve said of his career aspirations. "A week or two into that, I quickly realized it wasn't for me. I looked at how I could take the football thing and make it into a career, and I found my niche."
In 2017, Peve was named Student Employee of the Year at Northwest and then by the Midwest Association of Student Employment Administrators. Last fall, after earning a bachelor's degree in business management and sport management and a master's degree in applied health science at Northwest, he joined the University's full-time staff as director of football equipment operations.
"My experience at Northwest as a student manager, running the show for the football team, helped me be career ready," Peve said. "Working with Coach (Adam) Dorrel and Coach (Rich) Wright, they were awesome leaders to learn from and really laid the groundwork for a great future."
While assisting the Bearcat football program as a Northwest student, he also completed internships with the Baltimore Ravens and USA Football. He began working with the Chiefs as an equipment intern in 2015 and continues to help the organization with their equipment needs as a part-time employee.
Peve works Chiefs home games in Kansas City as well as its training camp. He also worked with the equipment staff at the NFL Pro Bowl in 2017.
"I'm really blessed in Kansas City," Peve said. "The director of equipment, Allen Wright, took me under his wing and showed me the ropes in the NFL after a couple internships and lets me be a part of it. It's a fun time."
The Bearcat Marching Band
On Nov. 18, 1990, the Kansas City Chiefs took on the San Diego Chargers in front of nearly 64,000 fans at Arrowhead Stadium and hosted the Bearcat Marching Band to provide halftime entertainment.
The band had finished its pregame rehearsal and was settling into its seating behind one of the end zones as Chiefs players began warmup drills in front of them. Al Sergel, who was the director of bands at Northwest from 1981 to 2003 and a Florida State University alumnus, occasionally led the Bearcat Marching Band in his alma mater's famed war chant. Just for fun, as Sergel recalls, a couple of his band members began playing the song, and it got the attention of Chiefs All-Pros Derrick Thomas and Neil Smith.
"More and more, the kids kind of started playing a little bit, and then a couple guys on the team started dancing," Sergel said. "They were having a good time. It was warmup, but we thought nothing about it. It really wasn't a cheer that we did for the 'Cats. It was just something between me and the band."
In the game's first half, as the Chiefs defense was fighting to hold the Chargers from busting into that same end zone, Thomas and Smith turned and motioned for the band to play the song. Sergel and the band members took the cue and played it through the rest of the defensive stand, which resulted in the Chargers settling for a field goal.
But that wasn't the end of it. As the Bearcat Marching Band left the field after its halftime performance, Sergel felt someone pulling on his jacket. He turned to see Chiefs head coach Marty Shottenheimer.
"He's telling me, 'Whatever the hell you guys are doing, you just keep doing it every time our defense is on the field,'" Sergel remembers. "Eventually, during the game we did it. More and more of the crowd got involved, and they end up winning that game, which kept them in a spot for the playoffs."
The rest – as the saying goes – is history. A couple days later, Sergel received a call from a Chiefs staff member, who was joined on the phone by Shottenheimer and Chiefs General Manager Carl Peterson. The Bearcat Marching Band's performance had generated so much excitement at Arrowhead that the Chiefs wanted an encore. Sergel obliged and rounded up a group of band members to perform again at the Chiefs next home game.
The next season, the Chiefs implemented a recording of the war chant to play throughout their games, and it became a centerpiece of the organization's marketing.
"It really went from two guys that thought it was kind of fun to do into something that now has become pretty much an icon," Sergel said.
The Chiefs finished that 1990 season with an 11–5 record and earned a playoff spot for the first time in four years while the tomahawk chop became a mainstay of games at Arrowhead Stadium.
The Bearcat Marching Band performs at Arrowhead Stadium in this photo from 2016. The Kansas City Chiefs adopted the tomahawk chop after the band performed it during a Chiefs game in 1990. (Northwest Missouri State University)