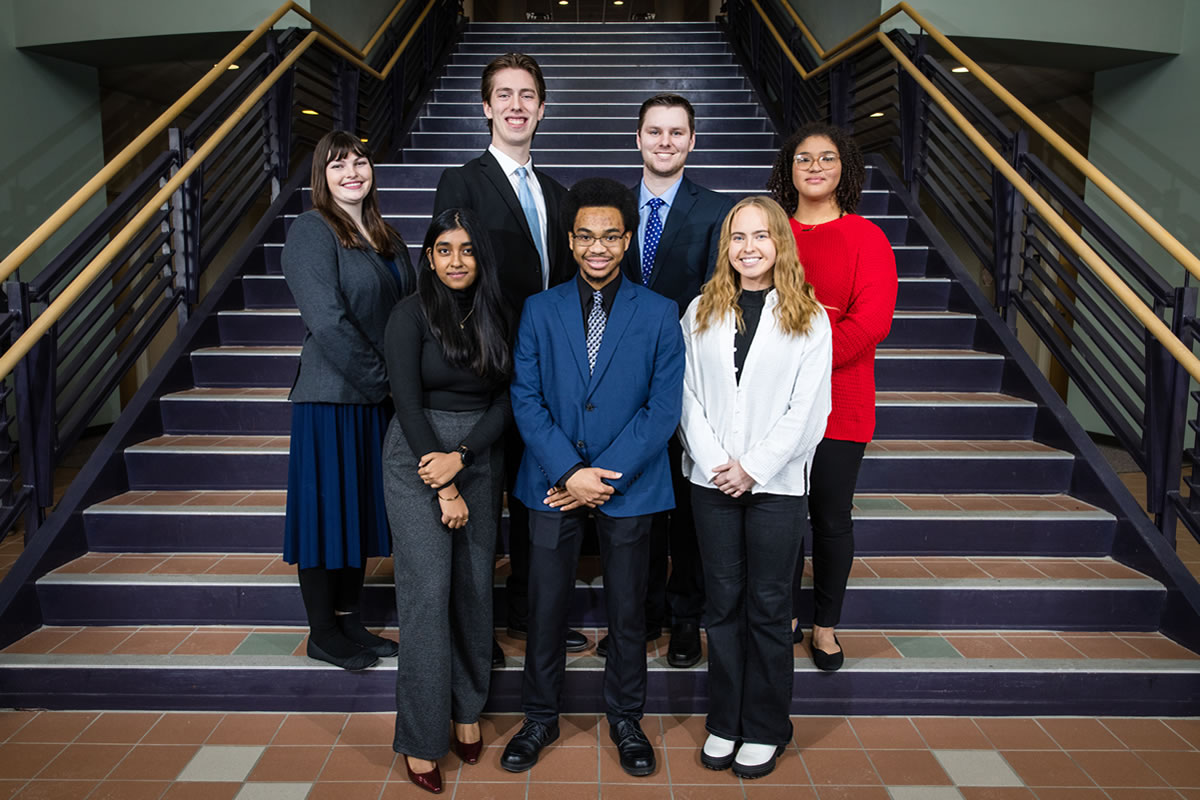 Project Manager
Sean Coyle is a junior Computer Science major from Elk Point, South Dakota. Sean joined Knacktive to get firsthand leadership experience in a professional setting, as well as to build his growing teammate and group project skills. After graduation, he plans to explore career opportunities in data management or software engineering.
Public Relations Manager
Josh Fishpaw is a senior, double majoring in Business Management and Marketing from Syracuse, Nebraska. He joined Knacktive to gain new knowledge and perspectives of the marketing industry. Through his position of public relations, Josh plans to grow his skills in working with people and large groups. After graduation, Josh plans to have a career in the sales or marketing management.
Media Manager
Makenna Lee is a junior majoring in mass media with an emphasis in applied advertising. She is from Bennington, Nebraska. Makenna joined Knacktive as a way to gain hands-on experience in advertising and digital marketing. After graduation, Makenna plans on working for an advertising agency in the media planning and buying department.
Marketing Strategist
Cheyenne Hulse is a senior majoring in Marketing and Business Management from Kansas City, Missouri. After graduation, Cheyenne hopes to work for a marketing research firm in Kansas City. Cheyenne is excited to be in Knacktive as the Marketing Strategist and plans to use this position to gain more real-life experience with a client and gain a more creative mindset. Cheyenne plans on using her knowledge and experience gained through Knacktive to help in her future career as a market researcher.
Art Director
Kennedy Goldsmith is a senior majoring in Graphic Design with a minor in Advertising from Seward, Nebraska. She is taking on the position of Art Director and joined Knacktive to gain real-life experience working with a client, achieve goals through teamwork and apply the skills that she has gained as a graphic design student. After graduation, she hopes to obtain a position as a graphic designer emphasizing in Brand identity Design.
Graphic Designer
Manasa Taddi is a junior majoring in computer science. She is an international student from Maharashtra, India. She joined Knacktive as a graphic designer to improve her design skills and gain a better understanding of her abilities because she has always wanted to do something in design despite her major being computer science. This program will help her in understanding real-world needs and gain experience working as a graphic designer for a actual client. Her long-term goal is to work for a top tech company.
Digital Manager
Darren Ross is a junior majoring in Computer Science from St. Louis, Missouri. He joined Knacktive to have a chance to see his skills in action and work in a real-life situation with a motivated team. After obtaining his degree, he hopes to work in a technology solutions firm and reach as many industries as possible. He also hopes to utilize his time management and knowledge of software as a Digital Manager to bring better ideas to the future companies through Knacktive.