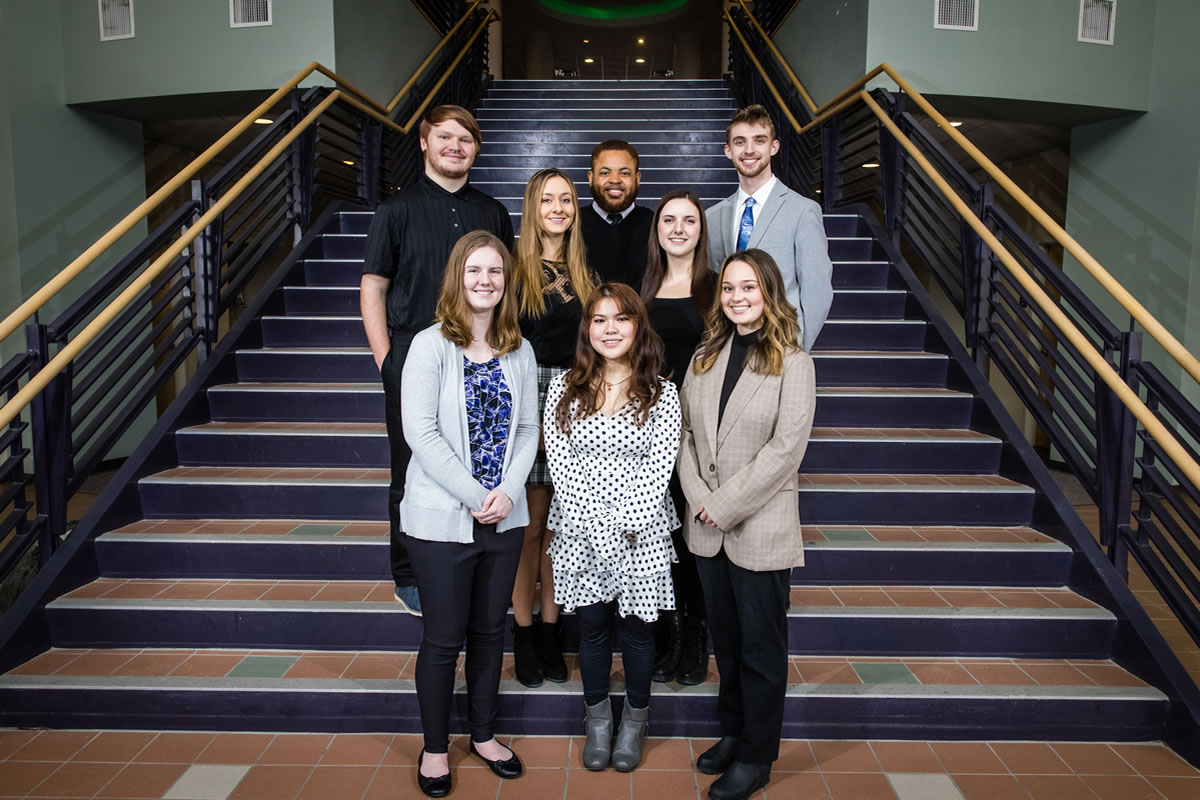 Project Manager
Ryann Elliff is a junior Digital Media: Content Strategy major from Lee's Summit, Missouri. She joined Knacktive to gain a better understanding of what it means to lead a team and work with clients in a professional setting. After graduation, she plans to move back to the Kansas City area to work in web design and development. Ryann looks forward to a successful semester with her Knacktive teammates.
Marketing Strategist
Maggie McNeely is a senior Business Management and Marketing double major from Falls City, Nebraska. Maggie became interested in Knacktive when she heard about previous participants' experiences, and how it allowed for great opportunities. After graduating in the Fall of 2023, she will pursue her master's degree. Maggie plans to explore different career opportunities that will use her experience as a marketing strategist and will allow her to travel.
Digital Media Manager
Dami Popoola is a senior Computer Science major from Lagos, Nigeria. Dami joined Knacktive after listening to previous participants' experiences and he wants hands-on experience working with clients to solve real-world problems. After graduation, Dami hopes to practice as a Data Analyst or continue his studies in other fields of Computer Science.
Art Director
Brooklyn Bailey is a junior graphic design major from West Point, Nebraska. Brooklyn joined Knacktive to gain insight into real-world situations that an Art Director would contend with on a daily basis, as well as skills working within a team setting. After graduation, she plans on achieving her goal of one day specializing in brand identity design. She plans to spread her expertise internationally.
Graphic Designer
Niah Kahlandt is a junior graphic design major from Albion, Nebraska. She applied to work in the Knacktive program to gain some experience for her future career and challenge herself in working with a larger design and marketing team. After graduation, she hopes to work as a full-time graphic designer or as an animator for larger companies.
Public Relations Manager
River Boyd is a senior Communication: Public Relations major at Northwest Missouri State University. River joined Knacktive to improve their writing skills, collaborate with others, gain real world experience and have fun while learning and growing. After graduation, River plans to work in higher education to help students not only navigate the academic system, but also find their place.
Media Manager
Jesse Kilcoyne is a Junior Strategic Advertising major from Oak Grove, Missouri. Jesse joined Knacktive to get experience in collaborating with a team to efficiently and effectively reach a goal for a real-life client. He seeks experience in conceptualizing, developing, and directing a real media project. After receiving his bachelor's degree, he hopes to start a career related to planning and analyzing marketing data for a company or organization that can help him learn and grow.
Multi-Platform Content Creator
Vivian Nguyen is a junior from Kansas City, Missouri that is majoring in Digital Media: Content Strategy. She joined Knacktive to be able to step foot into the real world while still receiving guidance from professors. After graduation, Vivian hopes to travel and work around the world in marketing and social media specialties.