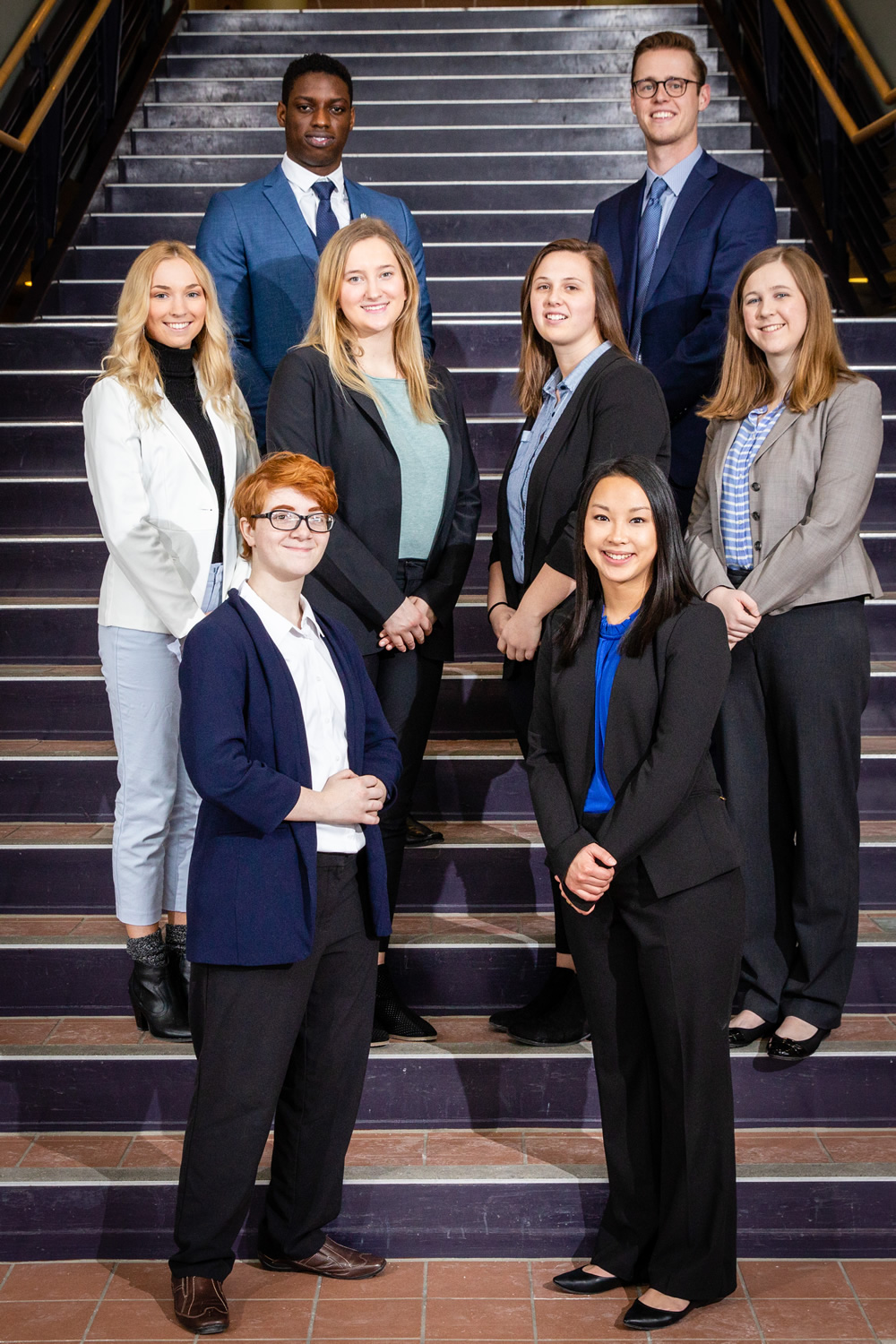 Project Manager Ellie Drees is a senior double majoring in business management and marketing from Waukee, Iowa. After graduation Ellie plans to go back to Iowa and find a job in a marketing agency or management team. She is open to any exciting opportunities that come her way. She is excited to start growing new relationships in her professional life. Ellie joined Knacktive to get real-world experience and to work with people to succeed on a common shared goal.
Art Director Emma Wiseman is a senior graphic design major with a minor in advertising from St. Louis, Missouri. Emma is excited to use her talents in a team setting to work with a real client and gain real-world experience from Knacktive. After graduating she plans to work for an advertising agency or as a part of a marketing team for a big corporation in either St. Louis or Kansas City, Missouri.
Public Relations Manager Gabby Saul is a junior business major pursuing business management and marketing from Braymer, Missouri. After graduation Gabby is excited to see where her degree might take her with the hopes to work on a marketing team.  She is hoping that her experience on Knacktive will help her on future teams and give her a leg up on others when going through the interviews.
Media Manager Madison Owen is a senior double majoring in business management and marketing. Madison is from Gretna, Nebraska, and plans to move back home to work in operations management for a large corporation. She joined Knacktive to gain experience working in a cross-functional team, as well as to learn the ins and outs of creating a business plan.
Digital Manager Valentine Osakwe is a senior majoring in computer science. He is an international student from Nigeria. Having his own company is one of his major focuses in the next few years, and as such he is looking at working and getting real-life experience prior to starting off on an adventure of his own. Part of the experience he hopes to gain from Knacktive is not just limited to the real-life experience, but also to make him a better future employee.
Multiplatform Content Creator Connor Reardon is a senior business management and marketing double major from Kansas City, Missouri. Connor joined Knacktive for the chance to gain new connections and get hands-on experience. Upon graduating, he is hoping to translate what he has learned into a career in the sales field.
Marketing Strategist Zoe Brink is a senior double majoring in marketing and business economics from Papillion, Nebraska. Zoe joined Knacktive to collaborate with other motivated individuals and gain real world experience while still in college. After graduation, she plans to move to Kansas City and work on the marketing team for a corporation.
Graphic Designer Mace Lilienthal (they/them) is a senior majoring in graphic design from Mount Ayr, Iowa. Mace joined Knacktive to not only gain real-world experience but to also gain new sets of skills that will help them later in their career. After graduation, they plan to go back to Iowa and pursue a career in design within an agency. Mace also aspires to one day create their very own graphic novel.