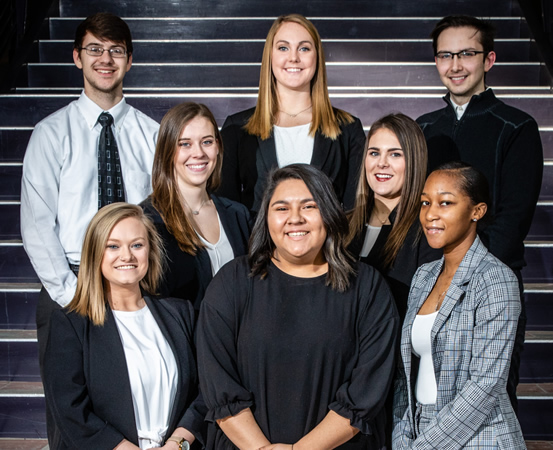 Media Manager Carly Hostetter, from Lake Waukomis, Missouri, is majoring in mass media with an emphasis in sports media and marketing. After she graduates in May of 2019, she hopes to get a job in a marketing department as a photographer/videographer or as a sports photographer for a professional team. In her free time, Carly enjoys spending time with her family and friends and capturing life with her camera.
Marketing Strategist Mariah Barnes, from Kansas City, Missouri, is a marketing major. After graduating, Mariah hopes to be a part of a marketing, promotion, or event planning team for hair and beauty care companies. Mariah is very thrilled to join Knacktive, to gain real-life experiences in the workplace, and to further her business connections.
Multiplatform Content Creator Jessica Henry, from Conception Junction, Missouri, double majors in marketing and psychology. She is excited to take on such a personal project with the City of Maryville through Knacktive and values the hands-on learning it will provide. She pictures herself settling down right here in Nodaway County, doing the marketing and event planning for a local business.
Art Director Stone Cole, from St. Joseph, Missouri, is a graphic design major. He has a broad artistic interest that he hopes to expand upon in the course of his life. Stone joined Knacktive to gain the experience he needs to aid him in his future endeavors. Stone has a lot of ideas and expectations for his life post graduation. At the forefront is his desire to create.
Graphic Designer Savana Wiederholt, from Stanberry, Missouri, is majoring in digital media. She joined Knacktive to gain experience working for real clients with peers who have different skill sets. After graduation, she plans to work at an advertising agency in Kansas City in design or account services.
Interactive Digital Media Manager Joe Suchan, from Maryville, Missouri, is majoring in interactive digital media computer science programming. Joe joined Knacktive to work on client-based problems and to put his teamwork and communication skills to the test. After college, Joe hopes to work as a front-end developer.
Public Relations Manager Maya Rivera, from Lee's Summit, Missouri, is majoring in marketing with a communication minor. She joined Knacktive to immerse herself in a fast-paced team environment with a real-world client. After graduation she plans to get a job in the recruiting or marketing field.
Project Manager Taylor Dorrel, from Kansas City, Missouri, is majoring in business management and marketing. She joined Knacktive to challenge herself with a real-world experience to hone skills for the future. Taylor plans to continue her education after undergrad, then hopes to become a project manager.