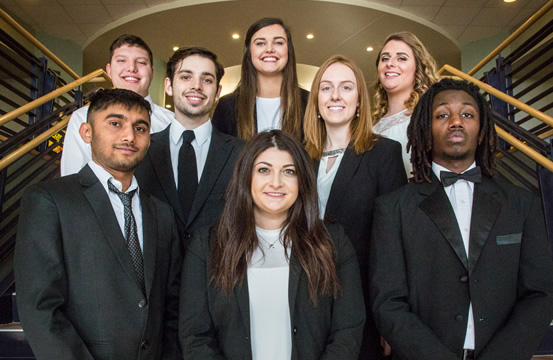 Media Manager Montez Huggins, from Hinesville, Georgia, is a mass media: broadcast and production major. He enjoys being active behind the scenes or being used as talent. Professors and fellow students advised him that Knacktive class work with a real-world client could possibly help him create connections after college. He also saw Knacktive as an opportunity to gain more experience in other skill sets and network with fellow colleagues of various skill sets. Post-graduation, he wants to be involved in either film or television.
Public Relations Manager Kelsey Gehlhaar, from Humeston, Iowa, is a senior marketing and economics double major.  She is involved with Financial Management Association and previously served as a business ambassador for the Booth School of Business. Kelsey plans to continue her education and get a graduate degree in Family Financial Planning at Iowa State University. In the future, she plans to get her real estate license and work as a financial adviser. Kelsey joined Knacktive to be able to work with a diverse group and gain more hands on experience.
Strategic Planner Lucia Mann, from Kansas City, Missouri, is a junior business management and marketing major. She is excited about the client, and she cannot wait to dive into this project with her teammates. Through this experience, she hopes to gain more insight into the day-to-day life of a strategic planner and to understand what it is like working with a big client like American Royal. After graduation, her goal is to move back to the Kansas City area and find a job involving market research. Lucia is keeping an open mind through this journey in Knacktive, in case she finds any new interests or callings for career goals. "I am beyond grateful to have this opportunity in Knacktive."
Social Media Manager Leanna Mazzeffe, from Kansas City, Missouri, is a senior marketing major. She works as the social media manager for the University Police Department and is a member of the Greek community. She enjoys showing her creativity through videography, design and fashion.  She joined Knacktive to continue gaining a hands-on experience within the field of social media. Leanna hopes to attend grad school at Northwest Missouri State University. She wants to get a job as a social media coordinator with an ad agency in Kansas City.
Project Manager Joey Soutter, from Kansas City, Missouri, is a senior marketing major. He is excited and hoping to lead his team to victory. After graduation, he plans on moving back to Kansas City to find a job with an ad agency conducting marketing research. Joey has a wide variety of interests including hunting, fishing and scuba diving.
Interactive Digital Manager Sagar Ghimire, from Butwal, Nepal, is a junior computer and information systems major with a minor in mathematics. He loves programming and problem solving. His goal is to become a good software engineer. His main reason to join Knacktive is to gain experience of diverse team members with a real life client. After graduation, he wants to get some real life experience in software development and then return to Nepal to help his country's people. Sagar loves cooking food, watching movies and listening to songs. In his leisure time, he talks to his family members, and hangs out with friends.
Art Director Dominick Roveto, from Kansas City, Missouri, is a senior graphic design major. Drawing is his favorite way to create art.  After graduation, he would like to make concept art for different kinds of media like video games or animated films. Dominick looks forward to Knacktive and the work experience.
Copywriter Taylor Middleton, from Kirksville, Missouri, is a junior public relations major. She works as a student media relations assistant for the Office of University Marketing and Communication.  She is most excited about gaining more experience and networking opportunities through Knacktive. After graduation, she plans to move to Kansas City and find a job in the public relations field.