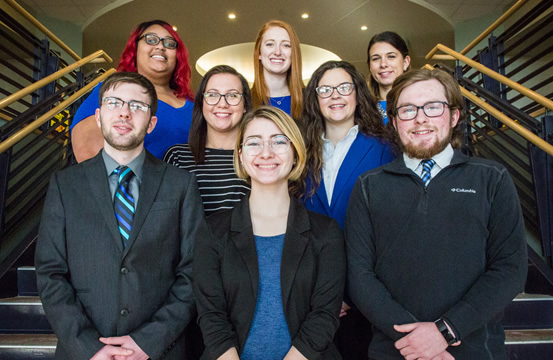 Strategic Planner Deven Roszell, from Buckner, Missouri, is double majoring in business management and marketing. Deven joined Knacktive to further his business connections and gain new skills that will help him in his future. After graduation, Deven would like to become a marketer for a professional sports organization.
Media Manager Michaela Jaycox, from Spickard, Missouri, is a senior public relations major with a minor in agricultural communications. She is passionate about horses and actively competes at rodeos, such as the American Royal. Michaela joined Knacktive to gain real-life experience and to network with other individuals. After graduation she hopes to find a job in the rodeo industry working in a public relations or communication department.
Art Director Taylor Gonnerman, from Kansas City, Missouri, is a junior graphic design major with a minor in interactive digital media. After graduation, Taylor would like to work in the print design industry and work her way up towards being an art director for a design agency. Taylor joined Knacktive in order to get hands-on experience in the advertising industry and gain knowledge on how to improve a client's business.
Public Relations Manager Whitney Hall, from Belton, Missouri, is a senior majoring in interpersonal communications with a minor is advertising. Whitney joined Knacktive because she wanted to gain ample amounts of real world experience before she graduates. She loves to work with others to reach a shared goal and looks forward to building lasting relationships with not only team members but the client as well.
Copywriter Brooke Purvis, from Peculiar, Missouri, is a senior studying marketing and mass media-journalism. After graduation, Brooke would like to obtain an internship at a Kansas City advertising agency within the copy writing or marketing research department. Brooke joined Knacktive to add more material to her portfolio and get acquainted with the practices of a real life advertising agency. Brooke grew up in a small town where farming was a staple, so she is excited to learn more about rodeo through our partner, The American Royal.
Project manager Janae' Wells, from Kansas City, Missouri, is a senior majoring in mass media with an emphasis on sports media. After graduation, Janae' hopes to find a job where she can combine her love of sports, social media and broadcasting. Janae' is very excited for Knacktive and hopes that it can help her experience new career outlets and polish professional qualities that she can take with her into the work force.
Interactive Digital Media Manager Hayden Rainey, from Stanberry, Missouri, is a senior studying interactive digital media with a focus on computer science. After graduation, Hayden would like to pursue a career in information technology. Hayden has a passion for education and hopes to teach at a university later in his career.
Social Media Manager Kaili Sager, from Bellevue, Nebraska, is double majoring in marketing and business management. After graduation, Kaili hopes to be a part of a marketing or promotions team for a sports complex. Kaili enjoys upbeat and changing work environments. Kaili joined Knacktive to provide her with real life client experience that she can take with her into a future work place.