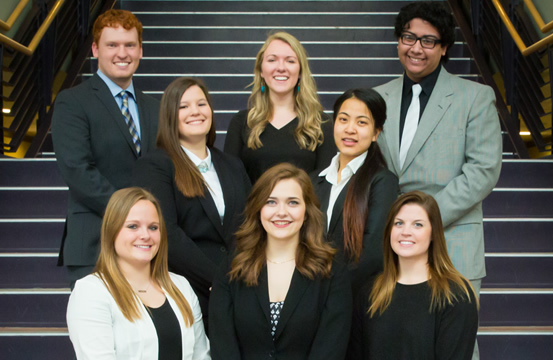 The Team
Art Director Abbie Voorhies, from Fremont, Nebraska, is majoring in graphic design while double minoring in interactive digital media and advertising. Her plans are to move to Kansas City and work with an advertising agency. She has a passion for design and polka dots.
Strategic Planner Nate Carl, from Liberty, Missouri, is a senior double majoring in marketing and business management. He has accelerated his learning through summer internships and leadership opportunities on campus. He joined Knacktive to gain hands-on experience that will help him jumpstart a career in marketing. His hobbies include hunting and fishing.
Project Manager Mariah Jones, from Lebanon, Missouri, is a junior double majoring in marketing and business management. She works on campus at the Talent Development Center, as an SI mentor, and is an active member in Sigma Society. She is excited to use the knowledge she has gained at Northwest in Knacktive before going into the real world. She hopes to get her master's degree and find a career in global consulting to fuel her love of travelling.
Media manager Sidney Mills, from Harlan, Iowa, is a junior double majoring in marketing and business management. She loves sports and would love to do marketing for any kind of sports team in her career. She also wants to own her own coffee shop someday. She joined Knacktive to gain relative experience to learn more about her career. Sidney loves cats and Nike, and her cat is even named Nike.
Graphic Designer Ivory Lacina, from Olathe, Kansas, is a junior majoring in interactive digital media: visual imaging. She works as an RA on campus, and as an advertising designer at the Northwest Missourian.
Interactive/Digital Manager Sumnima Rana, from Kathmandu, Nepal, is a sophomore majoring in computer science with a minor in mathematics. She has a passion for programming, and her goal is to become a successful Software Engineer. After graduation, she hopes to get a job in California and then join graduate school later on. She is fond of dancing, traveling and cooking, and in her leisure time she also enjoy painting, playing guitar and doing yoga/meditation. She joined Knacktive to learn and gain valuable experience of working in a team of different major people for real world clients.
Copywriter Brian Aceves, from Kansas City, Missouri, is a senior majoring in mass media: applied advertising. Brian joined Knacktive to gain more experience in the realm of copywriting. When Brian graduates he hopes to work in the creative realm of advertising. Brian enjoys the simple things, and the complex things. Brian just likes things.
Public Relations Manager Christa Lovitt, from Kearney, Nebraska, is a junior marketing major with an advertising minor. Christa is excited to work collaboratively on a team and to work with a real-world client. She aspires to enter the advertising world and work on the account side of things.