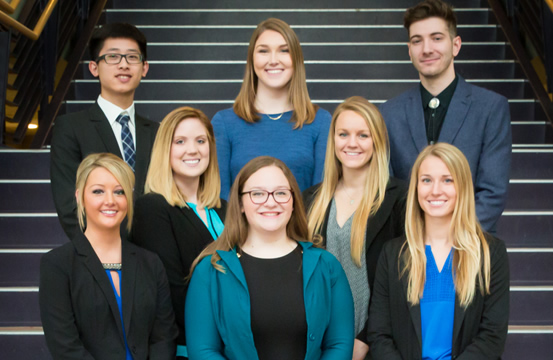 We named ourselves Team Electriciti because technology needs electricity, and a successful company needs Electriciti. We have the spark that sets us apart.
The Team
Project Manager Rebekah Pinkman, from Kearney, Missouri, is a junior majoring in business management with a minor in communication. Rebekah thrives in fast-paced environments and is excited to bring her unique talents to the team.
Interactive Digital Manager Jingwen Zhang, from Nanchang, China, is a senior majoring in interactive digital media with an emphasis in new media. He works in the campus CITE office as a graphic designer and looks forward to becoming a UI/UX designer.
Public Relations Manager Hannah Goetz, from Ankeny, Iowa, is a senior double majoring in corporate finance and marketing. Hannah is on the soccer team at Northwest. She plans to continue her education there after graduation and earn her MBA.  She joined Knacktive because of the opportunity it gives to gain a real-world experience and work with students of other majors.
Graphic Designer Madison Krannawitter, from Olathe, Kansas, is a junior graphic design major with a minor in general business. She is involved with Sigma Society Service Sorority and Kappa Pi Honorary Art Fraternity on campus. After graduation, Madison would like to move to a large city and work as a designer for a fashion/lifestyle magazine.
Strategic Planner Katie West, from Belton, Missouri, is a senior double majoring in international business and marketing. Upon graduation, Katie plans to work in an international marketing position for a major company. During her free time she enjoys traveling, reading and spending time with family.
Copywriter Zac Powelson, from St. Louis, Missouri, is a senior majoring in applied advertising. He prides himself on being a quick learner and a loyal, dedicated employee.  He is excited to see what opportunities might present themselves from this experience.
Media Planner Emily Bryant, from Ravenwood, Missouri, is a senior majoring in interactive digital media with a concentration in new media. After graduation, she hopes to pursue a career as a media coordinator in the travel and hospitality industry. In her free time, Emily enjoys reading and palling around with her dog Oliver.
Art Director Emily Elder, from Wathena, Kansas, is an aspiring graphic design major a minor in advertising. Along with this love for creativity, she spends her time expanding her small photography business, learning about nutrition and essential oils, being involved in her community and spending time with loved ones. Eventually she wants to be a real-time art director but until then, she plans on absorbing advice from past and current creatives.