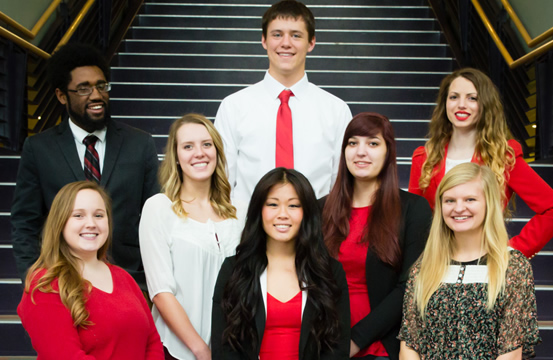 As a team, we chose the name "Dynamic Tempo." The equation for velocity is v=d/t. Therefore, Velociti=Dynamic/Tempo. Velociti is part of a fast-paced, ever changing industry, and we feel that the name "Dynamic Tempo" reflects the industry and the company accurately. "Team Dynamic Tempo, we hit hard"
The Team
Project Manager Mersadie Moore, from Kansas City, Missouri, is a senior business management and marketing major. Mersadie is a member of the Speaking Bearcats speech and debate team and has earned two national titles. She is also a residential assistant on campus, serving the Honors and Business Academic Living Communities. After graduation, Mersadie intends to intern in Washington, D.C., for a third summer before starting her JD.
Media Manager Sarah Laemmli, from Kansas City, Missouri, is a senior marketing major with a minor in art. She is on the leadership team for a campus ministry called the Navigators and has been a camp counselor and program coach during summers at Eagle Lake Camps in Colorado. After graduation she will be back at camp and shortly after hopes to work in the not-for-profit sector. She loves exploring new places, soaking in the outdoors, and drinking good coffee. 
Art Director Madison Olberding, from Falls City, Nebraska, is a junior graphic design major with an advertising minor. She is a member of the women's volunteer organization known as Sigma Society. She is an office assistant for Textbook Services, as well as for the campus Facility Services office. Upon graduation, she plans to find a design job with an advertising firm in Kansas City, with the hopes of growing her in her faith with all the new experiences she encounters.
Interactive Digital Media Manager Sara Vineyard, from Parkville, Missouri, is a senior graphic design major with an interactive digital media minor. After graduation, Sara plans to move to Kansas City to work for an advertising agency. Her favorite hobbies include being creative, watching Netflix and spending time with her friends.
Public Relations Specialist Anne Polland, from Omaha, Nebraska, is a junior applied advertising major with an art minor. Anne plans to start working for a local advertising agency in Kansas City or Omaha after graduation in May 2018. Along with her studies, she has also been an intern for the CITE office as their social media strategist. She hopes to gain as much experience as she can and take it with her into her career.
Strategic Planner Garrett Scribner, from Kearney, Missouri, is a junior studying management information systems with a minor in computer science. After graduation Garrett hopes to work for a company where he can use his skills to make a difference in performance and overall growth. In his free time, Garrett enjoys spending time with friends and family. Over the summer he enjoys going to the lake.
Copywriter Nick Van Ross, from Lee's Summit, Missouri, is a senior marketing major. Nick is participating in his eighth year of debate and forensics as a Speaking Bearcat with four collegiate national championships. During his free time Nick likes to participate in poetry open mics, play Playstation and ball out from time to time. Upon graduation, Nick wants to begin a job in Kansas City and participate in local politics.
Graphic Designer Emily Stark, from Kansas City, Missouri, is a senior Graphic Design major. She enjoys illustrating, figure drawing and making "zines." After graduation she plans to work for a design agency while still practicing studio art during her free time. Someday Emily would like to move to Charleston, South Carolina, and own a lot of cats.