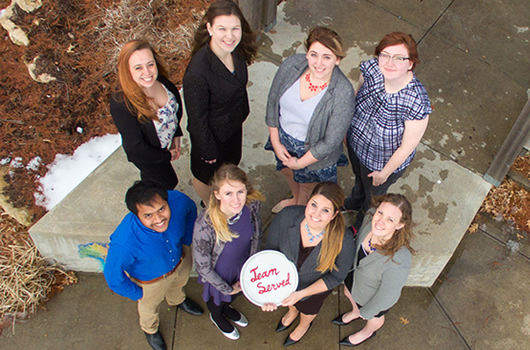 The Team
Art Director Caitlyn Burkemper, from St. Louis, is a senior Interactive Digital Media major with a concentration in Visual Imaging. She is in love with design and printmaking. While at Northwest Missouri State University she has served as a designer in various publications for Northwest Student Media, including The Northwest Missourian and Tower Yearbook.
Project Manager Emily Meyers, from Maryville, is a junior Public Relations major. Emily is a member of the Speaking Bearcats speech and debate team and has earned two national titles. Outside of school Emily is creating her own ministry organization to become a traveling motivational Christian speaker.
Public Relations Manager Kasie Pote, from Huxley, Iowa, is a junior Marketing major. Her goal is to make it into Sports Marketing upon graduating. She serves as the Vice President and Chairman of Sponsors for the Northwest Fishing Club, Junior Class Representative for Student Senate, Secretary of Blue Key Honor Society, and is also an ambassador for the Booth College School of Business. She is employed by the University as an office assistant and also at Hy-Vee in the Bakery. She aspires to be in the marketing world as soon as she can and cannot wait to see where Knacktive will take her.
Copywriter Lizzie McCoy, from Chillicothe, is a junior Multimedia Journalism and Broadcast and Production major with an emphasis in Audio. She is involved with KZLX LP-FM and Alpha Sigma Alpha Sorority. In her spare time she reads, because she's a hermit. She thinks Knacktive will be a blissful challenge full of both professional and memorable experiences.
Graphic Designer Selina Kendall, from Platte City, is a senior Studio Art major with an emphasis in Drawing and Interactive Digital Media with a concentration in Visual Imaging. Along with that mouth-full, she is a member of the university's Women's Track and Field team, which occupies what little free-time she has, save for a small amount of time for sleeping. After graduation, she hopes to illustrate children's books and create concept art for movies and video games. She feels that would be "pretty rad." 
Media Manager Sydney Oetter, from Yutan, Nebraska, is a junior Applied Advertising major with a minor in Art.  She joined Knacktive not only for her resume, but also to truly see if she's prepared for the real world. It is essentially giving her another internship. She's so excited to work with a real life client again.
Strategic Planner Jessica Smith, of Dearborn, is a junior Communication major with an emphasis in Public Relations. Her dream is to be a very successful Event Planner. Her hobbies include playing with her three cats, volunteering at the humane society, reading mystery novels, watching crime shows, shopping, and spending time friends and family.
Interactive Digital Manager Hari Tarlapally, from Hyderabad, India, is a sophomore Computer Science major. He is most interested in computer programming. His goals are to develop new applications, to become a Software Engineer, and to have a company of his own. In his free time he enjoys playing videogames and reading technology related articles. He hopes through Knacktive he can gain real-world experience.