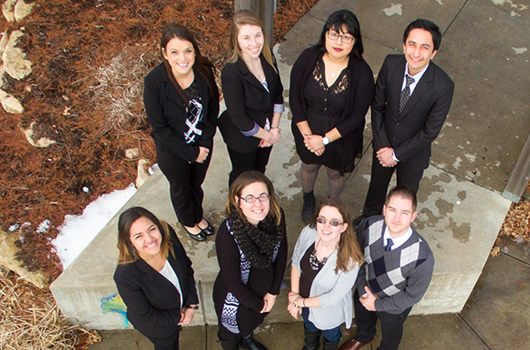 The Team
Graphic Designer Alex Edwards, from Kansas City, Missouri, is a senior Interactive Digital Media major with an emphasis in New Media. He plans on working for a marketing agency after graduation. Alex enjoys being outdoors and experiencing life.
Art Director Georgina Ruano-Arriaga, from St. Joseph, Missouri, is a senior Graphic Design major with a minor in Interactive Digital Media. After graduation, she plans to teach English or Spanish in Japan. Georgina enjoys working on her sculptures and on art in general.
Copywriter Megan Wallace, from New Market, Iowa, is a senior Applied Advertising major with a minor in General Business. She is involved with the organization AdInk on campus; this past semester she was a part of the social media and design teams. Megan likes to spend time with friends and family, read, and spend time outside in her free time. Upon graduation she would like to work in social media or communications.
Project Manager Sami Cintron, from Liberty, is a junior Marketing and Business Management major. She will be interning in Washington, D.C., this summer and traveling to Europe to study abroad. After graduation, she plans on starting her MBA in UMKC. Sami enjoys spending time with family and friends and traveling.
Public Relations Manager Paris Adrian, from Hamburg, Iowa, is a senior Public Relations major. After graduation, Paris is going to move to Kansas City and start her career as a Consultant Analyst for Cerner. She enjoys hanging out with her friends, watching shows on Netflix, and eating Chipotle. Although she is sad to leave Northwest, Paris is thankful for all of the help the university has been these past four years.
Media Manager Kristina Calfee, from Elmo, Missouri, is a senior Mass Media major with a concentration in Applied Advertising with a background in Interactive Digital Media.  While at Northwest, Kristina has gained her media experience and discovered her passions through a variety of marketing, advertising, and social media internships and AdInk. After graduation, Kristina plans to start a career in the advertising and marketing industry doing social media marketing and media planning. She enjoys spending time with friends and family, watching sports, and spending time on the family farm.
Interactive/Digital Media Planner Sandip Subedi, from Lekhnath, Nepal, is a junior Computer Science major with a minor in Data Management. He has a passion for web and application development. Sandip's goal after graduation is to work at a tech company in California for some years and go to graduate school. In his free time he enjoys traveling, swimming, reading books, and doing yoga and meditation. Sandip joined Knacktive to work with a team from different domains and majors and gain real-world experience.
Strategic Planner Sephrina Knorr, from Maysville, is a senior double majoring in Marketing and Business Management. After graduation, she hopes to work in a marketing department for a corporate business or a local sports team. She is thankful for the many experiences Northwest has provided, especially through AdInk, Enactus, and Alternative Spring Break. In Sephrina's free time, she enjoys reading, traveling and playing softball.