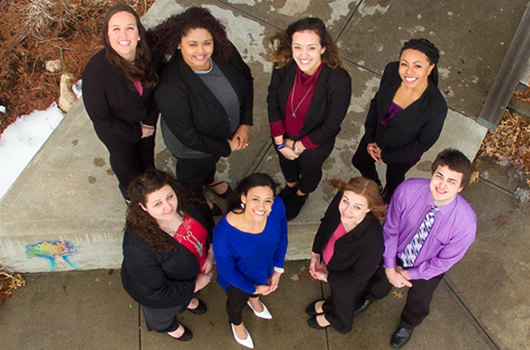 The Team
Art Director Tressa Akins, from New Cambria, is a senior Graphic Design and Photography major, and an Interactive Digital Media minor. She loves a challenge and is looking forward to creating innovative and unique ideas for her Knacktive team. During Knacktive, Tressa also hopes to gain real-world experience and acquire new skills, to further help her future career in design. 
Copywriter Hailey Liston, from Des Moines, Iowa, is a senior Mass Media: Applied Advertising major. She currently serves as the Co-President for the AdInk Advertising Club and a Career Ambassador for Career Services. Upon graduation, she hopes to work within an advertising agency as an Account Planner. Hailey enjoys spending time with her family, listening to her records, reading, and eating all sorts of cheese.
Graphic Designer Jayde Balentine, from Omaha, Nebraska, is a Interactive Digital Media major with a concentration in New Media. She has obtained various creative positions since enrolling at Northwest, and currently serves as the Multimedia Assistant for the Office of Student Involvement. Jayde is excited to work with a diverse group of people and hopes to bring innovate ideas to her Knacktive team.
Media Manager Simone Page, from Paris, Missouri, is a senior Mass Media: Video Production major.  Upon graduation, she hopes to become a social media director or SEO strategist. Simone enjoys writing and directing films, as well as blogging.
Project Manager Anna Hastert, from Harlan, Iowa, is a junior Mass Media: Multimedia Journalism major. She currently serves as the Sigma Alpha-Alpha Beta Chapter's Philanthropy Chair, an DJ for KZLX, and a social media intern for the Learning and Teaching Center Powered by CITE.  Upon graduation, she hopes to land a job at NBC Studios in New York as a news reporter.  Anna enjoys adopting animals, hanging out with family and friends, spending quality time with her alpacas, and travelling.
Public Relations Manager Miranda Foster, from Parker, Colorado, is a junior Communication major with an emphasis in Public Relations. She is an energetic and driven individual, who strives to perform well academically, as well as athletically. She enjoys playing volleyball for Northwest Missouri State University, and off the court, is heavily involved in the community. During Knacktive, Miranda looks forward to implementing her outstanding communication skills, while gaining invaluable information. 
Interactive/Digital Manager Coleten McGuire, from Maryville, is a senior Computer Science major. During his free time, he enjoys programming in C. Coleten joined Knacktive to gain experience with working in a large team comprised of different majors. 
Strategic Planner Shauna Tomlin, from Kansas City, Missouri, is a senior double majoring in Business Management and Marketing.  She is excited to receive hands-on experience while working with a real world client during Knacktive.  Shauna looks forward to finding, starting, and growing in a marketing career in the Kansas City area.