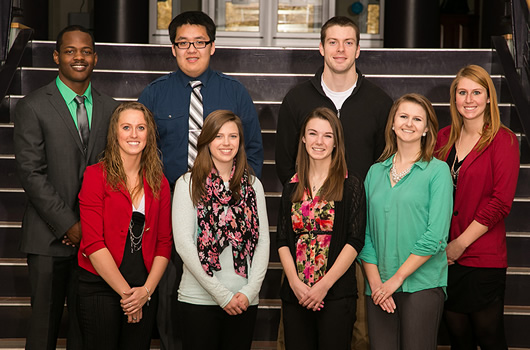 The Team
Media Manager Chris Bowser is a senior public relations major from Jefferson City, Mo. Chris is motivated by challenge and is an experienced team leader.
Art Director Cassondra Haggard is a senior interactive digital media major with an emphasis in visual imaging, from St. Joseph, Mo. Cassondra is a team-oriented artist who values collaboration and creativity.
Strategic Planner Amanda Lovell is a senior and business management & marketing major from Fairview Heights, Iowa. Amanda skillfully coordinates a variety of opinions and ideas into a cohesive plan.
Public Relations Manager Shelby Montgomery is a senior public relations major from Clarinda, Iowa. Shelby thrives in high-energy situations, and motivates others with a strong positive attitude.
Interactive/Digital Manager David Nguyen is a junior computer science major, with a minor in database management systems, from Liberty, Mo. David is a driven problem solver with experience in application development and web design.
Project Manager Carolyn Robinson is a senior business management major, minoring in systems management, from Omaha, Neb. Carolyn fosters communication and harmony within the team, and is a time-oriented professional.
Copywriter Hollie Smith is a senior public relations major from Liberty, Mo. Hollie is inspired by new approaches and ideas, and incorporates a well-rounded approach to her work.
Graphic Designer senior
Clint Utter
is a graphic design major from Ottumwa, Iowa. Clint brings creativity and years of team experience.