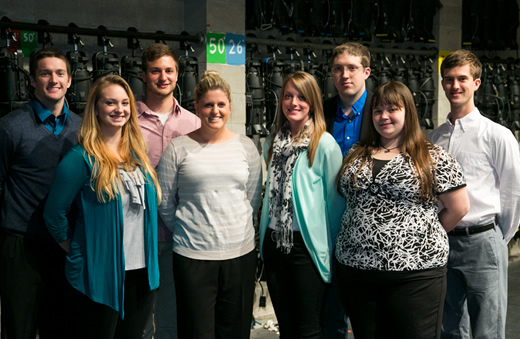 Team Fusion was born from a desire to emulate one of Ford's best-selling cars -- the Fusion. Ford combined the sportiness of its Focus with the spacious qualities of the Taurus.  Using the same idea behind the Fusion car, we want to fuse our ideas with our client's ideas, creating a dynamic campaign that increases business and leaves our client feeling comfortable and confident that we will get the job done right.
Fusion's eight-person team is led by Project Manager Mel Peitzmeier.  A business management and marketing double major from Omaha, Mel joined Knacktive to work with people from a variety of disciplines, giving her the academic experience of a lifetime.
Research Manager Neil Robinson, also a business management and marketing double major, jails from Maysville, Mo. Neil joined Knacktive to immerse himself in a collaborative project of diverse students, each of whom brings a unique skill set to the table to help an actual client in a real-world setting. 
Public Relations Manager Philip Gruenwald, from St. Louis, joined Knacktive to put four years of courses in his major of public relations to work in a real-world competitive arena.  
Media Manager Bryce Young, a marketing management major from Chillicothe, enrolled in Knacktive to gain real-life experience in a field that hold some professional interest for him.  Though he is undecided on his career path, he is sampling as many different professional options as he can, looking for the right fit.
On the technical side of things, Christopher Parker serves as the Interactive/Digital Manager.  An IDM:CS major from San Angelo, Texas, Christopher chose Knacktive to get experience in a real team environment.
The artistic corner of Fusion Art Director Kristin Berry and Graphic Designer Katie Asher. Kristin, a graphic design and photography double major from Clarinda, Iowa, chose Knacktive to gain an experience similar to a real advertising agency, as well as work with people from different disciplines. Katie, a graphic design major from Mound City, Mo., joined Knacktive to explore her creative ability and put it to use for a company in a professional environment.
The final member of Fusion is Copywriter Karlee Liberty. An English major from Kansas City, Mo., Karlee chose Knacktive to get hands-on, out-of-the-classroom experience working with others and editing something that would serve as a boost to her professional portfolio.