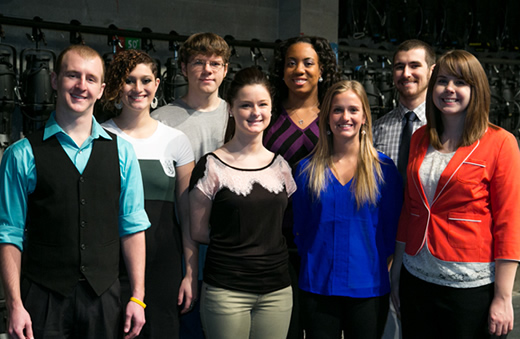 We decided to name ourselves "Team Clutch" to reflect this year's team dynamics and the client, Tri State Ford. In a car, the clutch is what shifts the car from one gear to the next and this is what the team hopes to do for the client. Team Clutch hopes to establish a plan that will integrate the current strengths of Tri-State Ford Lincoln, while shifting its course to increase performance. 
Team Clutch is composed of eight members, each fulfilling a different function.  The Project Manager is Steven Scheffe, a computer science major from Maryville.  Steven became involved in Knacktive because it is the best opportunity offered on the college campus to get real world experience under the guidance of great faculty members.  Steven also feels Knacktive is a means to help strengthen his soft skills, such as communication, leadership, and working as a member of a team. 
Ronald Brightwell-Kelley is the team's Interactive Digital Manager.  Ronald is a computer science major from Falls City, Neb., and got involved in Knacktive because he thought it would be a good opportunity to work on a team with people from different disciplines and use his skills to benefit a team. 
The team's Art Manager is Kirstie Mulligan.  Kirstie is from Kansas City and wanted to be involved in Knacktive because she saw it as an opportunity to develop her collaborative skills through working on an interdisciplinary team and competing to create the best experiential pitch for the client.  
Lauren Hansen is the team's Research Manager.  Lauren is from Sioux City, Iowa, and is a business management and marketing double major.  Knacktive interested Lauren because it was a great opportunity for her to gain experience during her last semester that will directly relate to her future work position. 
Public Relations for the team are managed by Montoya Lucas, a public relations manager from Kansas City.  Montoya was interested in Knacktive because it provides rare hands-on experience that will help prepare her for real-world job experiences. 
Michelle Castillo is the team's Graphic Designer.  Michelle is an art major with graphic design emphasis from Independence who was interested in Knacktive because she enjoys working on teams, and Knacktive is a great way to build her professional portfolio and skills for her future career. 
Tess Edwards is the Media Manager and an international business and marketing double major from Springfield, Illinois.  Tess became involved in Knacktive because she felt it would give her insight into the workings of a real world company and career experience. 
The copywriter for the team is James Snodgrass.  James is from Lee's Summit and was interested in Knacktive because he felt it would provide greater teamwork skills that would help his future career and job skills that will help him succeed in real world employment opportunities.