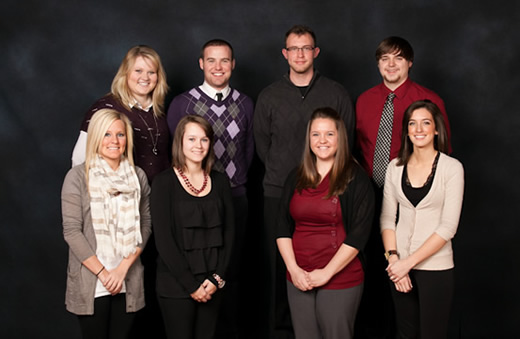 Knacktive student agency group, Confido, will begin working with Science City in the coming weeks. They will help the company develop a new image to bring new life into the Kansas City attraction.
The agency group is comprised of eight students from varying departments at Northwest Missouri State University. The team draws their name from the Latin term confido, which means to have confidence in, confidence of, or to rely on. These three meanings are things that a team needs to be successful - be confident in team members' abilities, confident of individual abilities and rely upon team members to get their jobs done to their fullest potential. This is exactly what a client would ask of an agency. Confido sets out to live up to their namesake and be a resource for its client.
Confido is a part of Knacktive, a class of 32 students in four teams, developed to help give real-life experience working with clients in an agency setting. The whole class will take part in market research, consumer analysis, creative strategies, budgeting, promotions and public relations development for their teams.
The team's project manager is Bryce Coffendaffer, management information systems major from Wymore, NE. Coffendaffer joined Knacktive because he wants to become a project manager at an advertising firm after he graduates and Knacktive is the closest thing to real-world experience while still in college. Public Relations Manager Keira Kesslar is a public relations major from King City, MO. She joined Knacktive so she can hone her skills so she can be prepared to get a job. Media Manager Michaela Fernen is an IDM: new media major from Papillion, NE. She plans to gain experience and add to her resume and portfolio with her contributions to Knacktive. Research Manager Jenny Hoffman is a marketing and management major from Friend, NE. Hoffman chose Knacktive because it could give her more hands-on experience with a real-life situation and client. It allows her to apply all the knowledge and hard work from her college career in practice for her future career.
Anne Spencer, graphic design major from Omaha, serves as art director. During her time in Knacktive, she wants to gain insight into how an advertising agency works because this is her career choice. Graphic Designer Lauren Shaver is a double major in graphic design and IDM: visual imaging from Plattsburg, MO. Much like Spencer, Shaver chose Knacktive so she could gain an experience similar to a professional advertising agency setting. Copywriter Michael Nay, public relations major from Louisburg, KS. He joined Knacktive because he wanted to get real-world experience to prepare him for his career after college. Interactive Digital Manager Ian Stanek is an IDM: computer science major from Omaha. He chose Knacktive because he plans to build his skills and portfolio even more while working on an exciting project.