National Pan-Hellenic Council
Welcome
The National Pan-Hellenic Council is the official coordinating agent for four historically Black Greek letter fraternities and sororities. NPHC and its member organizations have a profound commitment to providing community service and promoting the welfare of the campus and community. The Northwest Missouri State University Chapter of NPHC serves as the communication link among the affiliate organizations. Currently, three of the nine NPHC member organizations are represented at Northwest.
The Northwest Missouri State University NPHC serves as a standard-setting body for the affiliate organizations present on campus. NPHC strives to foster and maintain a cooperative environment among member affiliate members, as well as the general campus and community. NPHC serves as a forum for the consideration of issues important to its member organizations. The Council acts as a coordinator of activities and matters of common interest among member fraternities and sororities.
If you are interested in joining an NPHC organization at Northwest, we encourage you to visit the Intake tab listed above to learn about the process, contact the Office of Student Involvement at 660.562.1226, or e-mail us at greek@nwmissouri.edu.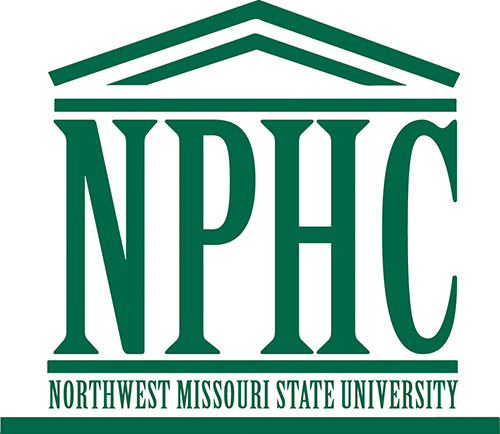 Meetings
Meetings are Mondays at 6 PM in the Student Union
If you have any questions, please contact the Greek Life Office at 660-562-1226.
Intake
The organizations that fall under the National Pan-Hellenic Council (NPHC) are historically Black sororities and fraternities and are unique in their membership requirements and processes. Rather than hosting a formal membership recruitment process for all of the fraternities and sororities, each NPHC organization has an individual membership application, individual membership requirements and a specific intake process prescribed by their national headquarters. Intake may include interviews, group activities, and study of group values/traditions, with the involvement of both undergraduates and advisors. NPHC chapters enter the Intake process at various times of the academic year.
Fall 2021 intake schedule
These events are opportunities for potential new members to get to know what each chapter is all about and introduce themselves to each chapter's current members. Please follow and like each chapter's social media pages for the most up-to-date information on their events!
*Attending intake events is not an excuse to miss class. Greek Life values the importance of scholarship and academics; please do not miss class for an intake event.
| Event | Location | Date/Time |
| --- | --- | --- |
| Greek Life Table at SOAR  | TBD | June 15th-26th |
| Meet the Greeks | Bell Tower | Aug. 15th |
| NPHC Forum | TBD | TBD |