Northwest Color Guard
Important Notice
University policies related to COVID-19 must be followed at this event, as listed below. This audition has been scheduled in the Hughes Fieldhouse to allow for spacing between individuals when auditioning.
All those auditioning must wear a mask upon entry, and keep the mask with them at all times. Masks can only be removed once prospective members are placed in the audition block, where they will be spaced at a distance of 6 feet or greater. Masks are allowed at all times, if preferred.
Only those auditioning for the BMB Colorguard and BMB Staff will be permitted entry to the Hughes Fieldhouse.
For the latest information, visit the University's COVID-19 webpage.
General Information
The BMB Color Guard performs at all events with the Bearcat Marching Band, including home games, select away games, NCAA playoff games, pep rallies, Freshman Convocation, and invited exhibition performances. The members of the BMB Color Guard are students from a variety of majors across campus who love to perform and share in the Bearcat Gameday experience. Rehearsals are with the BMB (for course credit): Monday-Friday, 4:10-5:15 p.m. Additional rehearsals are held weekly to learn and polish choreography.
2021 Audition Information
WHO: 

All current Northwest students and incoming freshmen are eligible to audition

WHERE: 

Hughes Fieldhouse (enter through South doors)

WHEN: 

April 10, 2021
9 a.m - 1 p.m.

REGISTRATION: 

Sorry! Registration is closed.

WHAT TO BRING: 

Please wear clothes and shoes that you feel comfortable moving in
A mask is required
Bring a water bottle (and snack if desired)
Bring sunglasses as we may go outside if weather permit
A flag will be provided for you, so you do not need to bring your own
The Audition Process
As a group, applicants will be taught various fundamental flag skills used at Northwest, then a short "on the spot" routine will be taught that contains those skills and some others. There will be a mix of simple fundamentals and complex moves. The degree of difficulty of the routine is to see willingness, drive, and attitudes toward new material. Applicants will then be asked to perform the routine as a group. The routine will be performed several times to see corrections made and to assess endurance. Judging will take place across the course of the audition process, with an emphasis on applicant's ability to adjust following instruction, remember and execute choreography consistently and accurately, attention to detail, and overall attitude. Members do not need to choreograph their own routines and will not be asked to perform the on-the-spot routine alone. It is strongly encouraged to attend the audition; however, if one is absolutely unable to attend the tryout date, email one of the Color Guard Captains (email below) to discuss.
While there is not a rifle portion incorporated in the audition process, rifles are used by the group depending on their appropriateness and the degree of skill of those interested. That will be determined during Preseason Camps.
The Venue
The Hughes Fieldhouse is a 137,250 square-foot facility featuring a 90-yard practice turf located on the southwest corner of campus. When arriving, enter through the South doors, adjacent to parking lot 62.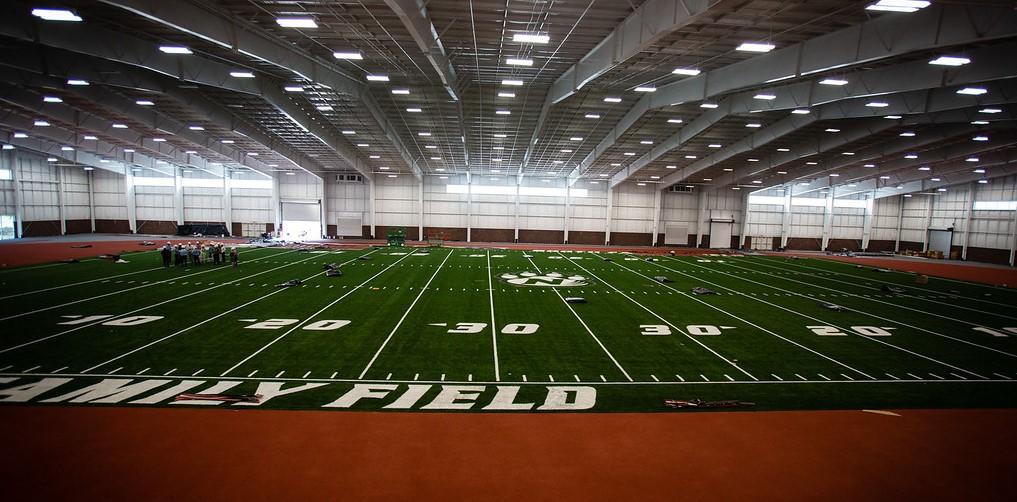 Contact Us