Career Events
Career Services offers a variety of events to allow students, alumni, guests and employers to connect with one another at Northwest. For a description of each event and a detailed list of attending organizations, click on any of the events listed below.

 
Designed to help students learn networking skills in a fun and fast setting. An excellent way to prepare for Career Day and other career-related events.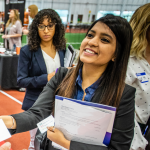 Career Day is a time for candidates to meet with a variety of employers and graduate school program representatives to discuss internship and full-time employment opportunities. This year's event will be inclusive off all employment opportunities available to students. The event previously referred to as "Education Expo" has been merged with this event.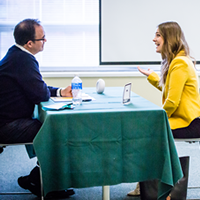 Gain interviewing experience by meeting face-to-face with real employers. During the interview, the employers will provide students with feedback on their resume, interview responses, and overall impression. We encourage employers to use their own interview format to make mock interviews as close to a real interview as possible.
This event is designed to help Northwest students find part-time employment in the Northwest Missouri Region. Students will have an opportunity to meet and speak with representatives from many local organizations at the event.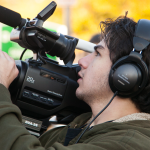 Exploring Majors and Minors is an event designed to help both freshmen and upperclassmen in their search for a major or minor area in which they will thrive.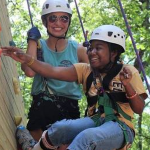 This event is designed to help students clarify goals and organize an internship search strategy.
Grab lunch and visit with Bearcat alumni and friends!
Jobs and Java
A come and go session focused on finding internships and full-time jobs. Held every Wednesday from 8:15 - 9 a.m. in the Career Services office.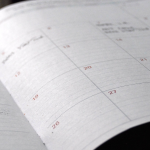 A listing of in person and online career events that are open to the public and hosted by a variety of colleges, universities and other organizations.
Veterans Coffee Hour
Free coffee for veterans, guard/reserve members and active duty military. Held the first Thursday of each month at Starbucks in the B.D. Owens Library.