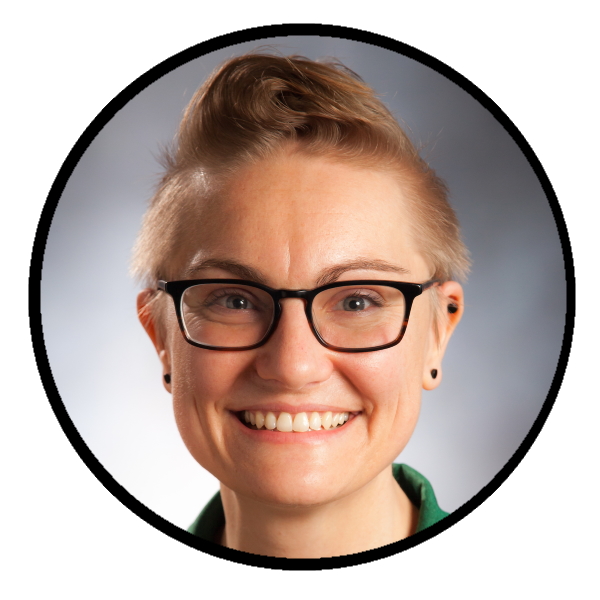 Director of Career Services
hannahc@nwmissouri.edu
660.562.1251
Joined Northwest in June 2015
Education
Doctor of Philosophy, Visual Arts: Philosophy, Aesthetics, and Art Theory, IDSVA, in progress

Master of Science, Higher Education Leadership, Northwest Missouri State University, 2015
Bachelor of Science, Biology Botany emphasis, Northwest Missouri State University, 2006
Professional Experience
Favorite Part About Being a Bearcat
It's awesome to live in a small town in Missouri and be able to have friends from all over the world! Being a Bearcat is being a part of a global family.
Advice for Students
Ask for help; ask early and ask often. People here will go the extra mile for you.
Try lots of different things! You never know what you might find!
College is about relationships, build strong ones and let them carry you forward into the future.
Hobbies and Interests
Building, painting, drawing, sculpting, gardening, basically anything that makes a mess!
Reading, running, and playing music.
StrengthsFinder Signature Themes
Individualizer: People with the Individualization theme are intrigued with the unique qualities of each person. They have a gift for figuring out how people who are different can work together productively
Strategic Thinker: People who are in the Strategic theme create alternative ways to proceed. Faced with any given scenario, they can quickly spot the relevant patterns and issues.
Competition: People talented in the Competition theme measure their progress against the performance of others. They strive to win first place and revel in contests.
Learner: People who are strong in the Learner theme have a great desire to learn and want to continuously improve. In particular, the process of learning, rather than the outcome, excites them.
Self-Assurance: People who have the Self-Assurance theme feel confident in their ability to manage their own lives. They possess an inner compass that gives them confidence that their decisions are right.
Learn more about Hannah
Learn more about Hannah on the "Meet the Hosts" Behind the Bearcat episode:



See all the links to the audio version of the podcast on the podcast website.