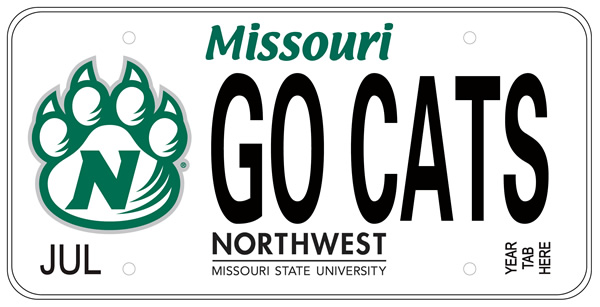 Bearcat License Plate
Currently available to alumni and friends living in Missouri.
"Ride with Pride" by purchasing your personalized Bearcat License plates.
Simply make a donation of $25 or more to the Northwest Fund. Be sure to note that you would like to receive a collegiate license plate form.
Once your donation has been processed, you will receive an Emblem Use Authorization Statement from the Northwest Foundation that you present to your local license bureau, along with a $15 fee for a personalized plate.
Keep in mind, the personalization cannot exceed six characters in length. It may take up to 6 weeks for personalized plates to come in. 
Plate Renewal
If you already have the Northwest personalized plates, we encourage you to update to the new plates when you renew and continue to ride with pride. Please follow the steps below to upgrade to the new plates.
Purchase or renew plates before following steps 2-6.


Complete Form 1576. 


A check will need to be included for the amount of $20.50 made out to the Missouri Department of Revenue.


In the section marked replacement plate information – please write in that this is for the updated configuration/logo for Northwest Missouri State University as the  Mo Dept. of Rev has not updated their form for those organizations that have changed or updated their logos.


The 1576 form will need to notarized as indicated in the notary information section on the 1576 form.


Take completed notarized 1576 form to your local license office to process. The license office will issue a "replacement" permit to use on your vehicle until the replacement plates are manufactured. Please note: You will need to bring in your current license plates to receive the replacement permit 


For more information or to request an Emblem Use Authorization Statement, contact the Northwest Foundation, Inc. at 660.562.1248 or advance@nwmissouri.edu.