Nov. 1, 2023
By Kayla Holman, communication assistant
Kyle Jones, an adjunct instructor of music at Northwest Missouri State University, is the recipient of a $6,000 grant from the Charlotte Street Foundation and the Spencer Museum of Art.
With support from the Andy Warhol Foundation for the Visual Arts, the 2023 Rocket Grant awards provide funding to artists in the Kansas City, Missouri, region who create artist-based projects in public spaces.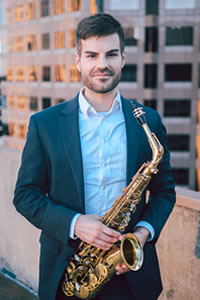 Kyle Jones
Jones, a Kansas City-based saxophonist and improviser, is one of 10 artists to receive the Rocket Grant. He is partnering with composer Paul Berlinsky to envision a public concert in February 2024 at the Arvin Gottlieb Planetarium in Kansas City, Missouri. 
Featuring baritone saxophone and electronics, the new work, titled "Season and Cycles," centers on the relationship of human beings with nature as well as the importance of cyclical change. The music will be accompanied by imagery of the night sky and projected in the dome of the planetarium throughout the performance.
Jones joined the Northwest faculty this year and recognizes the impact that receiving the grant may have on inspiring his students and their future music careers.
"It's really important to show my students that I'm still an active musician," Jones said. "The more that I'm able to be public with my art, the more I'm able to take those experiences back to the classroom and share those with the students – hopefully through that experience, they're then able to get the skills they need to also make their art visible."