Nov. 1, 2023
By Georgia McGonigle, communication assistant
Northwest Missouri State University student Shelby Norman is the 2023 recipient of the O.R. Grawe Award from the Association of Missouri Geologists, making her the ninth Northwest student to receive the honor since 2004.
The association annually presents the Grawe Award, named for its first president, Oliver Rudolph "O.R." Grawe, to the top junior or senior geology major in Missouri.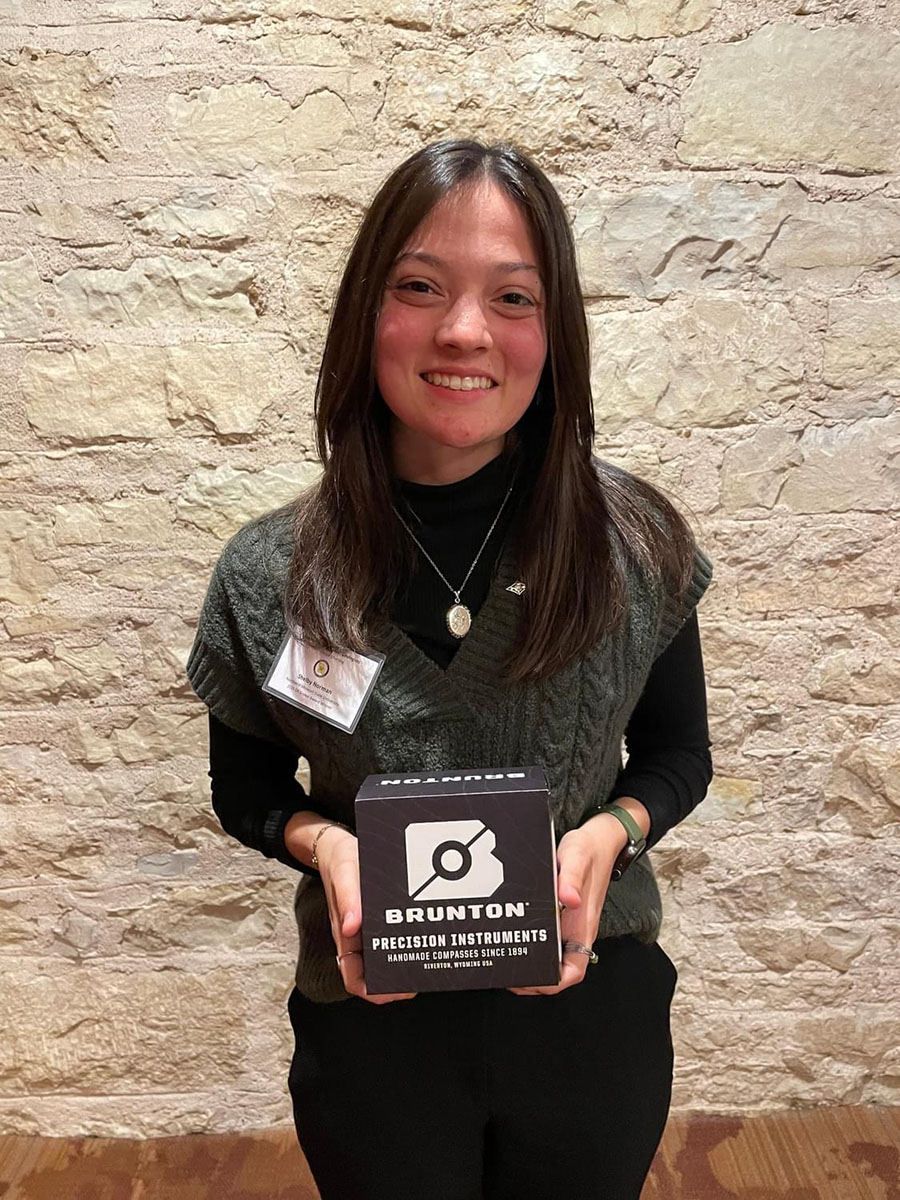 Shelby Norman
Recipients of the Grawe Award receive an engraved Brunton pocket transit and case, a plaque and certificate of recognition as well as a cash stipend of $300. The award was presented during the association's annual conference Oct. 6-7 in Eureka, Missouri.
Winners are selected based on a nomination letter, a written statement from the nominee describing why they selected the field of Earth science and post-graduate plans, the nominee's academic transcript and letters of recommendation from two department faculty members.
"It's super exciting and I'm very honored to be chosen for this award," Norman, a senior geology major with an environmental emphasis from Lee's Summit, said. "I've worked very hard."
Jeff Bradley, a senior instructor of geology, nominated Norman and said she is deserving of the award due to her passion for geology and dedication to the field.
Norman is active in the geology program, serving as a teaching assistant, an Earth science tutor at the Student Success Center, a member of the Geo Club and president of Sigma Gamma Epsilon national honorary Earth science society.
"She's been active in our field trips, and she's been active in research," Bradley said. "Her GPA and coursework have always been exceptional."
Norman believes the faculty and courses in the Department of Natural Sciences have contributed to her academic success and equipped her to pursue a career in natural sciences. 
"They prepared a lot of great geologists before me as well, so it's really exciting to continue to be a part of the legacy of the geology program at Northwest," she said.
Norman, who plans to complete her bachelor's degree in the spring, is interested in advancing her education and pursuing environmental policy.
"I've been well prepared by my professors, and they want us to succeed, which is excellent," she said.
Additionally, Norman participates in multiple music ensembles, including as a section leader with the Bearcat Marching Band and as a French horn player with the Wind Symphony and Symphonic Band, and she is parliamentarian and treasurer of Kappa Kappa Psi. This fall, Norman's family was selected as Northwest Family of the Year due to their commitment and longstanding affiliation with the University.
The Association of Missouri Geologists is a professional organization tasked with promoting geology and geoscience education in Missouri. The association includes professional and academic geologists as well as student members at colleges and universities throughout the state. The association also admits members from other states who primarily conduct their geology work or studies in Missouri.