Oct. 27, 2023
By Kayla Holman, communication assistant
Northwest Missouri State University's Department of Fine and Performing Arts will host a two-day residency featuring the music of Ukraine Nov. 9-10.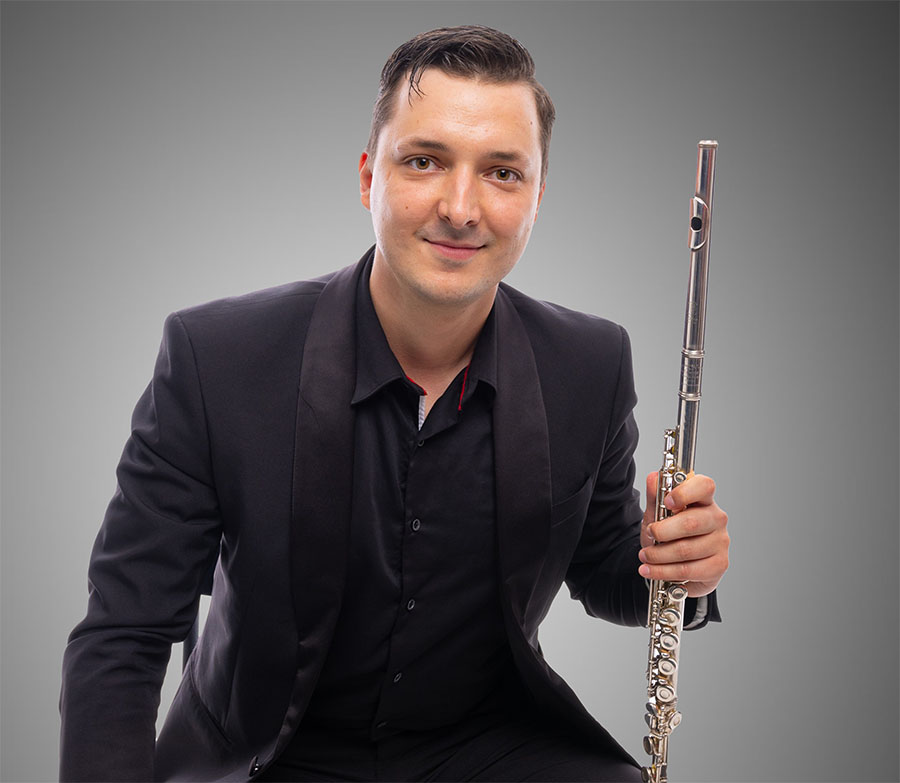 Dmytro Gnativ
In collaboration with Northwest's Office of Diversity and Inclusion, Ukrainian flutist Dmytro Gnativ will lead an open discussion about the music and culture of Ukraine from noon to 1 p.m. Thursday, Nov. 9, in the J.W. Jones Student Union Living Room.
Gnativ also will give a lecture and recital at 7:30 p.m. Nov. 9 in the Charles Johnson Theater at the Olive DeLuce Fine Arts Building. The presentation will feature projections and narrative about life and culture in Ukraine with musical works for the flute and piano, accompanied by Dr. Jiwon Choi, a Northwest staff accompanist.
"A residency like this puts a human face and cultural perspective on the information we see in the news," Rebecca Dunnell, a Northwest professor of music, said. "His lecture-recital alternates between music of Ukraine and a narrative about the culture, the education system and folk culture."
Gnativ is a musician and educator who embarked on his musical journey at the age of 8, taking flute and piano classes. Since arriving in the United States in 2017, he has promoted Ukrainian music alongside other classical pieces.
Earlier this year, Gnativ earned his doctorate degree from the University of Miami with a lecture recital essay, titled "An Anthology of Flute Music by Ukrainian Composers, 1850-2022," which uncovered hundreds of works by Ukrainian composers. During the past year, he also has performed numerous solo recitals, showcasing Ukrainian flute music at events such as the Mid-Atlantic Flute Convention, Florida Flute Convention, San Diego Flute Festival, the University of Miami, Frost Chopin Festival, and the X International Ciurlionis Music Festival in Palanga, Lithuania.
Additionally, Gnativ will visit multiple Northwest classes and lead a flute master class at 1 p.m. Friday, Nov. 10, in the Charles Johnson Theater.
The Gnativ's residency at Northwest is supported by a grant from the Missouri Arts Council as well as Northwest's Office of Diversity and Inclusion, Inter-Cultural Music Inc., Sigma Alpha Iota, Phi Mu Alpha and the Kansas City Flute Association.
For more information, contact the Department of Fine and Performing Arts at 660.562.1326 of Dunnell at dunnell@nwmissouri.edu.